How Republican Governors Are Narrowing Clinton's Choices
Harry Reid says 'Hell no' to a running mate who would be replaced in the Senate by a Republican. That means you, Elizabeth Warren, Sherrod Brown, and Cory Booker.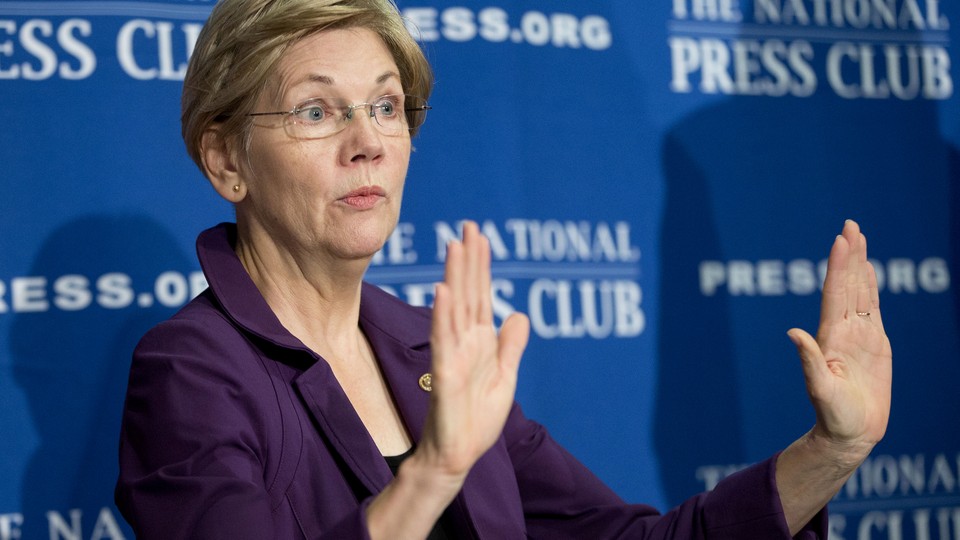 As she turns her attention to selecting a running mate, Hillary Clinton has, in theory, a wide array of contenders from which to choose. There are up-and-coming Latino leaders like Julián Castro and Tom Perez from President Obama's Cabinet; liberal favorites like Senator Elizabeth Warren and Sherrod Brown; prominent African Americans such as Senator Cory Booker or Deval Patrick, the former Massachusetts governor. Unlike Donald Trump, she has forged solid relationships with elected Democrats from across the country, and virtually the entire party establishment lined up behind her candidacy—either publicly or with a private wink and nod—early on.
Clinton really should have the pick of the political litter. But thanks to a handful of Republican governors, her options might be far more limited.
Democrats this fall are simultaneously trying to win the White House and wrest back control of the Senate from Republicans, who now have a 54-46 majority. If a Democratic senator wins the vice presidency, the governor of the state he or she represents would usually select a temporary replacement who would serve until a special election were held either in 2017 or 2018. (The precise rules vary by state.) Warren, Brown, and Booker all hail from states with Republican governors, which means that a President Clinton could lose a Democratic senator for the first crucial months of her term, at minimum.
Neither Clinton nor her campaign have said how the Senate implications would factor into her decision. But they matter a great deal to the party's leader in the Senate, Harry Reid, who warned Clinton in no uncertain terms over the weekend that she should avoid picking any senator from a GOP-led state. "If we have a Republican governor in any of those states, the answer is not only no, but hell no," Reid told MSNBC's Joy Reid on Sunday when asked about the prospect of Warren or Brown joining Clinton's ticket. "I would yell and scream to stop that." If Warren became vice president, Massachusetts Governor Charlie Baker, a Republican, would choose her interim replacement, while Ohio's governor and former Republican presidential candidate John Kasich would do the same if it were Brown. (Chris Christie would make the selection in New Jersey if Clinton tapped Booker as her running mate.)
Reid is still sore over the decision of the first President Clinton to name Texas Democratic Senator Lloyd Bentsen as his Treasury secretary in 1993. Although Governor Ann Richards picked a Democrat to succeed him, Republican Kay Bailey Hutchison soon won the seat, and Democrats haven't come close to winning a Senate race in Texas ever since. (Whether Bentsen would have survived the GOP wave of 1994 is another question.) Reid is retiring at the end of the year, so his opinion might not carry quite the weight it once did. But he added that he believed most of his Democratic colleagues in the Senate would say the same thing.
Clinton can blame her predicament on the GOP's remarkable success in winning gubernatorial races in the last eight years. In 2008, Obama not only chose a sitting senator as his running mate; he picked three for his Cabinet. But Joe Biden, Ken Salazar, and Clinton herself came from states with Democratic governors, and the party retains control of those Senate seats today.
The president wasn't so fortunate with his pick of Democratic governors for his Cabinet, however. Both Janet Napolitano and Kathleen Sebelius saw conservative Republicans succeed them, as governors of Arizona and Kansas, respectively. And the messiest replacement process of all occurred in Illinois, where Governor Rod Blagojevich went to prison for trying to sell the Senate seat that Obama vacated. That may give Clinton pause as she considers choosing a governor to run with her this year.
Trump faces a much different problem in picking his running mate. His vitriolic primary campaign led several contenders to take themselves out of the running. The fire he traded with others over the past year would make it awkward to have them on the ticket. That list includes former Trump rivals Marco Rubio, John Kasich, and Ted Cruz. Trump's choice is less complicated by Senate considerations—Bob Corker of Tennessee, who met with Trump in New York on Monday, Jeff Sessions of Alabama, and Tom Cotton of Arkansas all hail from states with Republican governors.
Reid's comments figure to be good news for Castro, the HUD secretary, and Perez, the Labor secretary, either of whom could energize Latino voters and make history in the process. (The fact that Castro does not speak fluent Spanish works against him, however.) And it could boost the prospects for Senator Tim Kaine of Virginia, who was on Obama's short list eight years ago and who represents a key swing state governed by a Democrat, Terry McAuliffe.
Clinton could always just ignore Reid altogether and pick Warren, Brown, or Booker anyway, having determined that one of them is simply the best person to run alongside her and serve as president if needed. But it would be a political gamble that Democrats are on their way to a comfortable Senate majority, and for a candidate who has promised to help rebuild her party and forge a stronger bond with Democrats in Congress, that's probably not a wise bet to make.