Gary Johnson Is Having a Good Day
Recent polls shown increasing support for the former governor, who's hoping to win the Libertarian Party's nomination this weekend.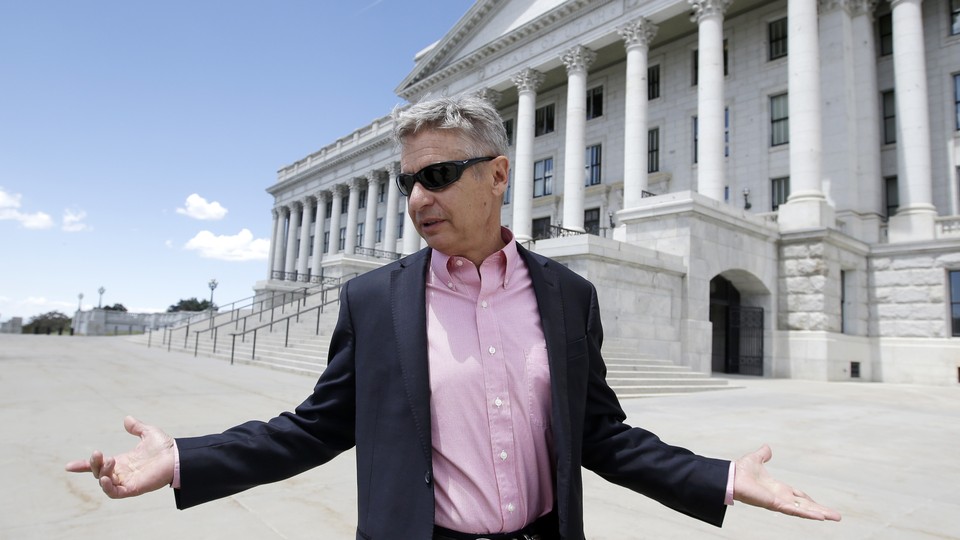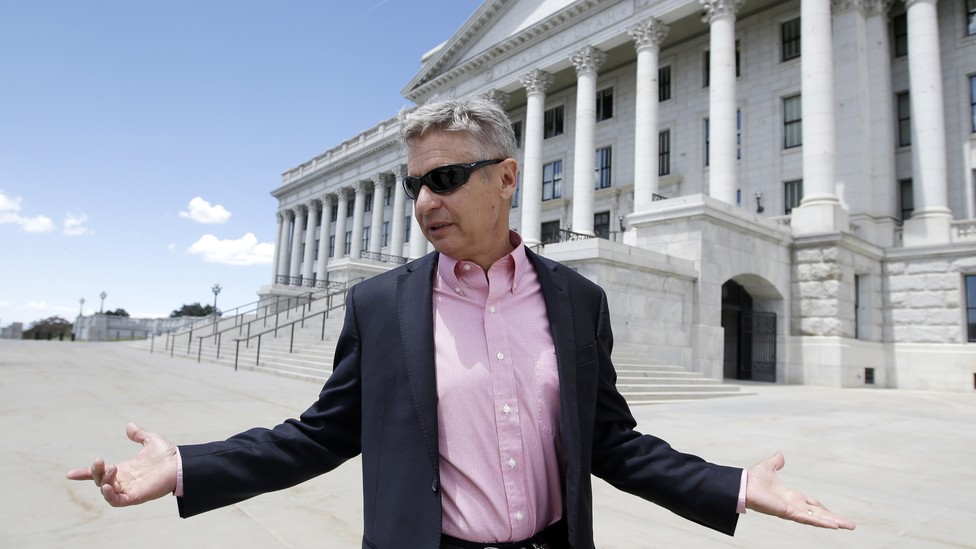 If Gary Johnson wants to make it onto a primetime presidential-debate stage as the Libertarian Party's nominee, he needs to qualify by polling above 15 percent. If he wants to be the nominee, he needs a strong showing at the party's convention this weekend. And if he wants a strong showing at the convention, he needs to demonstrate to delegates that he's their party's ideal standard-bearer—a candidate who can be even a little competitive in a three-way matchup with Donald Trump and Hillary Clinton. Johnson just got good news: A poll released Tuesday morning shows the candidate with 10 percent of the national vote.
The Morning Consult survey puts Clinton at 38 percent, Trump at 35 percent, and Johnson, the two-term former New Mexico governor who also ran for president in 2012, trailing with 10 percent. For any other candidate, that low number would be a sign that the end is near. But not for Johnson, or other third-party candidates hoping to make it big in an election year when many voters will likely hold their noses as they cast their ballots. The 10-percent figure is close to a personal best for Johnson as a presidential candidate; poll analysts note that it is roughly twice as high as Johnson's figures from the last cycle.
Simply being part of the poll represents a gain in Johnson's quest for general-election legitimacy. When I talked to him earlier this month, he lamented that he is not often included in surveys. He claimed libertarians face a vicious cycle: Mainstream media does not frequently cover libertarians because they aren't in polls, and pollsters don't include the party's candidates in surveys because they aren't getting coverage. Libertarian leaders want their candidate on the debate stage alongside major-party candidates, similar to third-party nominees of the past like Ross Perot. But to qualify, a candidate needs at least 15 percent of the vote in five national polls chosen by the Commission on Presidential Debates. When I asked the campaign Tuesday how Johnson could bump up his percentage, his communications director, Joe Hunter, noted that the "first step" is getting into polls, "which is finally happening." More awareness and more interest around Johnson "will go a long way toward 15 percent," Hunter said.
But Tuesday's results do not mean Johnson will absolutely get a spot on the stage. Those debate standards are difficult to meet. They will require Johnson to make big gains in multiple polls by the time of the first debate in September—enough that the commission could be choosy about which surveys it uses and still let him in. He also needs to win his party's nomination in a few days. Johnson, who self-identifies as socially liberal and fiscally conservative, is the presumptive nominee, but he's got competitors. The former antivirus software mogul John McAfee and the former Fox News producer Austin Petersen are also considered front-runners, though the dearth of polling among libertarian voters makes it difficult to assess their standing.
Tuesday's poll isn't the only one Johnson can point to as he makes his case to party delegates, who are uncommitted. He also came in at 10 percent in a Fox News survey released last week and 11 percent in a March Monmouth University survey. He also won 18 percent of Independents in both the Fox and Morning Consult surveys, the campaign pointed out. This dovetails with Johnson's contention that his campaign is a home for voters who don't fit in with the major parties.
Johnson surely knows he cannot be too confident even if he wins the nomination, and even if he did give the party a record showing in 2012, winning 1 percent of the general-election vote. As with any poll, these three have a margin of error of several percentage points; it's unwise to parse the numbers too closely. And the political system heavily favors major-party candidates. Many voters don't seem to realize or care that there are other options out there. But in this election, at least, some voters still haven't made up their minds: Seventeen percent of those surveyed chose "Don't Know" when asked to choose between Johnson, Clinton, and Trump.