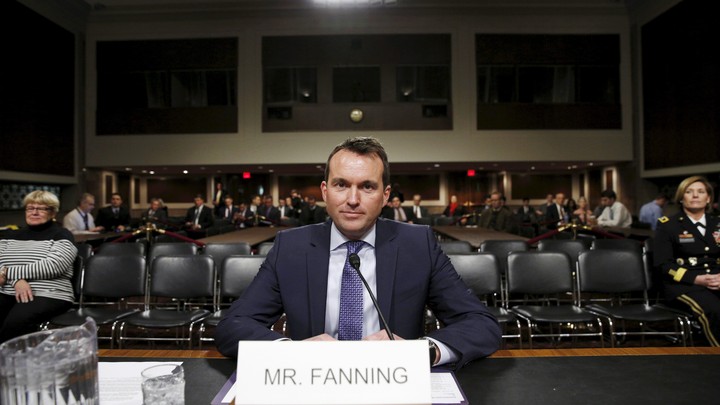 In January of this year, Eric Fanning testified before the U.S. Senate Armed Services Committee on his nomination to be the next secretary of the Army. The line of questioning from lawmakers was standard for hearings with military officials these days. Is the United States winning the war against ISIS? How long until Iraqi troops regain control of Mosul? What's the status of the military's plan to integrate women into combat roles?
As with any job interview, Fanning's life outside of work didn't come up. But that omission is what made the Senate's decision to confirm Fanning as the 22nd Army secretary this week such a historic moment: Fanning is now the first openly gay leader of a U.S. military service, and the highest-ranking openly gay Pentagon official in the country's history.
The Senate confirmed Fanning by unanimous voice vote on Tuesday, eight months after President Obama nominated him to replace John McHugh, who held the position for six years. When McHugh left in November, Fanning was named acting secretary. But Senator John McCain, the Republican from Arizona and chair of the Senate Armed Services Committee, argued Fanning should not serve in the job while his confirmation was pending, and he resigned in January, just over a week before his confirmation hearing. The Senate Armed Services Committee voted to move Fanning's nomination forward in March, but it was stalled until this week for reasons unrelated to the job. Senator Pat Roberts, the Republican from Kansas, had placed a hold on Fanning's nomination as he sought assurances from Obama administration officials that they would not move any Guantanamo Bay detainees to Fort Leavenworth, in his home state. Roberts said Tuesday he had received them from Robert Work, the deputy defense secretary.
"Practically speaking, the clock has run out for the president" to transfer prisoners out of Guantanamo, said Roberts in a speech on the Senate floor. Roberts said Fanning "has always had my support for this position."
"My issue has never been—let me make that very clear—with Mr. Fanning's character, his courage, or his capability," he said. "He will be a tremendous leader."
LGBT groups and their supporters praised the confirmation Tuesday. "Eric Fanning's historic confirmation today as Secretary of the U.S. Army is a demonstration of the continued progress towards fairness and equality in our nation's armed forces," said Chad Griffin, the president of the Human Rights Campaign, the largest gay-rights organization in the U.S. "History was made today," said the 83-member Congressional LGBT Equality Caucus in a Facebook post. "We've come a long way from don't ask, don't tell." Fanning, on his official Twitter account, @SECARMY, retweeted a congratulatory message from Ellen DeGeneres that read, "5 years & we're already running the place."
In 2011, Congress repealed the "don't ask, don't tell" policy that since 1994 banned openly gay men and women from serving in the U.S. military and forced LGBT service members to hide their sexual orientation.
Fanning has never served in the military, but the Army secretary is a civilian position. Fanning has held several senior positions at the Pentagon, including acting under secretary of the Army, under secretary of the Air Force, and deputy under secretary of the Navy. One of his first jobs in Washington was as a staffer on the House Armed Services Committee.
We want to hear what you think about this article. Submit a letter to the editor or write to letters@theatlantic.com.