A Republican Truce in the Making?
House Speaker Paul Ryan seems one step closer to endorsing Donald Trump as the Republican nominee for president.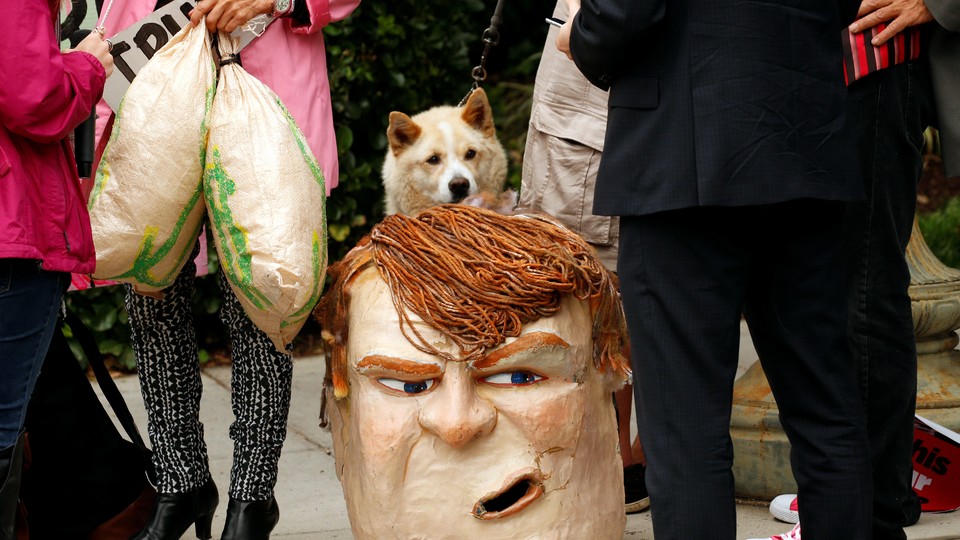 Millions of Americans appear to have made up their minds about Donald Trump, whether they dislike his brand of politics or want him in the White House. Now, after meeting with Trump Thursday, the highest-ranking elected Republican in the country looks closer to making up his own.
"I was very encouraged with what I heard from Donald Trump today. I do believe that we are now planting the seeds to get ourselves unified, to bridge the gaps and differences," said House Speaker Paul Ryan at his weekly press conference, after their confab at the Republican National Committee headquarters in Washington, D.C. He soon added: "But this is a process. It takes a little time. You don't put it together in 45 minutes."
Ryan and Trump may not have been able to join forces during the meeting on Thursday, but their union now seems all but inevitable. When reporters gave Ryan an opening to endorse Trump, he demurred, but gave no indication he was entertaining the notion of rejecting Trump as the nominee.
Indeed, in recent days, it's grown increasingly difficult to see Ryan not support Trump. He's insisted that the party's success in November hinges on unifying, and mending fences that have splintered in an ugly primary season. Though he has yet to endorse, plenty of his colleagues and fellow Republicans have, even if some have done so begrudgingly. The Washington Post reported this week that Ryan would face pushback from some in his conference if he's still wavering post-meeting. "[T]he problem I would see with [an extended Trump-Ryan split] would be a lot of members of the conference would be obviously fractured—further fractured than we already are," said North Dakota Representative Kevin Cramer, who's backing Trump. Based on Ryan's reaction to the morning's events, it seems his pro-Trump colleagues should feel encouraged.
The meeting itself was born of controversy and dysfunction. Earlier this month, Ryan arranged a surprise interview with CNN to express his reservations about Trump. He wasn't ready to declare his support for the real-estate mogul, and said he wanted to see Trump take steps to unify the Republican Party. "I'm not there right now," Ryan said. "And I hope to, though, and I want to." In the immediate aftermath, Trump was predictably displeased. Even after Ryan invited Trump for a getting-to-know-you meeting with himself and, separately, with members of the Republican leadership, Trump didn't seem capable of forgiving Ryan for the interview, saying they'd chat "before we go our separate ways." But Trump struck a more conciliatory note earlier this week, tweeting that he "look[ed] very much forward" to attending the meeting, and working "together" to beat Democrats in November.
Ryan was likely weighing competing priorities when he and Trump sat down Thursday morning. There's the more personal: He and Trump have vastly different points of view—Ryan a true conservative believer, Trump an unorthodox party late-comer—and throughout the primary Ryan did not seem to like Trump. And then there's the political: The speaker wants to hold onto his House majority and advance its agenda.
But Ryan largely brushed aside their well-known differences, though he acknowledged they have some. When a reporter pointed out that Trump and Ryan have some "sizeable" disagreements on conservative policies—around entitlement reform, for example—Ryan suggested they just represent different wings of the same party. Sharing "core principles" is what matters, and the Trump and Ryan camps are now going "deeper into policy weeds to make sure we have a better understanding of one another."
Since assuming the speakership last fall, Ryan has ostensibly tried to distract attention away from the presidential race. Where incivility reigned on the trail, Ryan checked some of Trump's more controversial comments in Hill press conferences. Where the race seemed light on policy prescriptions, Ryan rolled out the House's legislative agenda. And in recent speeches, he's outlined his vision for American politics, which includes a healthy emphasis on respect and congeniality.
But all along, even as Ryan has telegraphed occasional disapproval, he's never outright said he'd be wary to be third in line in a Trump presidency. On Thursday, the speaker validated Trump's personality, which had before seemed so unappealing to Ryan. "He's a very warm and genuine person." He said Trump still wants to see him as the GOP convention chairman in July.
"Great" and "positive" seem to be the adjectives interested parties settled upon to describe the morning meeting, between RNC Chairman Reince Priebus's Twitter reaction to what he witnessed and a joint Trump-Ryan statement. It was a "great conversation," the statement reads. More talks are forthcoming, but they "remain confident there's a great opportunity to unify our party and win this fall, and we are totally committed to working together to achieve that goal. … This was our first meeting, but it was a very positive step toward unification."
Neither Trump nor Ryan betrayed exactly what they intended to say ahead of Thursday. Ryan only outlined his goals: to see Trump embrace GOP principles and "have a different kind of cadence." On Thursday, Ryan wouldn't reveal the exact specifics of their discussions, but reiterated that he wants to see sincere unity on the Republican side, so they can operate at "full strength" into November.
Whatever was said, it certainly sounds like Ryan is inching toward an endorsement. But he'd be wise to keep in mind that Trump, the eternal shapeshifter, is good at telling people what they want to hear in the moment. He's adept at evolving his message to suit what an audience wants from him, even as he tells supporters he's steadfast in his principles. The meeting may have bolstered Ryan's confidence in Trump, but it's not clear if Trump will follow through. In an interview with The New York Times published Wednesday, Trump said that while he wanted unity, he wouldn't switch up his approach. "You win the pennant and now you're in the World Series—you gonna change?" Trump said. "People like the way I'm doing."