A $1 Million Fight Against Hillary Clinton's Online Trolls
A super PAC has a plan to defend the Democratic presidential front-runner and her supporters on social media. Will it work?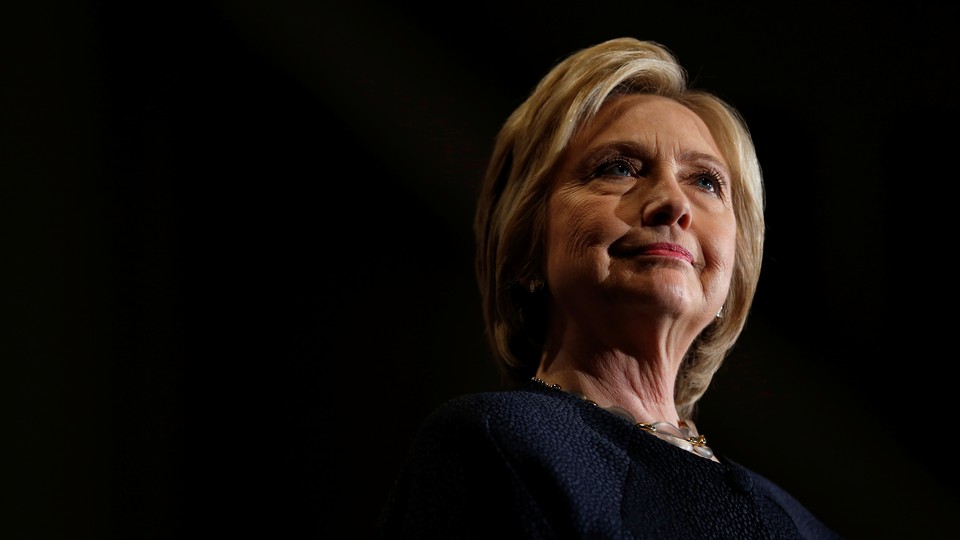 In dark corners of the internet, Hillary Clinton is a crook and a liar. Facebook groups— "Stop Hillary Clinton in 2016," "Americans Against Hillary Clinton"—malign the former first lady and current Democratic presidential front-runner. Twitter accounts signal disdain using hashtags like #NeverClinton, #NeverHillary, and #CrookedHillary.
At least some Clinton allies aren't content to sit idly by. In April, Correct the Record, a super PAC devoted to defending Clinton, announced a plan to fight attacks against Clinton and her supporters online by sinking more than $1 million into personnel and infrastructure for a digital task force. According to a press release heralding the effort, the task force, which was given the name Barrier Breakers 2016, will "engage in online messaging both for Secretary Clinton and to push back against attackers on social media." What could possibly go wrong?
For one thing, the effort threatened to validate a long-standing criticism that Clinton can't generate adequate enthusiasm. It suggested her allies were willing to spend eye-poppingly large sums of money to shut down opponents. Mockery and cynicism ensued. "They're going to spend a million dollars to go out there to attack regular people who support Bernie Sanders," John Iadarola of the progressive web series The Young Turks marveled shortly after the news broke.
Correct the Record was quick to say it had no intention of resorting to attacks of its own. "Currently, Barrier Breakers 2016 distributes positive messages in support of Hillary Clinton for President, not anything else," Elizabeth Shappell, a spokesperson for the super PAC, told The Daily Beast in April. Correct the Record claims it can legally coordinate with the Clinton campaign and does not engage in paid public communications. The goal, it insisted, was to fight online harassment aimed at Clinton and her supporters by staying positive. But how exactly is the super PAC attempting to do that—and will it actually work?
Much of the effort appears to be fairly anodyne so far. An official-looking Twitter account, Facebook page, and Instagram and Pinterest accounts have been set up. The social media accounts seem to consist mainly of graphics and videos that deliver inspirational pro-Clinton messages, content that appears to have been designed in the hopes that it might go viral. "Even if she weren't a woman, she would be the best candidate," reads a quote from former Secretary of State Madeleine Albright superimposed on a graphic posted to the Facebook account. It continues: "I have never seen anybody better prepared to be president of the United States. Ever."
That's not all. Correct the Record has several Twitter accounts that directly engage with and respond to Twitter users who attack Clinton and her supporters. Here's a typical exchange: On May 22, a Twitter user whose bio reads: "Proud Donald J Trump supporter" tweeted out the following: "Hillary is scum." The next day, a Correct the Record account replied with the hashtag #ImWithHer and a graphic that read "Hillary's platform is LOVE & KINDNESS." A picture of Clinton smiling appears next to the text. In an exchange on May 24, a Twitter user with a bio that reads "Conservative Republican. Trump SUPPORTER. Fox news viewer," wrote: "Whenever CROOKED HILLARY gets a tough question she either bursts into that blood curdling laughing cackle or starts barking like a dog. #LIAR." Correct the Record responded with #ImWithHer and a graphic of Clinton with text reading: "She's the most vetted person on earth. And standing STRONGER than ever."
What can these sorts of efforts reasonably be expected to achieve? It's unlikely that Correct the Record can change the mind of anyone with a strong anti-Clinton conviction. Pushing back against attacks on Clinton online could even cause critics to double down on their core beliefs. "Rather than changing attitudes, these counter-messages may only serve to increase polarization," said Natalie Stroud, a communication studies professor at the University of Texas at Austin who has researched media use and political behavior. It would be ironic if an effort aimed at halting online harassment actually inspired more harassment.
Still, there are ways that the digital task force could help Clinton. To start, it might activate existing support. "It could be a way of mobilizing support and trying to get people to be more vocal about their support for Clinton online," said Jessica Baldwin-Philippi, a professor of new media at Fordham University. If the effort inspires supporters to express support for Clinton online, they may be more likely to volunteer, donate or help out the campaign in other ways. It could even help bring new converts into the fold: If people who lack deeply-held political beliefs see pro-Clinton messages shared by someone they know and trust on social media, they might be persuaded to give the candidate a second look.
Candy Kirby, a devoted Clinton supporter living in Los Angeles, California, told me she appreciated the fact that Correct the Record thanked her for her support on its Twitter account as part of the Barrier Breakers project. "They are highlighting Hillary's most ardent online supporters, which is smart, and trying to unite her supporters on Twitter," Kirby, who tweets at @SayHillYes, said, adding that she feels frustrated by the amount of times she has been accused of being a "paid shill" for Clinton online. "It's so insulting. If I had a dollar for every time I've been called that I could probably fund my own presidential campaign! I don't work for Hillary's campaign or anyone associated with it, and I think that's the biggest stereotype: that because we are such passionate Hillary supporters, we must be paid."
At least some Sanders supporters say that just knowing the effort exists makes it harder to have civil conversation online. "I think the most dangerous part was that after it was announced so many of our users started being very cynical and suspicious of people," David Fredrick, a co-founder and moderator of Sanders for President, a pro-Sanders group on Reddit with nearly a quarter of a million subscribers. "If anyone criticizes a Sanders supporter online now there's doubt over whether it's a genuine exchange or if it's something that Correct the Record is behind." Fredrick added while "there's no evidence that anyone from Correct the Record" has tried to infiltrate his Reddit group, he believes the effort will only serve to tear people apart. "They might say it's positive messaging, but it's really set people on edge, and that's divisive." ("Barrier Breakers accounts are always identified as Correct the Record," spokesperson Elizabeth Shappell said, adding: "We are focused on breaking down the barriers that stand in the way of progress, like Donald Trump's agenda.")
Misinformation can easily take hold online, and spread quickly in the echo chambers of social media. There is certainly no shortage of false information circulating about Clinton online. It's not hard to see why sinking money into an effort to seek out online attacks and "correct them" might appeal to Clinton allies. The effort to play social media defense could inspire similar initiatives, and might even set precedent. Yet while it may seem satisfying on a visceral level for supporters to counter attacks against their favorite candidate online that doesn't mean the effort will be effective. "A lot of digital campaign strategy is experimental and run for fear of losing," Phil Howard, a professor at the Oxford Internet Institute said. "No one wants to be the team who lost because they didn't try a particular strategy, but that alone is no guarantee any of it will work."