U.S. Laws Will No Longer Sound Like a Vaguely Racist Uncle
Congress removed the last uses of "Oriental" and "Negro" from federal statutes on Monday.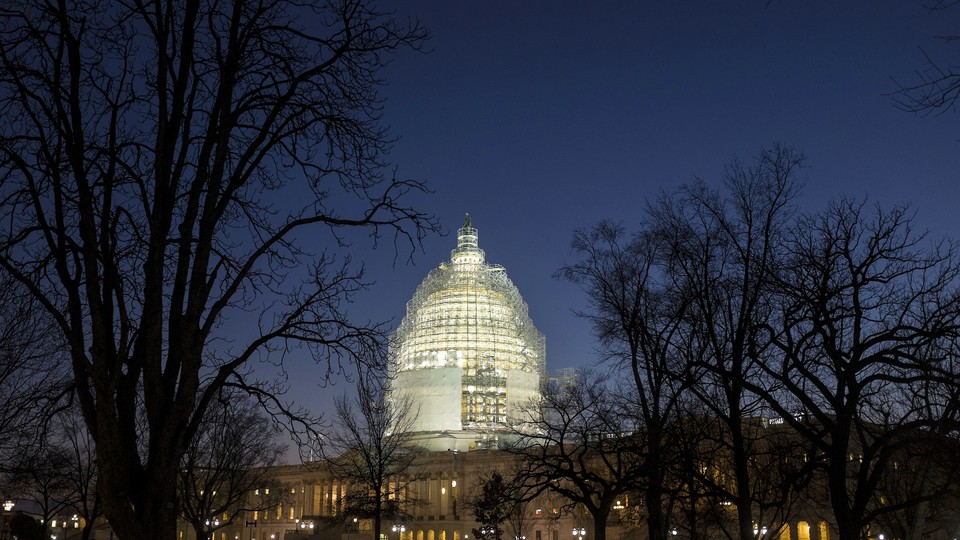 Congress unanimously passed a bill Monday to remove the last pockets of archaic racial terminology such as "Oriental" or "Negro" from federal law, replacing them instead with more modern terms.
The law targeted two anti-discrimination subsections of the U.S. Code that used outdated language to describe racial groups. In one section of the Department of Energy Organization Act, "a Negro, Puerto Rican, American Indian, Eskimo, Oriental, or Aleut or is a Spanish speaking individual of Spanish descent" will be replaced with "Asian American, Native Hawaiian, a Pacific Islander, African American, Hispanic, Puerto Rican, Native American, or an Alaska Native."
Another section of the bill erases "Negroes, Spanish-speaking, Orientals, Indians, Eskimos, and Aleuts" from a 1976 public-works act and adds "Asian American, Native Hawaiian, Pacific Islanders, African American, Hispanic, Native American, or Alaska Natives" in its place.
The legislation now goes to President Obama for his signature. Representative Grace Meng, a Democrat from New York who proposed the changes, also previously led a successful initiative to ban the word "oriental" in government documents in the Empire State.
"The word 'Oriental' is a derogatory and antiquated term and the passage of this legislation will soon force the United States government to finally stop using it," Meng said in a statement Tuesday after the Senate approved the bill. "Repealing this term is long overdue. 'Oriental' no longer deserves a place in federal law, and very shortly it will finally be a thing of the past."
Congress's changes reflect how America's mercurial taxonomy of race and ethnicity can entrench itself through the law, surviving long after culture and society have changed around it. Other parts of the government also undertake similar revisions from time to time. The U.S. Census Bureau frequently tinkers with its racial categories on the census forms, often by adding, subtracting, dividing, or renaming entire groups:
According to the census graphic, the 1790 survey offered just three racial options for a household: "free white females and males," "slaves" and "all other free persons." By 1850, the available categories were "black; mulatto" or "white." Native Americans do not show up on the form until 1860 — as "Indians" — the same year "Chinese" first appears. People whose ancestry traces to India don't have an option until 1920, when "Hindu," a religious identity and not an ethnic one, appeared for the first and only time.

There are no Latino or Hispanic options on the questionnaire until 1930, when "Mexican" appears. But that option went away after that survey, and all Latino/Hispanic choices completely disappear from the form for the next several decades. They don't show up again until 1970.
In one of its more prominent changes, the bureau announced in 2013 it would no longer use the word "Negro" on its forms after almost a century of use.
Terms like "negro" and "colored" can still be found in the U.S. Code, but usually only in proper names like the United Negro College Fund or in old proclamations. An interesting exception is 7 U.S.C. § 323, a provision of the Second Morrill Act of 1890 that forbids racial discrimination in land-grant colleges but allows for the creation of "separate colleges for white and colored students."
The first Morrill Act of 1862 established land-grant colleges throughout the country, but black students could not attend them in states with segregated higher education. Congress passed the 1890 law to force states to either desegregate their land-grant colleges or create separate ones for black students. Many Southern states chose the latter option. Those schools evolved into some of the major historically black universities, including Florida A&M University and Virginia State University.
Beyond the halls of Congress, some state legislatures also retain archaic racial terms in their statutes. New Jersey's education code instructs school-district superintendents to include "the history of the Negro in America" in the curriculum. Mississippi's statutes provide for a 4-H camp at a state university "for the purpose of teaching the Negro boys and girls of Mississippi standards of better farm and home making." New York's domestic-relations code includes a section requiring sickle-cell anemia tests "to each applicant for a marriage license who is not of the Caucasian, Indian or Oriental race." (The genetic blood disorder is most commonly found among people of African descent.)
Most states have applied a level of uniformity to their racial categories. Others rely on a medley of terms from one chapter of their legal code to the next. A section on equal opportunity in apprenticeship programs in Pennsylvania's statutes defines a minority as "one of four major ethnic groups other than Caucasian, namely Negro, American Indian, Oriental and Spanish American." A separate section establishing the state's Minority Business Development Authority instead uses "Negroes, Puerto Ricans, Spanish-speaking Americans, American Indians, Eskimos and Aleuts" while defining "socially or economically disadvantaged people."
Other parts transcend the archaic into the awkward. Pennsylvania's housing anti-discrimination statute, for example, cites "Caucasian, Negroid, Chinese, Asian Immigrant, French Hawaiian, Arab, Oriental, African-American, Irish, and the like" as language forbidden in housing advertisements.