How the U.S. Congress Keeps Getting Paid to Do Nothing
Members of the House are trying to pass a bill that would suspend legislators' salaries if they can't pass a budget. They haven't had much success.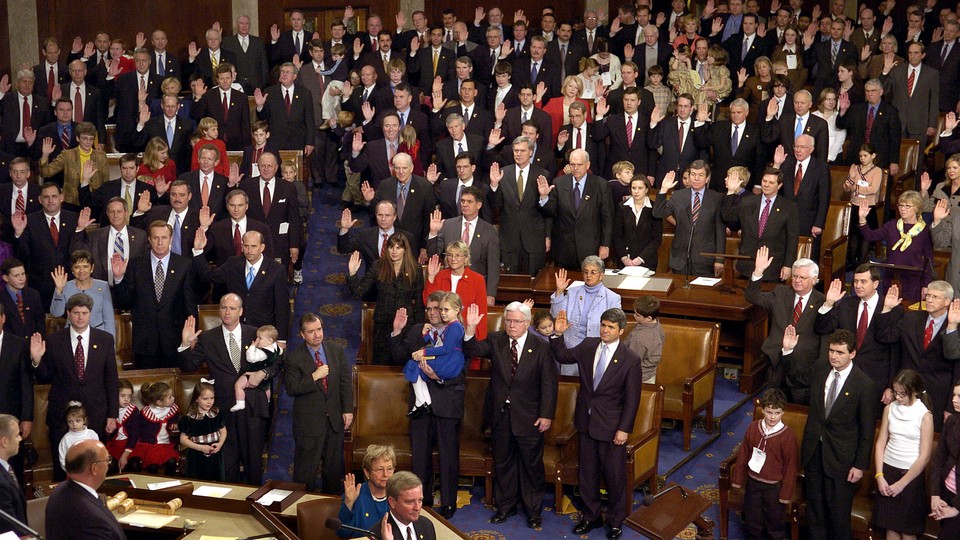 Who knew it was so complicated for a member of the United States Congress to not get paid for not doing his job?
Just ask Representative David Young. When the House missed its April 15 budget deadline this year—again—the Iowa Republican decided he needed to take a stand. On April 20, Young sent a letter to the House Chief Administrative Officer, requesting that his paycheck be withheld until either a budget gets hammered out or the 114th Congress adjourns, whichever comes first. Passing a budget is a key part of the job, Young told me. "If you don't do your job, you shouldn't get paid."
Alas, a week later, the Administrative Office shot down Young's request. Fiddling with congressional pay, it turns out, is tricky business. The 27th amendment, in fact, dictates that no measure passed altering member compensation can take effect until after the subsequent election. Aimed at preventing partisan funny business and flagrant pocket-lining, the law's result in this case was to confound Young's attempted sacrifice. "I heard back today," he said halfway through our phone chat, "and they're saying they are not willing to do it," But never fear, he assured me. "I've had a Plan B to make sure we do the right thing." Effective immediately, Young is personally setting up an escrow account into which he will dump his salary for the duration of this Congress's budget bickering. "I can't touch it!" he says proudly.
Young's efforts to dock his own pay, however, are duck soup compared to his larger goal: docking the pay of every lawmaker when Congress drops the budget ball. Twice during his freshman term, Young has co-sponsored a bill to do just that. The No Budget, No Pay Act aims to impose a pay-for-performance system on what is arguably America's most dysfunctional workforce: Whenever the House misses its April 15 resolution deadline, members' paychecks would be withheld beginning April 16.
No Budget, No Pay is exactly the sort of yank-the-scoundrels-into-line reform that plays well with the voting public, which currently holds Congress in slightly lower esteem than Bill Cosby. It is not, however, all that popular with lawmakers—who enjoy railing against legislative dysfunction even as they strive to avoid being held accountable for it. Perhaps unsurprisingly, No Budget, No Pay currently has the official backing of a whopping three House members: Young, Representative Paul Cook of California, and the bill's chief sponsor, Representative Rob Wittman of Virginia. Wittman's staff has been reaching out to colleagues, trying to whip up support. But thus far, the bill—much like the near-identical one he introduced last year—is going nowhere.
Looking to improve its prospects, Wittman has approached the Republican leadership about the possibility of attaching the measure to some other, must-pass piece of the budget. The leadership has not rushed to take up the cause. "I talked to Paul about it, and he likes the concept," says Wittman of House Speaker Paul Ryan. "What he's trying to do right now is navigate the path to actually get [a budget] done. He's focused on a current set of conditions rather than this particular piece itself." Translation: The House Speaker would rather French braid Donald Trump's comb-over than waste political capital on this issue.
Holding members' pay hostage is not a new idea. For years, Democratic Representative Jim Cooper has been championing a No Budget, No Pay measure with even more teeth. (Wittman's bills would dock members' pay only until a budget agreement is reached or the last day of a Congress; Cooper's would make the loss of compensation permanent.) The latest version of Cooper's bill has more support than Wittman's—three dozen co-sponsors, evenly split between Democrats and Republicans—but the veteran Blue Dog is still pessimistic about the bill's chances. "They abhor this measure!" he said of House leaders—"unless it can be used as a weapon against the other party."
Cooper isn't being crankily partisan—or at least not only crankily partisan. In 2013, Congress did adopt a No Budget, No Pay measure, albeit a watered down one that applied only to that year's budget fight. (Perhaps coincidentally, the Senate managed to pass a budget resolution that March—23 days before the deadline—for the first time in four years.) One big difference between now and then: divided control of Congress. In 2013, the House Republican majority was seen as pushing the measure—which it attached to a crucial debt-ceiling increase—as a way to shame the then-Democratic-led Senate. (In his statement announcing the bill's passage, then-Budget Committee Chairman Paul Ryan took multiple shots at the Senate's budget failures.) "They used it as a weapon to beat up Democrats with," said Cooper. But now, he said, with Republicans controlling both chambers, "they're reluctant to turn same weapon on themselves."
With control of the Senate potentially in the balance this November, renewed partisan ugliness and gamesmanship could once more crack open the door for No Budget, No Pay next term. Which is admittedly a pathetic way to govern, but it may the best that members like Wittman and Cooper can hope for. Until then, poor Congressman Young will have to stand alone in his gesture of protest—and hope his savings will see him through until the end of the year.