Medicare for More
Hillary Clinton's new proposal to expand coverage for middle-aged adults provides a glimpse at how she would make Obamacare her own.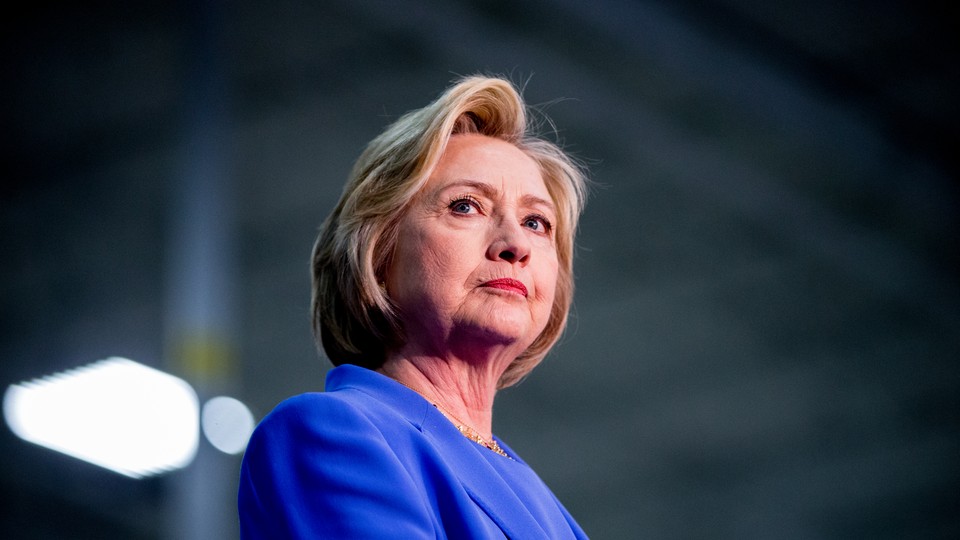 What's the next step for Obamacare? Much of the 2016 presidential race functions as a referendum on just what to do with the the six-year-old Affordable Care Act. Despite some mixed returns on costs and the stability of insurance markets, the health-reform law has brought the uninsured rate to its lowest point in American history. Reflecting that mixed legacy, most Americans now favor modifications to the ACA over continuing to implement it as it is or repealing it.
That puts most Americans on the opposite side of whatever Donald Trump's health care plan might be. But both Hillary Clinton and Bernie Sanders have plans to modify and expand Obamacare. Sanders's plan of "Medicare for All," a radical overhaul of the current system based on a single-payer system, has received most of the attention. Clinton's more modest proposals to expand tax credits and allow undocumented immigrants access to health-insurance marketplaces have garnered less press. But recently, Clinton has made waves with a new idea to allow people over 50 or 55—the specifics have not yet been announced—to purchase Medicare plans.  At present, only those over 65 and a select few of their dependents are eligible for Medicare. This "Medicare for More" concept is a significant addition to the Clinton health plan, but what does it mean for the future of Obamacare?
A new report from Avalere extrapolates what it might mean for the future of 50-somethings. There are about 13 million people between the ages of 50 and 65 who are either uninsured or have purchased private insurance on the Obamacare marketplaces. This population represents most people in the age range without affordable employer- or group-insurance coverage and who don't qualify for Medicaid. Assuming that this is the population that would be eligible for Clinton's Medicare for More, Avalere reports that it is "unclear" if Medicare would automatically be a good deal for them.
With no knowledge of premiums or subsidies yet, a Medicare buy-in might just be too costly for those uninsured adults above 50 who have low incomes but are ineligible for Medicaid because of state rules. For those in private plans, Medicare has a distinct number of cost disadvantages, including a 20 percent cost-sharing requirement, no lifetime cap on out-of-pocket expenditures, and drug benefits that are generally less generous. Also, it is unclear if people under 65 could qualify for the Medicare Advantage plans that help fill in gaps in coverage. Sicker elderly adults regularly run up against the limits of Medicare, and it is hard to envision cases in which Medicare would make more financial sense for near-elderly adults with serious chronic illnesses than medium-cost marketplace plans.
But Medicare has always been a good deal for those who don't use many health-care services, and it might beat out low-cost marketplace plans for healthy adults between 50 and 65 with few health problems. Medicare provides access to one of the broadest networks of physicians, providers, and benefits possible, and consumers value continuity. A buy-in at 50 could allow people to remain on the same insurance coverage with the same providers for the rest of their lives. Also, while Medicare has not been shown to have a serious effect on health trajectories for uninsured adults who become enrollees at age 65, at age 50 it might provide services early enough to change outcomes. Medicare also provides protection against medical debts, and if premiums could be made affordable to uninsured adults over 50, it could have serious value as health issues mount with age.
Medicare for More might have more value to the Medicare program than to any individual beneficiary. People between 50 and 65 are healthier than those over 65, and many of the costs that penalize high utilization can be seen as offsets for having to cover the most expensive population in the country. Even for Medicare, which has broad power to affect prices and policy, covering services, visits, drugs, surgery, and hospital stays costs money, and as patients near costly end-of-life holding patterns, the cost curve skyrockets. Adding healthier, younger people to the risk pool might bring down the per-person costs of the program. If the subsidies are equivalent to marketplace subsidies, premiums and savings from the over-50 crowd could actually cut back net costs for the Medicare albatross. Removing more middle-aged adults from marketplace risk pools might actually make insurance cheaper for young adults as well.
The results of a Medicare buy-in for potential beneficiaries and the program will likely depend on specifics as detailed by the Clinton campaign, but its rhetorical value is much more readily assessed. Allowing private purchase of one of America's two big public-insurance programs is an addition to Obamacare's willingness to blur the lines between public and private insurance, risk, and public-health responsibility. The proposal gives Clinton ammunition both against Sanders in the primary and, should she win, Trump in the general.
But above all, Medicare for More is a step away from Clinton's position as a defender of President Obama's legacy and towards her central policy identity as an architect of American health policy. Obamacare could very well be a platform for Clinton to achieve some of the goals that remain unfulfilled from the 1993 health plan that she spearheaded. Combined with some recent support from Clinton for the idea of a public option, a Medicare buy-in can be seen as a very Clinton-esque way of using the market to provide universal care. The free market solution to coverage, along with the major expansion of Medicare as a coverage pathway for non-elderly adults, is reminiscent of the '93 plan, and the population that it impacts is massive. Medicare for More would also cement Obamacare as the foundational law of all of American health policy, and establish a regime of incrementalism not unlike the coverage shifts seen in the decades between Medicare and Obamacare. The proposal might open the door for other shifts, such as allowing even younger people or government employees Medicare buy-ins.
For those further to Clinton's left, however, Medicare for More might close the door for hopes of more radical overhauls while the figurative iron is still hot and while the ACA is still a hotly debated law. Sanders's plan rests on frustrations about the compromising nature of the Affordable Care Act, which whittled down some of the more ambitious coverage plans in favor of  a market-based solution that still leaves millions uninsured. The current Obama-Clinton doctrine of health-care views zero uninsurance as a lofty and likely unreachable goal more than a first-order cause. Much of Sanders's momentum with Medicare for All comes from the fact that the liberal benchmark––a universal public option supported by high, progressive taxes––has still not been reached. Clinton's incrementalism would in all likelihood reset the clock on that dream.
Medicare for More isn't Sanders's Medicare for All, and it certainly isn't what many Sanders supporters are looking for, but it is a step for Clinton and would be a significant addition to the massive impact of Obamacare. If Clinton does wind up in the White House, it could be the beginning of a piecemeal process to bring the ACA closer and closer to its originally intended ideal of universal coverage, as Obamacare is a perfect platform for incremental increases in coverage. Now, it is another sign that the work of providing coverage and making the health care system more affordable and better is not yet done.
---
Related Video