Can Clinton Win Back Appalachia?
She dominated among the white working class in Kentucky and West Virginia in 2008, but many of those voters have deserted her this time around.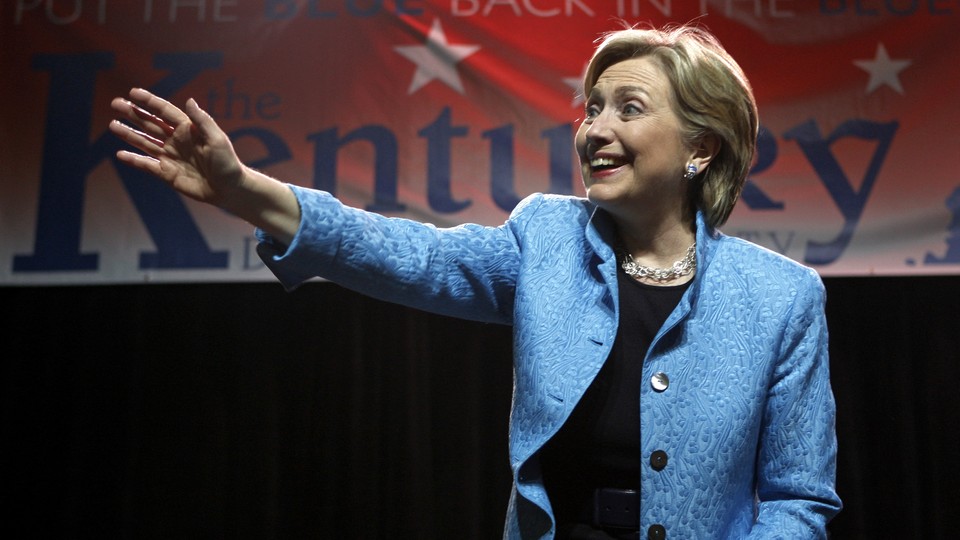 In the 2008 Democratic primary, Appalachia was the heart of Clinton country.
Hillary Clinton did better against Barack Obama in Kentucky, West Virginia, and Arkansas—her longtime home state—than anywhere else in the nation. She captured more than two-thirds of the Democratic vote in Kentucky and West Virginia in May of that year, landslides that gave her campaign a late jolt and enough momentum to stay in the race for the duration of the primaries.
Clinton returned to Kentucky on Monday for the start of a two-day bus tour through Appalachia, and her strength there eight years ago now seems hard to fathom—even to her. The white, working-class voters that embraced her message of resilience in 2008 have deserted her for Bernie Sanders in many primaries in 2016; she has relied instead on the African American and Latino voters who preferred Obama in 2008. Clinton has won the cities, but Sanders has trounced her in rural America.
West Virginia Democrats vote on May 10 and Kentucky holds its primary a week later. Neither are must-win states for Clinton—not in the primary, in which she has a commanding delegate lead, and not in the general election, where the last Democrat to win electoral votes in the Appalachian states was her husband. The voters there are predominantly white, culturally conservative, and hard-hit economically by the loss of jobs in the coal and steel industries and as a result of outsourcing. In other words, they are Donald Trump's base of support, and a demographic that he'll need as the likely Republican nominee this fall in the larger and more competitive states of Ohio, Michigan, and Pennsylvania to the north.
So as Clinton began a swing that her campaign dubbed a "Breaking Down Barriers" tour, the big question was: Can she win those voters back?
The answer, even among her core supporters, is: not entirely. "There's a limit to how well she can do in Appalachia," said Representative John Yarmuth, the lone Democrat remaining in Kentucky's congressional delegation. When Clinton dominated Obama in Kentucky and West Virginia in 2008, there were three main factors at play. One was undoubtedly race: More than one in five Democrats admitted to pollsters that race played a role in their decision. Clinton also benefitted from the fond memories that Kentucky and West Virginia Democrats, and particularly older, more conservative voters, had for her husband's presidency, Yarmuth said.
Finally, Clinton was able to take advantage of Obama's blunder just a few weeks earlier that spring, when he was caught telling donors at a San Francisco fund-raisers that small-town Americans get "bitter" and "they cling to guns or religion or antipathy to people who aren't like them." Eight years later, it is Clinton who must clean up her own words from a few weeks ago, when she said during a CNN town hall in March that as president, she would "put a lot of coal miners and coal companies out of business." Republicans quickly pounced, and Democrats in West Virginia were so stung by the remark that Senator Joe Manchin, who had endorsed Clinton nearly a year earlier, put out word that he immediately called her and threatened to pull his support. When the state's Democratic governor, Earl Ray Tomblin, endorsed Clinton late last week, he made clear that he remained "concerned" about some of her positions on fossil fuels. Clinton later clarified her remark, but it played right into the GOP's longstanding charge of a Democratic "war on coal." Senator Rand Paul "welcomed" her to Kentucky on Monday by demanding that she apologize to the entire state. In West Virginia later in the day, she was met by a group of protesting Trump supporters.
"Even though I think it's unreasonable, it's clear that a lot of people blame Democrats for what happened to coal," Yarmuth told me. There has been virtually no polling of the Democratic primary in either Kentucky or West Virginia. State Representative Sannie Overly, the chairwoman of the Kentucky Democratic Party, said that while Clinton clearly benefitted in 2008 from the affinity the state had for her husband, "it remains to be seen how things are going to play out" in 2016. Sanders, who has vowed to campaign aggressively despite his delegate deficit, plans to make his own two-day swing beginning Tuesday. Clinton won Arkansas earlier this year by a similarly wide margin as she did in 2008, but Kentucky and West Virginia are closer demographically to the states in which Sanders has performed well.
Clinton began her Appalachian tour in listening mode as she heard from a group of steelworkers affected by repeated rounds of layoffs at AK Steel in Ashland. Just about everyone within range of the camera was white, and nearly all were men. One worker told her that the firm's workforce had dropped from a high of 5,000 to just over 200 now. Clinton didn't directly reference her comments about putting coal companies out of business, but she acknowledged the industry's struggle and touted her Marshall-style plan to retrain coal workers for other jobs. In a nod to Bill Clinton's popularity, she pledged to put the former president in charge of developing ideas to boost manufacturing across the region. "I am a 'make-it-in-America' fanatic," Clinton said. "I know how disappointed people are in government and politics," she added. "I'm going to tell you what I'm going to do so you can hold me accountable."
While Clinton didn't heed Paul's demand and apologize to Kentucky, she was forced to confront her comments a few hours later in West Virginia, when a voter at a roundtable, Bo Copley, asked her directly how she could claim to be a friend to coal miners after saying she would put them "out of jobs." Clinton appeared to be prepared for the exchange, and she apologized for what she said was a "misstatement" that was taken out of context. She said she was only referring to job loss that would continue if policymakers didn't take more aggressive action to help transition coal miners to new fields.
"I'm gonna do whatever I can to try to help," she said, according to Politico. "I'm not gonna over-promise. I'm not gonna, you know, say it'll all be perfect because we gotta work hard to get to where we can." Clinton also acknowledged that the remark would make it "very difficult" for her to win West Virginia, even in the primary.
As she moves closer to clinching the Democratic nomination, Clinton has shifted toward a two-pronged strategy of sewing up her own party while turning her attention to November. If that wasn't made clear by her message, it is by her schedule: She is finishing her two-day tour of Appalachia with an economic speech in southeastern Ohio. Clinton may not need to win Appalachia this fall—she made no grand predictions about her chances on Monday—but her goal is to limit her losses and to begin to repair the damage done not only by her own rhetorical slip but by nearly two decades of neglect from Democratic policymakers. To that end, Monday's events served as both reintroduction and reminder, of a time not too long ago when Democrats stood a chance in Appalachia and when "coal country" and "Clinton country" were actually one and the same.