Breitbart's Anti-Semitic Attack on Bill Kristol
The popular right-wing website labels a neoconservative intellectual a "renegade Jew" for opposing Donald Trump.
For many principled conservatives, the rise of Donald Trump has proved to be a rude awakening. Their coalition is much less principled, and much more open to manipulative populism, misogynistic vulgarities, and xenophobic appeals than they imagined. As talk radio host Tony Beam put it on the day Ted Cruz dropped out of the GOP primary, making Trump the presumptive nominee,  "I have to face the fact that maybe that is who we are. You've probably seen the numbers. 6 or 7 out of 10 Republicans—I think it's been consistently 6 out of 10 agree that we ought to ban all Muslims from coming to the United States. And so maybe this whole thing is a collective voice saying to me, you think this is not who we are? Yeah, it is. Wake up, dude."
Unfortunately, the rude awakenings keep coming.
For years, Breitbart.com, the web magazine of the populist right founded by the late Andrew Breitbart, has published laughably shoddy journalism, like the smearing of Juan Carlos Vera and the claim that a drunken President Lyndon Johnson boarded a plane and then accidentally dropped nuclear weapons on the United States.
Many conservatives have nevertheless regarded the site as part of their movement.
This primary season, the site has been aggressively pro-Trump. And here's what Breitbart.com's front page looked like late Sunday evening and early Monday morning: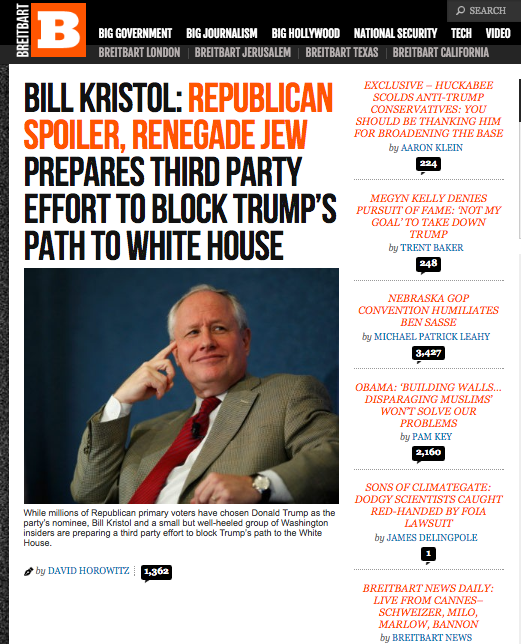 That isn't an anti-Semitic dog whistle—it's a human whistle. You'd have to be deaf to miss it. And no, it doesn't matter that the author of the article is himself Jewish.
(It isn't clear whether or not he wrote the headline.)
Red State's Ben Howe reacted with understandable disgust:
I'm not rethinking my conservatism in any way. What I'm rethinking is my allies. My shitty, racist, xenophobic, awful, idiotic allies.

— Ben Howe (@BenHowe) May 16, 2016
If that bigoted, deeply irresponsible headline remains atop the site Monday morning, a lot of conservatives will react with similar disgust, some publicly, many others privately. As they do so, they might reflect on all the bygone events suggesting that the people who run Breitbart.com would be like poison for movement conservatism––and their coalition's prospects in the months ahead, as parts of the "alt-right" that Breitbart.com panders to will keep embarrassing Republicans by advocating on behalf of their nominee with ugly anti-Semitic tropes.