Bill Bratton's Strange, Old-School Linkage of 'Thugs' and Rap
After a shooting at a hip-hop concert, the NYPD commissioner delivered a statement that seems straight out of the rough-and-tumble '90s.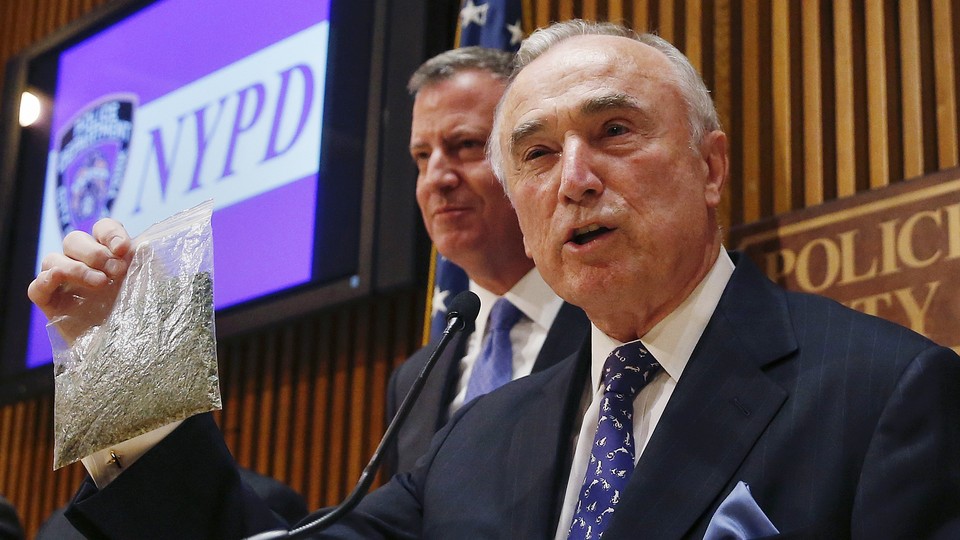 There are a few words that no public official should toss around lightly in 2016, and one of them is "thug." Apparently no one told NYPD Commissioner Bill Bratton. In the aftermath of a deadly shooting at Irving Plaza, a music venue in Manhattan, this week, New York's top cop unloaded about "the crazy world of the so-called rap artists" during a radio interview:
Basically thugs that basically celebrate the violence that they live all their lives and unfortunately that violence often manifests itself during the performances and that's exactly what happened last evening. The music, unfortunately, oftentimes celebrates gun violence, celebrates the degradation of women, celebrates the drug culture and it's unfortunate that as they get fame and fortune, that some of them are just not able to get out of the life, if you will.
Bratton's comments represent an interesting cultural moment, for several reasons. The reason that it's unwise to talk about "thugs" is—as Megan Garber explored in a fascinating piece last spring—that the word is heavily coded racial language. You don't get many instances of people referring to white hooligans and troublemakers as "thugs"; it's a term generally reserved for black criminals, or those viewed as criminals, or even those who seem like entirely upstanding citizens, like Seahawks cornerback Richard Sherman, who has only ever robbed wide receivers.
This taboo is one reason it was notable when both Baltimore Mayor Stephanie Rawlings-Blake and President Obama referred to rioters after Freddie Gray's death as "thugs." Both of them, prominent black politicians, knew exactly the racial valence of the word when they deployed it. That hardly shielded them from criticism—nor should it; political speech ought to be debated—but it was a conscious act. There are certain things that certain people can say, but others cannot. Bill Bratton, a white guy from Boston, should probably avoid "thug."
One strange thing about Bratton's comments is that it's unclear who exactly fired the shots at the concert. Troy Ave, a Brooklyn rapper, was injured, and his bodyguard was killed. But the shooter or shooters don't appear to have been any of the musicians on the bill Wednesday, although T.I., the night's headliner, did time in federal prison on weapons charges. Nonetheless—as has been said countless times—it's hardly as if hip-hop is alone in glorifying violence and drug culture, nor are concerts in other genres immune from violence. Put a lot of people in a crowded, hot space, and you're going to get occasional fights.
Bratton mostly comes across as an old fogey—especially with the line about "so-called rap artists," which harkens back to an age when hip-hop hadn't attained the cultural currency and acceptance it does now. I was reminded of a passage in Marc Jacobson's recent profile of the New York radio personality Charlamagne:
The subterranean scratchings of Kool Herc have morphed into a Pan-Zeitgeist, Pan-racial outlook that extends to big-time sports, reality shows, stand-up comedy, conspiracy theories, unending celebrity gossip, Twitter, and Instagram …. It has long since ceased to be possible for latter-day Tipper Gores to typecast the genre as hat-backward black street culture in which artists thought it was a sharp career move to name themselves "Murder." Hip-hop is simply culture, in many ways—language, fashion, etc.—the culture, as mainstreamed as Elvis ever was.
The Irving Plaza shooting, and Bratton's reaction to it, seem to both prove and disprove Jacobson's argument: One of the opening acts actually calls himself "Uncle Murda"! And here is Bill Bratton, taking on the role of latter-day Tipper Gore! Yet the shooting is so baffling, so cartoonishly imitative of 1990s beef as to make the incident, and Bratton's reaction to it, seem hopelessly anachronistic in an age of Lemonade and "Alright."
One reason Bratton might seem like an old fogey is that he kind of is one. He also led the NYPD from 1994 to 1996, at a time when those cultural shifts hadn't happened. His second stint as commissioner comes in a changed city, and after serving stints in Los Angeles and the private sector, he has tried a new approach since returning to 1 Police Plaza in 2014. Working alongside Mayor Bill de Blasio, he has labored to reform the police department, grappling with racial bias among cops and the malign effects of stop-and-frisk. That work has won him acclaim, even though he helped introduce many of the methods that led to the repressive system of random stops in the first place.
Now, however, de Blasio is reeling politically, facing low approval rates and questions about his administration. With the mayor weakened, Bratton seems to be reverting to some of his old ways. Although the city has moved to decriminalize marijuana, Conor Friedersdorf wrote on Monday about the commish's confused—and confusing—recent stance on the links between pot and crime. Now comes Bratton's rant about "thugs" and "so-called rap artists." His new approach in New York has made him a national leader on police reform, in part simply because the NYPD's size makes it an automatic model to other departments, even as he makes remarks like these. Bratton's second stint as commissioner is shaping up to be an interesting case study in the capacities and limits of reinvention.