Almost, but Not Quite, Heaven: Bernie Sanders's West Virginia Win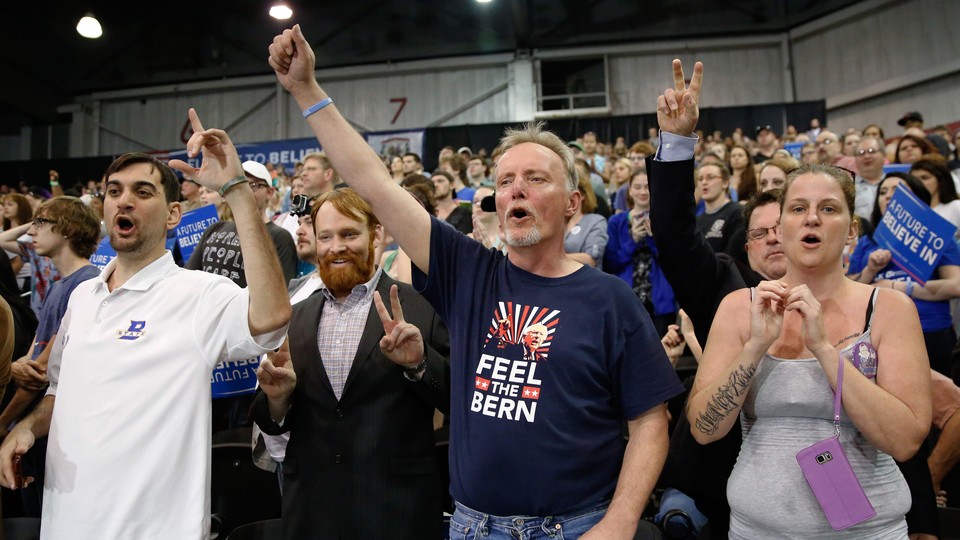 Editor's Note:
This article previously appeared in a different format as part of The Atlantic's Notes section, retired in 2021.
Some of the drama may have gone out of the primary election since Donald Trump's triumph in Indiana, but the race isn't over—especially on the Democratic side. On Tuesday, both parties held primaries in West Virginia, while Republicans voted in Nebraska. Once again, Bernie Sanders had a big night. The politics team liveblogged it all day, and here's my instant analysis, best consumed with some hip background music:
The state of West Virginia, John Denver famously said, is "almost heaven." But purgatory is also just a step away from heaven, and that's where Bernie Sanders finds himself after the Mountain State's primary Tuesday.

The Vermont senator won big in West Virginia's Democratic primary, defeating Hillary Clinton. That follows a similarly big win—an upset that defied polling—in Indiana last week. Although Clinton won the tiny Guam primary over the weekend, Sanders seems like the favorite to win the two remaining Democratic contests this month, in Kentucky and Oregon on May 17. Yet that winning streak won't do anything to dislodge Clinton from her spot as prohibitive frontrunner. With her huge lead in delegates, Clinton is still on course to win the nomination, and Sanders remains unable to climb out of purgatory and into paradise—or at least the presidential nomination.

How did Sanders win on Tuesday, though? West Virginia was once a solid Democratic state, a hotbed of labor unionism that went for Democratic presidential candidates from 1932 on in all but the Republican landslide years of 1956, 1972, and 1984. The state was represented in the Senate by two grand old men of the party, Robert Byrd and Jay Rockefeller. But more recently, the state has trended Republican, for a variety of reasons: Party realignment around conservative issues has led socially conservative West Virginians toward the GOP; racial animus toward President Obama has hurt the local Democratic Party; and the combination of weaker unions and liberal environmental advocacy against coal has lost the Dems some blue-collar backing.