The Political Revolution's Next Frontier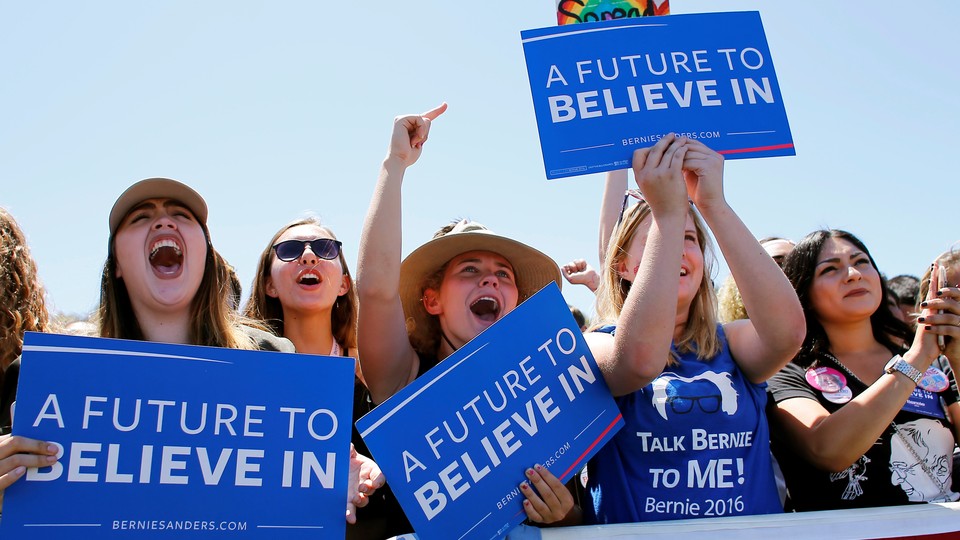 Editor's Note:
This article previously appeared in a different format as part of The Atlantic's Notes section, retired in 2021.
The political revolution could soon be coming to a state capitol near you.
I've written before about the future of the movement that has coalesced behind Bernie Sanders, and what comes next. Endorsing like-minded candidates could be an effective way to deepen the engagement of Sanders supporters in the political process. It will also help Sanders expand his own political network—something he'll need to do if he wants to see the policy agenda he champions take root. The more candidates Sanders endorses, the more likely he is to build up an alternate base of power on the political left.
On Tuesday, Sanders started asking supporters to donate money on behalf of eight state legislative candidates in South Carolina, Wisconsin, South Dakota, Illinois, California, Colorado and Vermont.
Sanders has previously helped fundraise for four congressional candidates, including Tim Canova, Democratic National Committee Chair Debbie Wasserman Schultz's primary challenger. Tuesday's announcement shows the campaign is expanding the scope of its efforts beyond Congress and into state legislatures.
The Sanders campaign highlighted the candidates' progressive credentials in a press release introducing the lineup. Identity and personal narrative also earned top billing. Take for example, Jane Kim, a candidate for California state senate, described as a "daughter of immigrants" and "a civil rights attorney who's fought for affordable housing and fair wages."
Sanders has proven wildly successful at raising money in small-dollar increments, and his fundraising pitch has the potential to divert a significant amount of cash to down-ballot races. A key test of the political revolution's staying power, however, will be whether the candidates Sanders stands behind actually win.