A Win for Early Voting—and Democrats—in Ohio
A judge ruled that a law eliminating a week of early voting and same-day registration violates the Constitution and the Voting Rights Act.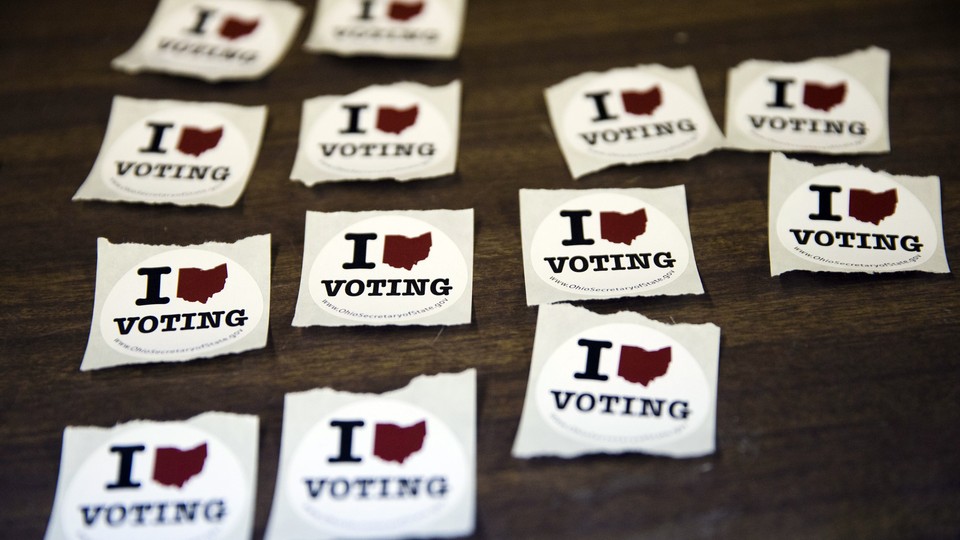 It's been a rough few week for voting-rights advocates, who have seen a judge reject a challenge to North Carolina's strict voting law and seen Missouri legislators successfully place a ballot referendum that would amend the state constitution to require photo ID.
But they got a win in Ohio today, where a judge in Columbus ruled that a recent law that eliminated a week in which citizens could both register and vote early was unconstitutional. Judge Michael Watson found that the change would disparately impact minority voters, and that the law violated both the 14th Amendment and Section 2 of the Voting Rights Act.
The ruling is all but certain to be appealed, though election-law expert Rick Hasen, a law professor at the University of California Irvine, notes that the Sixth Circuit, which includes the Buckeye State, has been fairly friendly to voting-rights advocates. As Hasen points out, the wave of litigation since the Supreme Court struck part of the Voting Rights Act in 2013's Shelby County v. Holder has now produced some strikingly disparate results, but getting clarity could prove difficult as long as the Court is down a justice:
When you combine this case, the North Carolina voting case (currently on fast track appeal to the 4th Circuit) and the Texas voter id appeal (heard today by an en banc court in the 5th Circuit), along with two additional challenges to Wisconsin's voter id law (which was upheld by the 7th Circuit, after a 5-5 split over whether to take that case en banc), there is sorely a need for clarification of the scope of Section 2 when it comes to the "new vote denial" cases. Yet the Scalia-less and Garland-less Court may not be in a position to take these cases now, in that they may split 4-4 on their resolution. It just shows a cost of the vacancy right now.
The decision isn't just another important moment in the national battle over voting laws. It could also affect the course of the 2016 presidential election. Ohio is expected to be an important swing state, as usual, and one that could determine whether Donald Trump's ability to win over disaffected voters angry at free trade or resentful of declining white majorities can hand him the election. Senator Rob Portman's bid for reelection against Ted Strickland is also expected to be a tight race.
Studies have consistently found that tools like early voting and same-day registration help to improve minority voting rates. In Ohio, some Republicans have admitted as much. In 2012, a GOP official in Franklin County defended cuts to weekend and evening voting, telling The Columbus Dispatch, "I guess I really actually feel we shouldn't contort the voting process to accommodate the urban—read African-American—voter-turnout machine."
Small fluctuations in turnout can make a major difference because margins in Ohio are typically very close: Barack Obama won by less than 200,000 votes in 2012, while George W. Bush edged John Kerry by less than 120,000 votes in 2004. Clinton campaign general counsel Marc Elias helped to bring the challenge in Ohio, and the result—if it stands—could be a boon to his boss.