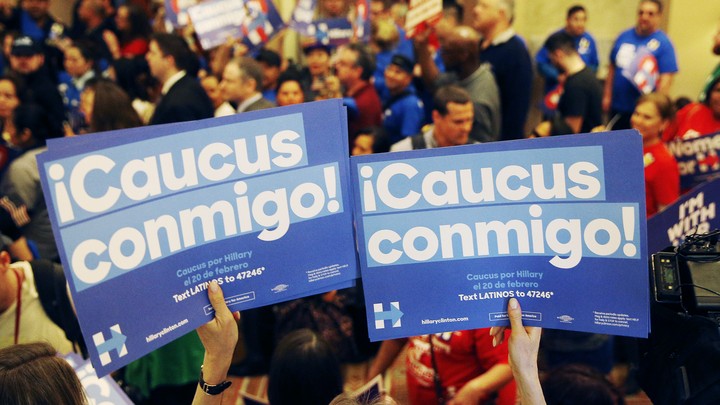 The Hispanic population is looking young.
Millennials make up roughly a quarter of Hispanics in the United States, according to a Pew Research Center analysis of U.S. Census Bureau data released on Tuesday. The analysis found that Hispanics between the ages of 18 and 33 comprise 26 percent of the population, while those younger than 18 make up 32 percent. Taken as a whole, the two age groups account for well over half of the Hispanic population in the United States, making it the youngest ethnic group in the country.
It's a dynamic that has played out over 34 years. The Hispanic population has always been one of the youngest in the United States, dating back to the 1980s. Then, the median age of the Hispanic population was 22, increasing to 28 in 2014, according to the Pew analysis. The reason there are such large swaths of young Hispanics in the United States is that many of them are born here, marking a divide within the community. While nearly three-quarters of Hispanics born in the United States are currently under 34, Hispanics over the age of 34 are more likely to be foreign born. As the Pew analysis notes, waves of immigration from over the last 50 years are driving this youth trend—and their voices are being heard. What's unfolding this election cycle—and is most apparent in the Democratic primary—is a split between the voting patterns of two generations of Hispanics.
To be sure, Hispanic voters have mostly flocked to Hillary Clinton, who has fared well among minorities in general. In states with large Hispanic populations, Clinton has consistently swept a large share of the community. On that front, Bernie Sanders lags behind. Take New York, which has the fourth-largest Hispanic population in the country. The two Democratic candidates courted the electorate at rallies ahead of the primary. In New York, Clinton also received support from Latino leaders, like New York City Council Speaker Melissa Mark-Viverito as well as Representatives José Serrano and Nydia Velázquez, as she did in 2008 when running against then-Senator Barack Obama. "It was very similar with Obama appealing to younger voters and her with most of the [support of] Latino elected officials with the credentials of having been the champion for Latinos," Democratic strategist Luis Miranda told NBC News. "This is like a replay."
As exit-poll results trickled in on Tuesday night, it appeared at first that Sanders had made inroads in the Hispanic community, but that eventually changed: 64 percent of Hispanics in the state backed Clinton compared with Sanders's 36 percent, according to CNN exit-poll results. Nevertheless, young Hispanics appear to be much more enthusiastic about Sanders than they are about Clinton. The challenge for Sanders is that voter turnout and registration among young Hispanics is low, confirming their status as the most "civically alienated" group.
Lidia Rodriguez, for one, supported Clinton until she became convinced otherwise by her 26-year-old daughter Brenda. And college student Ivan Soto became a Sanders supporter after learning about him on Reddit and through Google searches. So it goes: Young Hispanics back Sanders, while their parents support Clinton.
These attitudes also line up with the demographic that Sanders has appealed to across cultures: voters under the age of 30. Unfortunately for Sanders, even though Hispanic Millennials make up 44 percent of Hispanic eligible voters, with the groups' low voter turnout, that's unlikely to be advantageous to him.
We want to hear what you think about this article. Submit a letter to the editor or write to letters@theatlantic.com.