You're Fired: The Donald Trump Campaign Shakeup
With his grasp on the Republican nomination loosening, the entertainer is reshuffling his staff and pumping money into the race. Is it too late?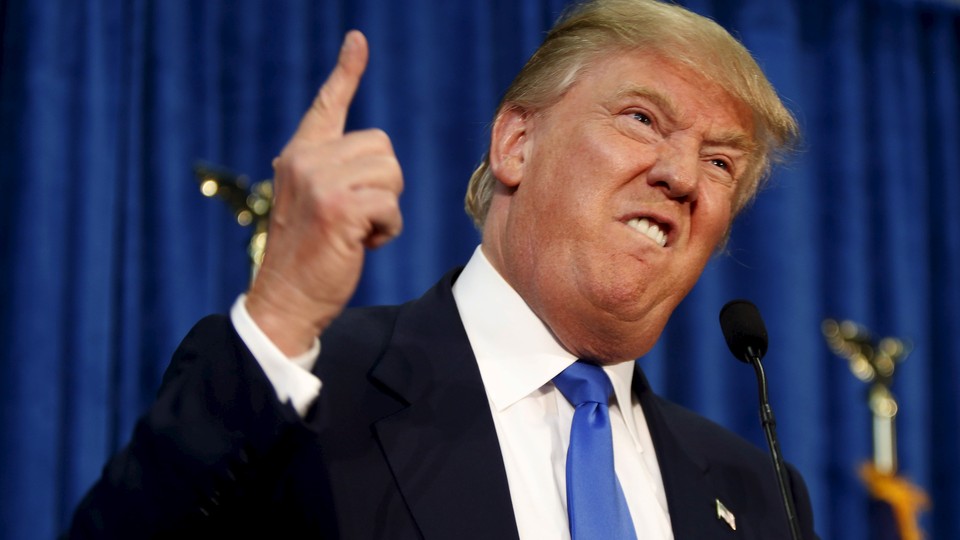 Leo Tolstoy famously declared all happy families alike, and every unhappy family unhappy in its own way. With political campaigns, it's just the reverse: Every winning campaign gets there its own way, but every struggling campaign tends toward the same frantic gestures: leaks, acrimony, and staff shakeups.
So it is with the Donald Trump campaign, which has been on a losing streak—both in the most recent nominating contests in Wisconsin, Colorado, and Utah, and in a series of delegate-selection conventions at the state level, where Trump has failed to send loyalists on the slate to go to Cleveland. Over the weekend, the big staff shakeup finally arrived, in a move first reported by Politico.
On the staffing side, Trump has promoted Paul Manafort and Rick Wiley to take charge of the campaign's operations going forward. Both of them are relatively recent additions: Trump first hired the veteran operative Manafort in late March, when it became apparent that Trump might not win the nomination outright, that delegate-wrangling would therefore be essential, and that Trump was badly behind on that count. But Manafort quickly extended his reach beyond simply nose-counting. Wiley, former presidential-campaign manager for Scott Walker, is a still more recent addition, having just come aboard last week.
The big loser in all of that is Corey Lewandowski, the controversial erstwhile campaign manager, who according to CBS has been demoted "to a role that amounts to body man and scheduler." That's not quite the final indignity for Lewandowski, but it's close. He's been on a roller coaster over the last year: When he was selected to run Trump's campaign, Lewandowski was little known and had never run anything of the magnitude of a presidential team. But as Trump surged to the fore of the Republican field, Lewandowski's profile rose.
In early March, however, he grabbed and yanked a reporter away from Trump, precipitating weeks of scrutiny and recriminations, and ultimately resulting in Lewandowski's arrest for battery. As Lewandowski sat in legal limbo, Trump's campaign started slipping. He lost a couple of contests, and the state-delegate process began to elude him. Last week, a prosecutor in Palm Beach County announced he wouldn't charge Lewandowski, but by then the damage was done. He had already been de facto demoted, as Manafort and others grabbed more power. Reports of his reduced role emerged as early as April 2.
Manafort, meanwhile, was touting his new role, telling CNN he had a direct line to Trump and didn't have to go through the campaign manager. "I work directly for the boss," he said. (As BuzzFeed's McKay Coppins and Christopher Massie put it Monday, Trump is an extremely loyal boss right up until he sacks you.)
If the case for demoting Lewandowski was clear—he is a personal political liability, and he didn't seem to have the answer for Trump's troubles—the case against is equally clear. Lewandowski has been responsible for hiring many of the people on Trump's team, who are now upset and owe little loyalty to Manafort, Wiley, or anyone else. On Monday, national field director Stuart Jolly, a Lewandowski loyalist, submitted his resignation rather than begin reporting to Wiley, Politico reported. Jolly, in turn, had hired many lower-level staffers. The Trump campaign has been remarkably leak-proof, likely a result of a small staff with intense loyalty to the boss. But as the team expands, there's greater acrimony, looser affiliation, and more chances for leaks.
The thing about promoting Manafort is that it's not yet clear that he's got better answers than Lewandowski. Since his addition, Trump has been shellacked at state conventions. It's essential for candidates to get loyal delegates sent to the Republican National Convention, because if—as expected—no candidate wins an outright majority before Cleveland, delegates are freed up to support the candidate of their choice on the second, third, or subsequent ballots, depending on state rules. So far, however, Senator Ted Cruz is cleaning Trump's clock at state conventions even where Trump easily defeated him, giving Cruz an organizing edge in a floor fight.
Protestations that the game is rigged and the rules unfair from Manafort, Trump, and others have riled some Trump voters, but for the most part they've been met with derision and ridicule from Republican officials and journalists. (Republican officials seem more optimistic than they have in months, as they start to think that a contested convention is the most likely outcome—though the fact that a contested convention is their better option is cold comfort.) Manafort himself has also become something of a personal liability, thanks to past lobbying work for controversial clients including Saudi Arabia.
The other big news from the shakeup is that Trump has decided to start throwing money at his campaign. After insisting on running the campaign on the cheap—a tactic that largely worked, as Trump hoovered up valuable media attention—he has finally decided to spend a reported $20 million in May and June. That's a substantial chunk of money. The question is whether it's too late. Trump will need to win a huge portion of the remaining delegates in order to clinch the nomination outright in the races that remain, although the map ahead is thought to generally favor him. The counterfactuals are tempting: What if Trump had spent some of his ample fortune on organizing ahead of the Iowa caucus, which he narrowly lost to Cruz? What if he had spent that money in the last month, cutting into Cruz's delegate maneuvering? If Trump loses the nomination, despite having defied the oddsmakers and pundits on so many counts, the paradox will be impressive: the first billionaire candidate, felled by his own unwillingness to spend money.
All of this chaos is one reason not to read too much into Tuesday night's New York primary results. Even if Trump triumphs across the board in his home state, winning in every congressional district, it's too soon to say that his campaign will have stabilized after a rough stretch. On Wednesday morning, he'll still be faced with an uphill battle to reach 1,237 delegates, a bleak slate of delegates in Cleveland, and a campaign staff in disarray.