Why Does Immigration Make Some Americans Anxious?
Some seem concerned with its economic impact—others see it as a threat to the country's values.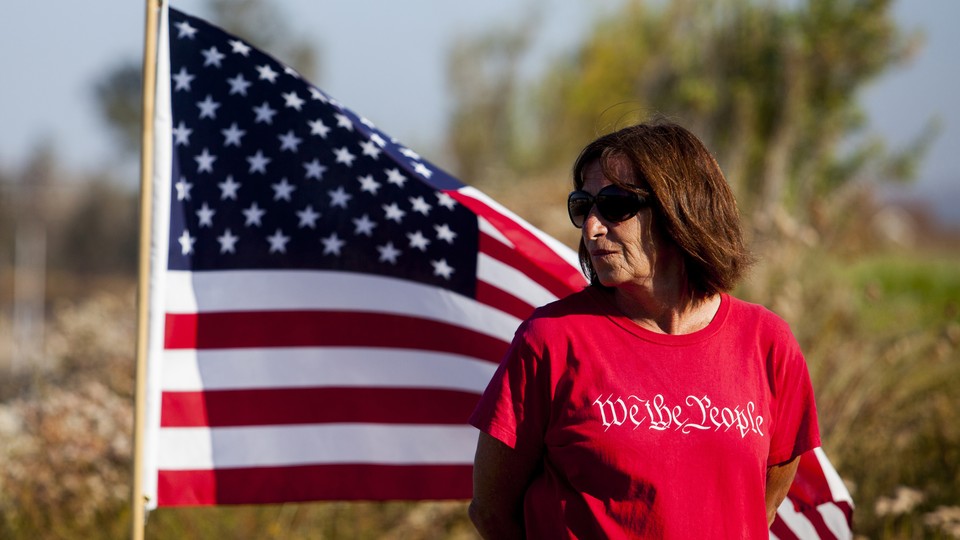 Are Americans' fears about immigration rooted in economic concerns, or cultural anxieties?
A new PRRI / The Atlantic poll suggests the answer to that question is helping to shape the presidential race. The poll asked voters whether it bothers them when they come in contact with immigrants who speak little or no English. It found that 64 percent of Donald Trump supporters say immigrants who speak little or no English bother them. Only 46 percent of Ted Cruz supporters share that belief. The findings suggest that people who back Cruz are likely less culturally anxious about immigration than those who back Trump.
Why?
Cruz and Trump have sparred over immigration, pegging it both as a threat to American society and an economic issue. But in contrast to Trump, Cruz, a Cuban American senator, also tells a positive story about immigration.
The Texas senator has touted his parents' roots on the campaign trail, recalling his father's flight from Cuba in the 1950s. "Y'all know how to make a Cuban feel welcome," Cruz said during a campaign stop in Miami last month. Cruz presented his father's story—he began working as a dishwasher and eventually went on to attend the University of Texas—as a classically American tale of success. "[I]t's who we are, it's the Hispanic experience, but it's also, much more broadly, it's who we are as Americans. It ties us together," he said.
Cruz didn't win Florida, but the message appeared to resonate with his followers.
Fifty-two percent of Cruz supporters said they disagree that immigrants who speak little or no English bother them, according to the poll. Cruz has adopted a hardline immigration stance, moving further to the right in a race dominated by Trump's divisive rhetoric on the issue. He doesn't typically speak Spanish on the campaign trail. But in showcasing his Cuban roots, he's acknowledged—and tried to relate to—immigrants in the United States.
Like Trump, Cruz has called for the deportation of undocumented immigrants. He's also presented immigration largely as an economic issue. "The politics of it would be very, very different if a bunch of lawyers and bankers were crossing the Rio Grande, or if a bunch of people with journalism degrees were coming over and driving down in the wages of the press," Cruz said in a November debate.
Trump, on the other hand, has argued that being American is a privilege and suggested that immigration poses a threat to American society. A majority of Trump supporters might agree, as only 14 percent completely disagree that immigrants speaking little to no English bother them, according to the poll.
On the Democratic front, 40 percent of Clinton supporters weren't bothered at all by interactions with immigrants who speak little or no English, compared to Sanders's 51 percent. Minority voters have typically backed Clinton in the polls, and yet some of her supporters appear more culturally anxious. But the differences between supporters of the Democratic candidates are dwarfed by the gap between the parties. Fully 47 percent of Democrats completely disagreed that immigrants who speak little English bother them—but only 16 percent of Republicans said the same.