When Musicians Boycott to Protest Politics
From Bruce Springsteen to Billie Holiday, artists have thrust themselves—or found themselves thrust—into conflicts, with mixed results.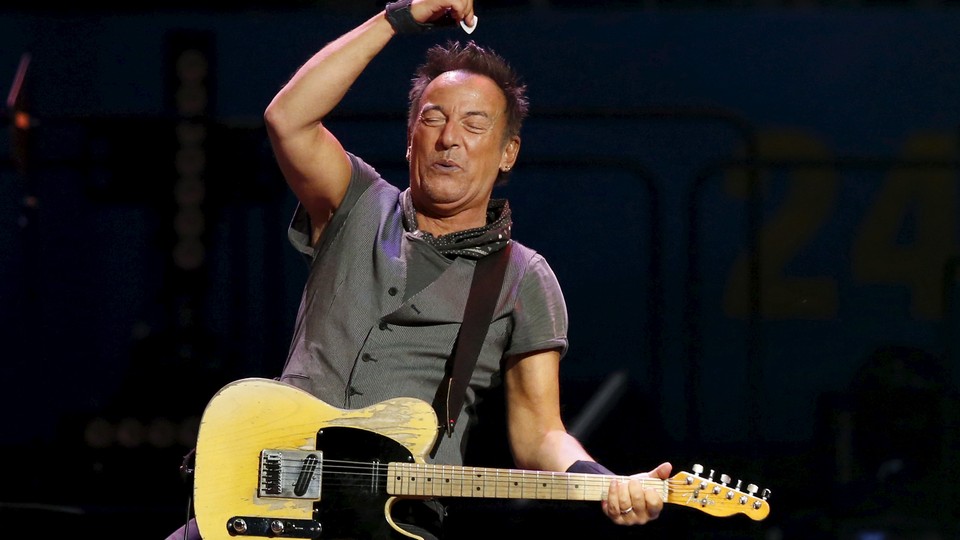 DURHAM, N.C.—Middle-aged men from across North Carolina were preparing to flock to Greensboro this past week the weekend to see Bruce Springsteen perform. Instead, the Boss announced on Friday that he was canceling the show as a protest of the state's recently passed HB2, which bans cities from establishing LGBT nondiscrimination ordnances, enacting transgender bathroom accommodations, or raising local minimum wages.
Meanwhile, the Canadian singer Bryan Adams has canceled a show in Biloxi over Mississippi's new "religious freedom" law, which allows businesses to refuse service to same-sex couples. (He's not to be confused with Ryan Adams, the North Carolina-born Taylor Swift cover artist and alt-country great, who does not appear to have taken a position on the bill.) Gestures like this are a similar, and perhaps more direct, cousin to the practice of musicians demanding that politicians with whom they disagree quit using their songs at public events. And unlike the song demands, boycotts are enforceable.
Are such protests grandstanding or an effective tool? Do they work? Who takes the hit? Although performers have been using their power to appear—or not—to send political messages for decades, the efficacy of the gesture in fights over North Carolina and Mississippi's laws remains unclear. But musicians played a very public role in fighting segregation in the U.S. and apartheid in South Africa.
Other laws, including religious freedom-laws, have elicited similar protests. After George Zimmerman was acquitted of murder charges in the death of Trayvon Martin, Stevie Wonder promised not to perform in Florida or any other state with a stand-your-ground law. A wide range of musical acts announced plans to boycott Arizona after it passed an extremely strict immigration law in 2010. In 2015, Wilco canceled a show in Indianapolis after Indiana passed a religious-freedom law. The results are mixed. There haven't been any stand-your-ground repeals. Arizona's law stands on the books, though several provisions were struck down by the Supreme Court. But Indiana substantially reversed course after backlash, and Wilco went ahead with its show.
What these examples show is that simply canceling a concert is unlikely to ever bring about a policy change on its own. No musician, not even Bruce Springsteen, is powerful enough to do that. (Springsteen couldn't even sway New Jersey's governor, Chris Christie, on policy issues, even though Christie is an avowed fanboy.) Instead, they tend to function as part of a publicity push, adding their weight to efforts by business groups, corporations, and activists. In North Carolina, Paypal, Deutsche Bank, and others have announced plans to freeze job expansions, while—in a presumably more symbolic move—the porn site XHamster announced it would block IP addresses in the Tar Heel State. (Your correspondent has not explored whether the block is functional.)
But what are the mechanics of a musician boycott? Take the Springsteen case. The songwriter is one of the more politically outspoken progressives in the rock scene, so his stance on HB2 wasn't really a surprise. Calculating the economic impact of the cancelation, however, is tough. The Greensboro Coliseum estimated it would lose $100,000, and people who would have been working that night didn't make any money from it. The city's mayor said she wasn't sure how large the economic ripple effects might be.
One complaint in North Carolina has been that Springsteen's boycott is punishing his own fans, who—according to this argument—are likely to oppose HB2 in the first place. The claim is debatable. As Christie's fandom shows, there are plenty of conservatives who love Springsteen's brand of everyman heartland rock. (For a 2004 concert in Cleveland supporting John Kerry's presidential run, a chunk of Bush-backing Boss buffs bought tickets anyway and simply held up signs or yelled for Springsteen to lay off the politics and play the hits.) In any case, boycotts like this are more symbolic than punitive in purpose.
Nonetheless, a progressive group called "NC Needs You" has sprung up to argue against boycotts like Springsteen's, arguing that engagement is more politically effective. The coalition writes:
Here's how to help: Don't cancel your show because of the bigoted policies of a few wrongheaded lawmakers and our governor. Instead, play the shows. Use the stage as a platform to make a statement. And donate any—or, better yet, all—profits to a coalition of nonprofits, lobbying groups, and grassroots organizations doing on-the-ground work to take North Carolina back. (We understand that times are tight for bands, so no pressure here.)
Comedian Joel McHale performed in Durham on Saturday and followed NC Needs You's lead, donating his proceeds to the LGBTQ Center of Durham.
There's always a risk for an artist who speaks out. Conservatives pointed out that Bryan Adams made his move to cancel in Mississippi immediately after returning from Egypt, a society with more repressive gender norms. Springsteen has surely lost some fans over the years because of his politics. After his Greensboro cancelation, Representative Mark Walker called the singer a "bully" and vowed to go to other shows instead. "We've got other artists coming soon — Def Leppard, Justin Bieber," he told The Hollywood Reporter. "I've never been a Bieber fan, but I might have to go." (Walker, rather than Springsteen, may bear the brunt of this decision.)
Globally, the movement to get musicians to boycott Israel over its handling of conflict with the Palestinians has been larger and more politically charged. Pink Floyd's Roger Waters has been perhaps the most vocal exponent of the movement, though composer Brian Eno and Kyp Malone of TV on the Radio have also been involved. The musicians' boycott is closely allied with the Boycott, Divestment, and Sanctions, or BDS, movement, which opponents like my colleague Jeffrey Goldberg say goes beyond simple criticism of the Israeli government's policies toward Palestinians and into active anti-Israel agitation. Among BDS opponents, opinions about whether the musicians are intentionally backing that view or are simply misguided seem to vary.
Waters and others argue that they are acting in the spirit of the artists' boycott of Apartheid-era South Africa. Convened and backed by the United Nations, those efforts are remembered today as having played a prominent role in bringing about the fall of the nation's white-supremacist government and the end of Apartheid. Even that effort was not without controversy at the time, though, and it illustrates the tension between the impulse to boycott and to engage. In 1985, Paul Simon flew to South Africa to record Graceland, the hit album that featured Ladysmith Black Mambazo and other South African musicians. The album defied the UN boycott, and Simon was pilloried. When he traveled to Johannesburg, he was met by protestors. Springsteen sideman Steven Van Zandt, who organized the anti-Apartheid Sun City project the same year, says that he was shown an assassination list compiled by the radical group AZAPO that had Simon "at the top of it." Simon's defense was simply that his music was not political. Ultimately, several high-profile South African musicians, including Hugh Masakela and Miriam Makeba, defended Simon, mostly getting him off the hook. From 2016, Simon's record seems like a model of engagement, though he's also been accused of cultural appropriation.
Jazz bands also played an important role in protesting Jim Crow laws in the South. Swing bands began to integrate slowly after 1935, when white clarinetist Benny Goodman created a trio with black pianist Teddy Wilson and white drummer Gene Krupa. In 1938, Goodman's rival Artie Shaw added singer Billie Holiday to his band. The presence of Holiday, a black singer who would record the iconic civil-rights song "Strange Fruit" the following year ,was a source of tension for the band, as John Szwed wrote in a recent biography. In some places, venues wouldn't allow Holiday to appear on posters or on stage with Shaw, who was a huge star at the time. Rather than accommodate their preferences, Shaw simply played elsewhere.
But sometimes they, too, found that engagement worked better than boycotting. When hotels and restaurants balked at serving or housing Holiday, the biggest and burliest members of Shaw's band would simply escort her in, effectively integrating the joints.|