A Voting-Rights Victory in Virginia
Governor Terry McAuliffe will sign orders allowing more than 200,000 people with felony convictions to cast a ballot.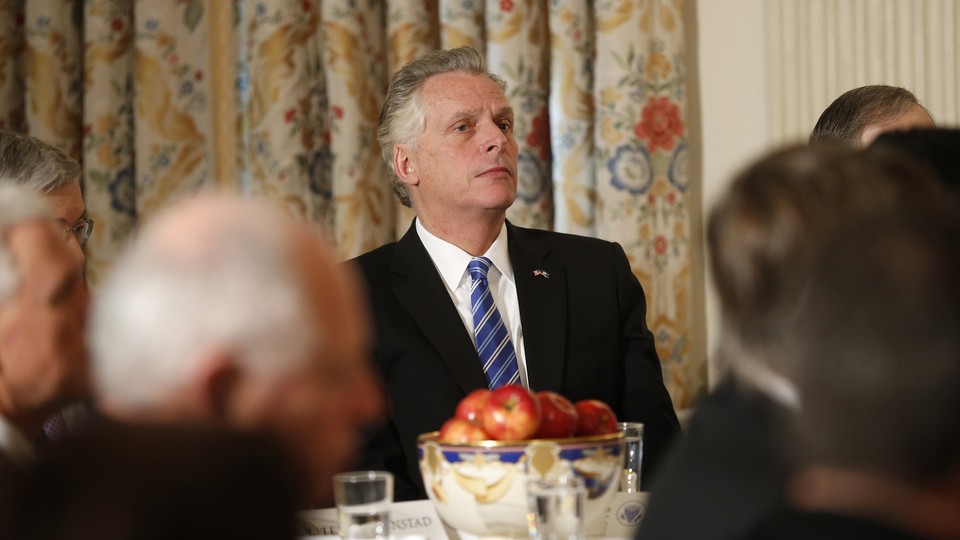 Virginia Governor Terry McAuliffe will restore voting rights to more than 200,000 people with felony convictions on Friday, all but erasing a Jim Crow-era measure in the state constitution aimed at suppressing black electoral power.
The New York Times has more details on the governor's move:
Mr. McAuliffe, who took office in 2014 and campaigned to restore voting rights to felons, said that he viewed disenfranchisement as "a remnant of the poll tax" and that he had been "trying to figure out what more I can possibly do." He has been working with his legal team for months to live up to his campaign promise. His action Friday will not apply to felons released in the future; the governor's aides say Mr. McAuliffe intends to issue similar orders on a monthly basis to cover more people as they are released.

"People have served their time and done their probation," Mr. McAuliffe said. "I want you back in society. I want you feeling good about yourself. I want you voting, getting a job, paying taxes. I'm not giving people their gun rights back and other things like that. I'm merely allowing you to feel good about yourself again, to feel like you are a member of society."
Virginia's state constitution bars people with felony convictions from casting a ballot "unless his civil rights have been restored by the Governor or other appropriate authority." Although various forms of felon disenfranchisement have existed throughout American history, Virginia's restriction was added in 1906 as part of a broader effort by state lawmakers to enshrine white supremacy and weaken black voting strength.
McAuliffe's Republican predecessor, Bob McDonnell, also took steps to curtail one of the strictest felon-disenfranchisement regimes in the country, signing an order in 2013 to restore the vote to 10,000 nonviolent ex-felons. Across the Potomac to the north, the Maryland General Assembly also overrode Governor Larry Hogan's veto to restore voting rights to about 44,000 Marylanders with felony convictions in February.