Automatic Voter Registration Comes to Vermont
The Green Mountain State could expand its electorate by thousands under a new law signed Thursday.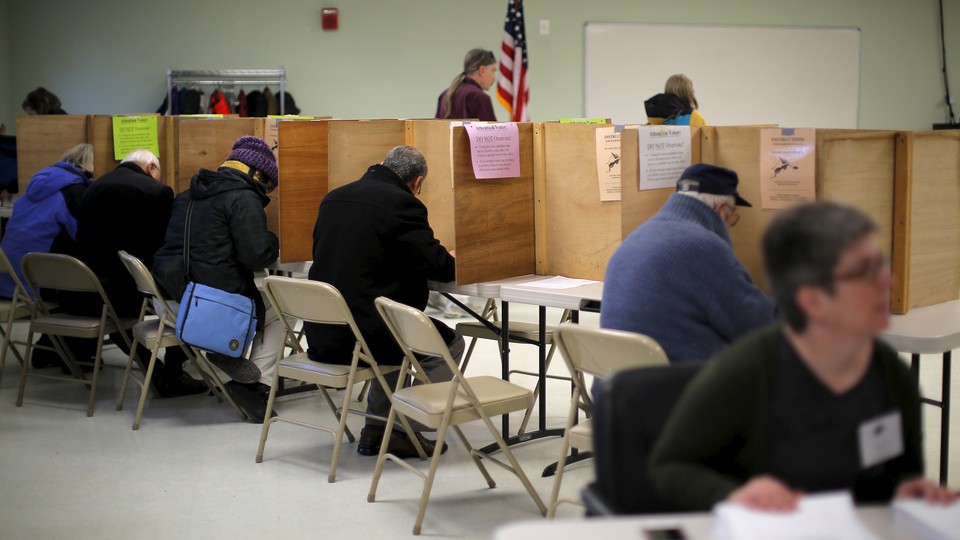 Vermont Governor Peter Shumlin signed legislation Thursday to automatically register eligible voters who apply for a driver's license or state ID, making the Green Mountain State fourth in the nation to enact an automatic voter-registration law.
"While states across the country are making it harder for voters to get to the polls, Vermont is making it easier by moving forward with commonsense polices that remove unnecessary barriers and increase participation in our democracy," Shumlin said in a statement.
State officials estimate the new AVR law, which takes effect after the 2016 election, could add 30,000 to 50,000 voters to the state's rolls. Similar proposals have gathered steam in states with large Democratic majorities but have often stalled elsewhere, as my colleague Russell Berman noted in February:
Oregon began proactively adding unregistered citizens to its rolls last month. California will soon follow suit under a state law signed last year. Serious efforts to enact similar proposals through legislative action or citizen ballot initiatives are underway in several other states, including Illinois, Maryland, and Ohio. The drive has won endorsements in the last year from President Obama and both Democrats running to succeed him in the White House.

Those are all indisputable signs of momentum for an idea now at the core of advocacy efforts to expand access to the ballot box—that state governments should make it easier to vote by simply registering their eligible citizens, rather than forcing them to do it themselves. Yet while the campaign has gained steam, it has also cleaved along party lines in a way that threatens to turn automatic registration into one more partisan flashpoint in the battle over voting laws.
New Jersey's experience underscores the partisan divide in most states. Democratic legislators included AVR in a bill revamping the state's election system last year, alongside other changes to early voting and online registration. But Governor Chris Christie, a Republican, derided the proposals as costly and "reckless" when vetoing the legislation in November.
In earlier remarks about the bill, Christie also criticized it as an attempt by the Democratic Party to undermine the state's elections. "There's no question in my mind that there are some advocates of this who are looking to increase the opportunity for voter fraud," he said during his monthly radio show in June 2015.
Only one state has bucked the partisan trend so far. In West Virginia's Republican-controlled legislature, lawmakers from both parties fashioned a compromise bill that combined a moderate voter-ID law favored by Republicans with an AVR system proposed by Democrats. Governor Earl Ray Tomblin, a Democrat, signed it into law on April 13.