Trump Comes Full Circle
Ten months after he kicked off his longshot campaign at the Trump Tower, he returned on Tuesday night for a victory party.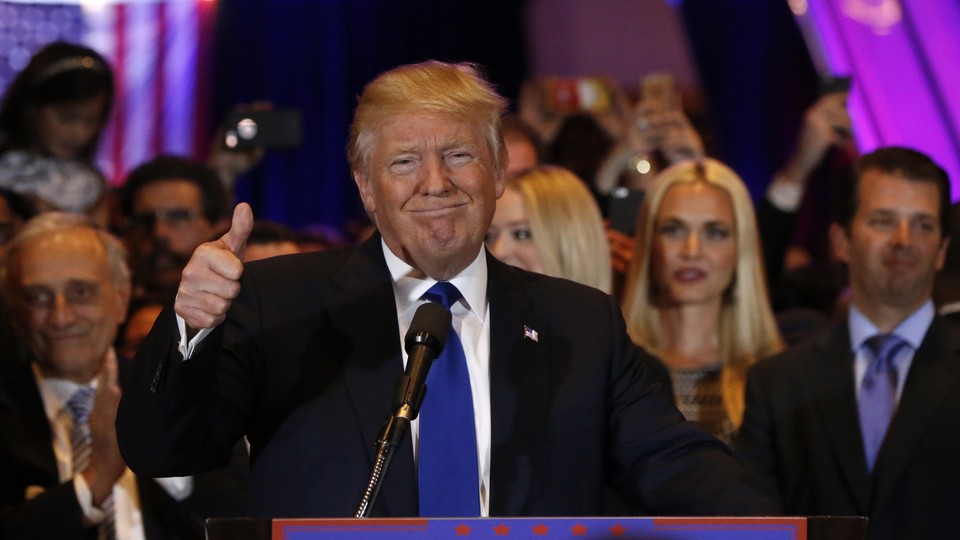 NEW YORK—Donald Trump on Tuesday night returned to the same ornate, Trump Tower lobby where 10 months ago, he launched his improbable bid for the presidency.
It didn't take long to see how much had changed.
Last June, Trump was declaring a candidacy that few in the political world believed would last through the fall, let alone propel him to the front of a record Republican field. On Tuesday night, he claimed a landslide victory in his home state, one that keeps alive his bid to capture the GOP nomination on the first ballot this summer in Cleveland.
Ten months ago, the reporters who gathered to hear Trump rail against illegal immigrants and American decline were paraded in front of a couple hundred "supporters" who were supposedly paid to stand and demonstrate that there were people who wanted this billionaire real estate tycoon to lead them. On Tuesday night, a media contingent numbering in the hundreds were barred from speaking to any supporters at all. Penned in by velvet ropes and the Secret Service, they could only watch as Trump's well-dressed guests—some of whom, like Trump, lived upstairs—mingled in the lobby and waited for The Donald to come down and claim his win.
Sinatra's "New York, New York" blared as Trump made his way to the podium—he took the elevator this time, not the escalator. He said he was proud to win such an enormous endorsement from "the people who know me best," and then he declared the Republican campaign essentially over. "We don't have much of a race anymore, based on what I'm seeing on TV," Trump said. He added that his main rival, Senator Ted Cruz, was more or less "mathematically eliminated."
This isn't true; Trump still has to dominate in the remaining states in the east, win Indiana, and do well in California to capture the 1,237 delegates he needs to win the nomination outright. But after winning 60 percent of the vote in the nation's third-largest state, he didn't seem to care.
Trump's campaign has undergone a significant staff shakeup in the last week, as he reportedly demoted his campaign manager, Corey Lewandowski, while elevating more seasoned political operatives. "It's actually a team of unity—it's evolving," he said in a glancing reference to the internal strife.
But the changes were most apparent in Trump's victory speech itself, which was uncharacteristically succinct, on-message, and free of controversy. Unlike previous election-night "press conferences," he took no questions from reporters, and the loud repeat Sinatra serenade as Trump finished his remarks ensured that he couldn't change his mind.
The Trump who won New York was an ever-so-slightly more polished candidate. He began here last summer as a long shot and a laughing stock. He returned on Tuesday as a frontrunner, and for one more election night, a big winner.