The Edge: The $20 Bill Gets a New Face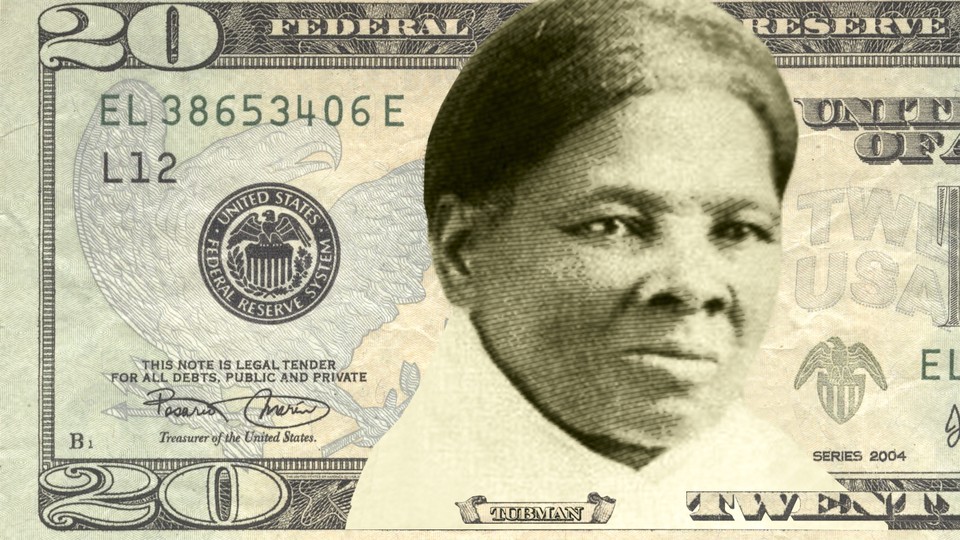 Today in One Paragraph
Harriet Tubman will replace Andrew Jackson on the new $20 note. Three officials were charged in connection with the Flint water crisis. The five officers accused of killing unarmed civilians in the aftermath of Hurricane Katrina pleaded guilty. The Supreme Court ruled that Iran must compensate U.S. victims of terrorist attacks using frozen assets. President Obama visited Saudi Arabia amid growing tensions between the two countries. And the United Nations said some 500 migrants are thought to have drowned when a smuggling boat capsized last week.
---
Top News
On the Money. Treasury Secretary Jacob Lew announced that Harriet Tubman, a Civil War-era abolitionist, will replace Andrew Jackson, the seventh president of the U.S., as the face of the $20 bill. Jackson's image will likely be moved to the back of the bill. The Treasury is also expected to introduce changes to the $5 and $10 bills to honor other women leaders. (Ben White, Politico)
Three Charged in Flint's Water Crisis. A Michigan judge authorized charges against the Flint laboratory and water quality supervisor Mike Glasgow, a Michigan Department of Environmental Quality official Mike Prysby, and the suspended Lansing coordinator for the DEQ's Office of Drinking Water and Municipal Assistance Stephen Busch. The charges, filed by Michigan's attorney general, include felonies of misconduct and conspiracy related to tampering with evidence. (Elisha Anderson, Matthew Dolan, and Paul Egan, Detroit Free Press)
New Orleans Officers Plead Guilty. Five former police officers made a deal with the government and pleaded guilty to shooting unarmed civilians on New Orleans' Danziger Bridge in the days after Hurricane Katrina—and then covering it up. Four of the officers were found guilty five years ago, but a judge later threw out their convictions and granted them a new trial due to "grotesque prosecutorial misconduct." (Ken Daly, The Times-Picayune)
SCOTUS Rules in Favor of Terror Victims. In a 6-2 ruling on Bank Markazi v. Peterson, the U.S. Supreme Court decided that the Iranian government must use $2 billion in frozen assets to compensate more than 1,000 American victims of terrorist attacks linked to Iran. Congress passed a law in 2012 making the funds available for seizure in the Bank Markazi, which Iran challenged as congressional encroachment on judicial powers. In today's decision, Justice Ruth Bader Ginsburg wrote that there was "no violation of separation-of-powers principles."  (Matt Ford, The Atlantic)
Obama in Saudi Arabia. The president met with King Salman of Saudi Arabia in Riyadh to discuss security threats from Iran and ISIS. Tensions are running high between the U.S. and Saudi Arabia over Obama's nuclear deal with Iran. The meeting came a day after Obama publicly expressed support for releasing documents that reportedly reveal Saudi Arabia's involvement in the 2001 terrorist attacks. (Michael D. Shear, The New York Times)
500 Migrants Believed Dead. The United Nations refugee agency said that as many as 500 migrants might have drowned last week when a ship sank between Libya and Italy during a smuggling transfer. It could be one of the worst tragedies involving refugees and migrants in the past year. (Don Melvin, CNN)
Tomorrow in One Paragraph. Hillary Clinton and Donald Trump will be in New York. Bernie Sanders and John Kasich are campaigning in Pennsylvania. And Ted Cruz is in Indiana. Obama will meet with the leaders of several Persian Gulf nations at the Gulf Cooperation Council summit in Saudi Arabia.
Follow stories throughout the day with our new Politics & Policy page. And keep on top of the campaign with our 2016 Distilled election dashboard.
---
Top Read
---
Top Lines
What's the Future of Marijuana Policy? For the answer, Rolling Stone spoke with Earl Blumenauer, Congress' top legal pot advocate. (Tessa Stuart)
Cruz Coming for Indiana. The Texas senator is shaking off his loss to Donald Trump in the New York primary and turning his attention to the Hoosier State, which has its primary on May 3 and could award enough delegates to effectively dash Trump's hopes of reaching the necessary 1,237. (Tim Alberta, The National Review)
A New House Rule? Several Democrats in the U.S. House of Representatives are proposing a major rule change: For every moment of silence in the chamber honoring victims of a mass shooting, there should be a congressional hearing addressing gun violence. (Sarah D. Wire, Los Angeles Times)
---
Top Views
What Does Your Name Say About Your Vote? Here's a breakdown of data from the Federal Election Commission examining the political affiliations associated with American names. Who's more likely to support Trump—Bobby or Mohammad? (Ana Swanson, The Washington Post)
We want to hear from you! We're reimagining what The Edge can be, and would love to receive your complaints, compliments, and suggestions. Tell us what you'd like to find in your inbox by sending a message to newsletters@theatlantic.com.