The Edge: We Are Never Ever, Ever Getting Together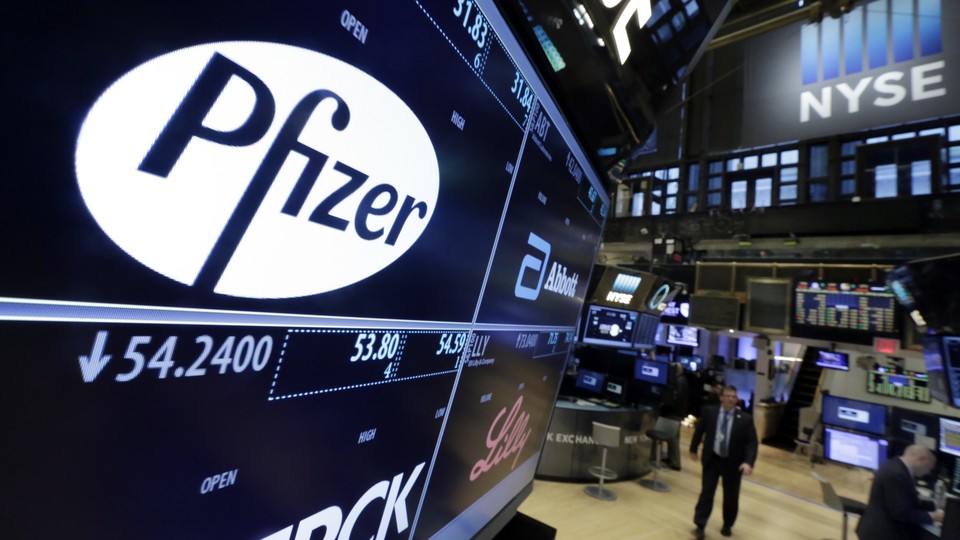 Today in One Paragraph
Don Blankenship, the former coal executive connected to a deadly coal mine explosion in 2010, was sentenced to a year in prison. Pfizer cancelled its $160 billion merger with Allergan. Transportation Security Administrator Peter Neffenger testified at a Senate Commerce, Science, and Transportation Committee hearing. The White House said money used to fight Ebola will now be redirected toward the Zika virus, which continues to spread. And a Syrian family of seven is the first to move to the United States under the "surge operation" for refugees.
---
Top News
Former Coal Executive Sentenced. A judge sentenced Don Blankenship, the former CEO of Massey Energy, to one year in federal prison for his connection to the 2010 explosion at the Upper Big Branch Mine in West Virginia that killed 29 people. Blankenship was convicted by a jury in December of conspiring to violate federal mine safety standards. Blankenship's lawyers have promised to appeal the conviction. (Pete Williams, NBC News)
A Corporate Break-Up. The New York-based drug company Pfizer cancelled its merger with Ireland-based Allergan days after the Obama administration introduced new rules to prevent American companies from moving their headquarters abroad to reduce taxes. Pfizer paid Allergan a "breakup" fee of $150 million. (Jonathan D. Rockoff, Liz Hoffman, and Richard Rubin, The Wall Street Journal)
TSA in the Hotseat. Lawmakers questioned Peter Neffenger, the administrator of the Transportation Security Administration, about security measures and employee screening, as well as more region-specific concerns during a hearing held by the Senate Commerce, Science, and Transportation Committee.(Nora Kelly, The Atlantic)
Fighting Zika. The White House announced it will redirect $589 million provided to fight Ebola and use it to prepare for the Zika virus. The administration's budget director Shaun Donovan warned that it was only a temporary fix, until Congress approves the more than $1.8 billion in emergency funds requested in February. (Roberta Rampton and Timothy Gardner, Reuters)
Syrian Refugees Head to Missouri. The first Syrian family to be settled in the United States under a "surge operation" for refugees left Jordan for Kansas City, Missouri. The resettlement process can take between 18 and 24 months, but the surge operation, implemented to prioritize the most vulnerable cases, will shorten that time to three months. (Khetam Malkawi, The Associated Press)
Tomorrow in One Paragraph. Bernie Sanders will be campaigning in Pennsylvania. Hillary Clinton will be fundraising in Colorado and Ohio. And Ted Cruz and John Kasich will be in New York.
Follow stories throughout the day with our new Politics & Policy page. And keep on top of the campaign with our 2016 Distilled election dashboard.
---
Top Read
"As the Republican Party has turned older, whiter, and more southern, the white, working-class voters of the southern highlands have become an increasingly large and vital component of its coalition. A candidate who appeals most directly to just one of the varied regional cultures of America can still capture a plurality of GOP primary voters—even if he might struggle to translate that appeal to the national stage in November. This is the bind in which the Republican Party now finds itself." The Atlantic's Yoni Appelbaum on Donald Trump's appeal in America's southern highlands.
---
Top Lines
'The New Europeans.' An influx of refugees into the small German village of Eisenärzt has caused its residents to grapple with questions of culture and shared identity. (James Angelos, The New York Times Magazine)
A Third-Party Option? Some conservatives who aren't satisfied with Donald Trump or Ted Cruz are still hoping for the emergence of a third-party candidate—and despite inevitable challenges that candidate will have to face, it's still a possibility. (Russell Berman, The Atlantic)
---
Top Views
Delegate Tracker. Catch up on where the candidates stand in delegate counts with this interactive graphic.(By Kevin Schaul and Samuel Granados, The Washington Post)
We want to hear from you! We're reimagining what The Edge can be, and would love to receive your complaints, compliments, and suggestions. Tell us what you'd like to find in your inbox by sending a message to newsletters@theatlantic.com.