The Edge: Who Will Take the Cheese?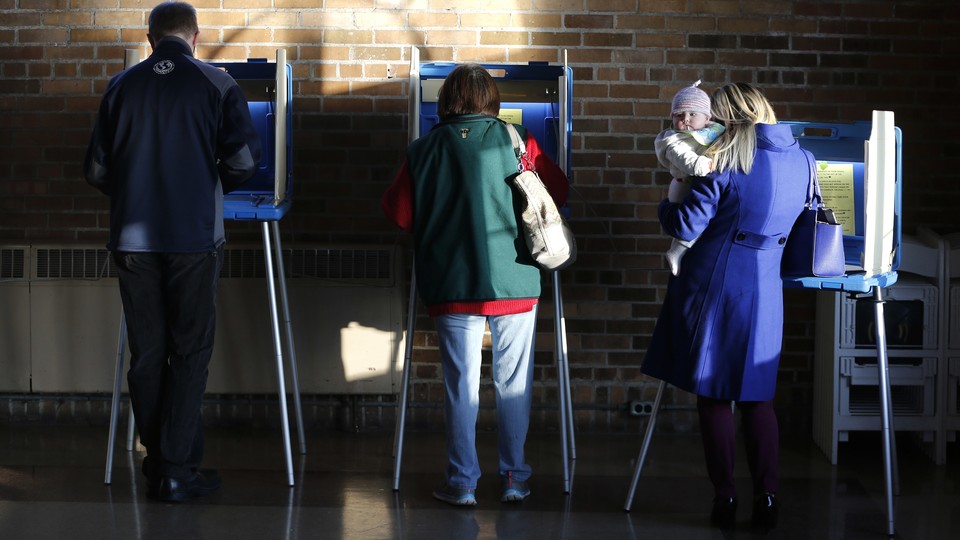 Today in One Paragraph
Wisconsin's presidential primary is under way, where 42 Republican and 96 Democratic delegates are at stake. Donald Trump released a plan to "compel" Mexico to fund a border wall. President Obama called out companies that move their headquarters overseas to avoid U.S. taxes. Mississippi's governor signed a controversial religious-freedom bill into law. Meanwhile in Alabama, lawmakers started the impeachment process for Governor Robert Bentley amid allegations of an affair. And abroad, Iceland's prime minister stepped down following calls for his resignation.
---
Top News
Primaries in the Badger State. Voters from both parties head to the polls to participate in the Wisconsin primaries. Ted Cruz looks like he could win on the Republican side, which some attribute to the state's aversion to the brash language of Donald Trump. And Bernie Sanders is slightly favored to win over Hillary Clinton, which could give him more reason to stay in the race. We're covering it live here. (The Atlantic)
Trump to Trap Mexico. The Republican front-runner's plan includes preventing migrant workers from sending remittances back to the country and canceling workers' visas unless the Mexican government agrees to pay. Mexico's president has said the country won't foot the bill. (Susanna Kim, ABC News)
Obama: Tax Avoidance Is 'A Big, Global Problem.' The president said companies that move their headquarters overseas in order to avoid U.S. taxes "renounce their citizenship, but get all of the rewards of being an American company." He pointed to the recent Panama Papers leak to illustrate his point: "A lot of it is legal, that is exactly the problem." (Renae Merle, The Washington Post)
Governor Approves Religious-Freedom Bill. Mississippi Governor Phil Bryant signed a controversial religious-freedom bill into law, saying that it was meant to protect the rights of people with "deeply held religious beliefs." The Protecting Freedom of Conscience from Government Discrimination Act will allow people to deny services or goods for the "celebration or recognition of any marriage, based upon or in a manner consistent with a sincerely held religious belief or moral conviction." (Sam R. Hall and Geoff Pender, The Clarion-Ledger)
Alabama Governor to Face Impeachment. Lawmakers in Alabama moved to introduce articles of impeachment against Governor Robert Bentley after it was alleged that he had an affair with an aide. Bentley fired back, saying there were "no grounds for impeachment" and calling the move "political grandstanding." (Joshua Berlinger, Kevin Conlon, and Ralph Ellis, CNN)
Iceland's Leader Throws in the Towel. A government official announced that Iceland's prime minister, Sigmundur David Gunnlaugsson, submitted his resignation two days after leaked documents, known as the Panama Papers, alleged that he and his wife hid millions of dollars of investments in an offshore account. Several other world leaders were also identified in the leaks. (Steven Erlanger and Stephen Castle, The New York Times)
Tomorrow in One Paragraph. Hillary Clinton will be fundraising and campaigning in New York. Bernie Sanders is in Philadelphia. Donald Trump will rally voters in New York. And John Kasich will break from campaigning to deliver the annual State of the State in Ohio.
Follow stories throughout the day with our new Politics & Policy page. And keep on top of the campaign with our 2016 Distilled election dashboard.
---
Top Read
"You're supposed to hit your opponent over the head with a chair, but you're supposed to pretend to hide the chair you are about to hit him with from the view of the referee. Trump is willing to be maximally crazy, when it comes to the more extreme positions of the G.O.P., but he can't remember, or perhaps never learned, the minimally sane-sounding speech acts that the referees want you first to attach to the craziness." The New Yorker's Adam Gopnik on exposing the GOP's strategy for dealing with abortion and gun-regulation.
---
Top Lines
Chief Executive or Chief Ideologue? Despite his reputation as a wonk, Bernie Sanders struggled to answer coherently when he was asked specific policy questions in a meeting with the editorial board of the New York Daily News. (David Graham, The Atlantic)
Increasing Drug Deportations. When the White House announced its efforts to reduce the number of people serving prison time for nonviolent drug offenses, deportations for immigrants accused of those same crimes dramatically increased, calling into question the administration's immigration policy. (Politico, Grace Meng)
---
Top Views
Why Is It So Hard to Vote in America? Getting into the ballot box has become increasingly difficult for many Americans after a 2013 Supreme Court ruling gave states permission to draw up their own voting laws. The Atlantic's Vann Newkirk explains these laws—and what they mean for American democracy in this short video. (Caty Green and Greyson Korhonen)
Voters' Values. What issues and presidential qualities drive voters to choose a particular candidate? The New York Times maps it out in this interactive graphic. (Jon Huang and Karen Yourish)
We want to hear from you! We're reimagining what The Edge can be, and would love to receive your complaints, compliments, and suggestions. Tell us what you'd like to find in your inbox by sending a message to newsletters@theatlantic.com.