The Edge: Trump to Kasich: Mind Your Manners
The Republican front-runner said he's "never seen a human being eat in such a disgusting fashion."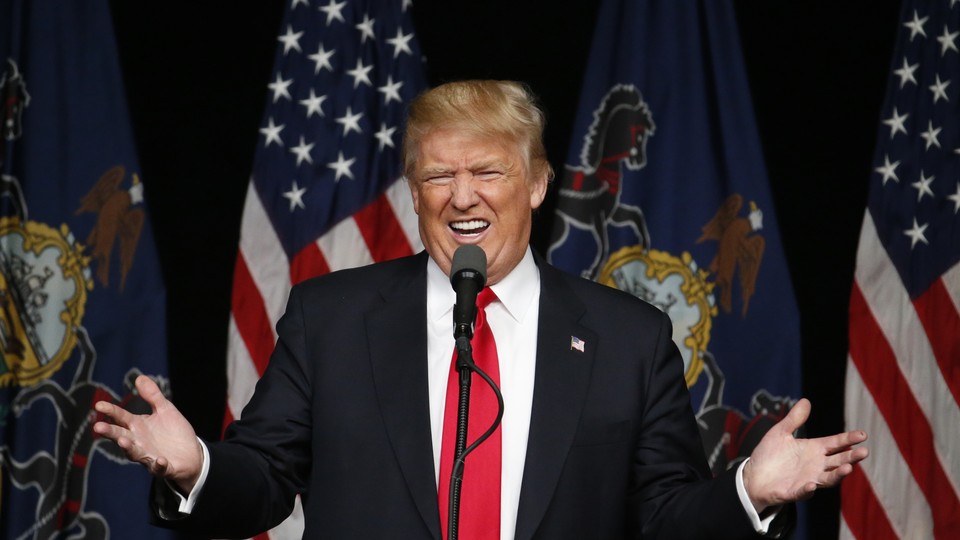 Today in One Paragraph
The city of Cleveland agreed to pay $6 million to Tamir Rice's family to settle a civil lawsuit. President Obama said he's increasing the number of troops sent to Syria in a noncombat role in the fight against ISIS. Donald Trump called the alliance between Ted Cruz and John Kasich "pathetic." And Kansas Republican Mike Pompeo said he won't launch a campaign against Senator Jerry Moran.
---
Top News
Cleveland Settles Lawsuit Over Tamir Rice Shooting. The family of 12-year-old Tamir Rice, who was shot and killed by a Cleveland police officer in 2014, will receive a $6 million settlement from the city, according to federal court records. The settlement, under which Cleveland admits no wrongdoing, is the latest in a string of payouts made by American cities to African Americans killed by police. (Mitch Smith, The New York Times)
Obama in Europe. The president increased the number of troops committed to fighting ISIS in Syria, from about 50 to 300, in an announcement from Hannover, Germany, where he is on the last leg of his Middle Eastern and European tour. He encouraged European allies to stop being "complacent" about security matters and asked them to follow suit, saying that sending a small force in a limited role is a necessary step towards victory. (Kathleen Hennessey, The Associated Press)
Trump vs. Cruz and Kasich. The Republican front-runner slammed Ted Cruz and John Kasich's recent alliance aimed at denying Trump the 1,237 delegates he needs to avoid a contested convention. The two arranged to refrain from campaigning in states where the other has a strong chance at an upset victory, a tactic Trump called "pathetic." "Did you see the news today, where they band together? Where they collude? It's collusion," Trump said at a campaign event. The real-estate mogul also mocked Kasich's "disgusting" eating habits. (CNN; The Hill)
No Showdown in Kansas. Republican Representative Mike Pompeo announced he will not be launching a challenge against sitting Senator Jerry Moran. Pompeo publicly considered challenging Moran after the senator appeared willing to meet with President Obama's Supreme Court nominee Merrick Garland. But in a statement, Pompeo said he wouldn't be running due to time constraints. (Jake Sherman and Burgess Everett, Politico)
Tomorrow in One Paragraph. Voters will participate in presidential primaries in Connecticut, Delaware, Maryland, Pennsylvania, and Rhode Island. Join us as we follow it live here. Hillary Clinton will fundraise in Philadelphia. Bernie Sanders will campaign in West Virginia, and Donald Trump will be in New York. The Senate Armed Services Committee will hold a hearing on the J-35 Joint Strike Fighter program.
Follow stories throughout the day with our new Politics & Policy page. And keep on top of the campaign with our 2016 Distilled election dashboard.
---
Top Read
"Many Baltimore residents seem torn between optimism and apathy: They hope that things will get better—that their city will get safer, that their quality of life will improve—but they also seem resigned to the idea that empty promises will be all they get." The Atlantic's Clare Foran on Baltimore's mayoral race.
---
Top Lines
Biden's Secret Mission. The vice president isn't running for the White House, but he has taken on a different kind of campaign: working quietly to help Democrats win back the Senate. (Edward-Isaac Dovere, Politico)
'Defining Corruption.' The U.S. Supreme Court is hearing a case a case on the corruption conviction of the former governor of Virginia, Robert F. McDonnell. The justices' ruling is expected to set a new precedent to better define what constitutes "quid pro quo political bribery" under the law. (Robert Barnes, Washington Post)
---
Top Views
Can Religious Freedom and LGBT Rights Co-Exist? The Atlantic's Emma Green explains the provisions involved in the new wave of so-called religious-liberty bills in North Carolina, Georgia, and Mississippi.
We want to hear from you! We're reimagining what The Edge can be, and would love to receive your complaints, compliments, and suggestions. Tell us what you'd like to find in your inbox by sending a message to newsletters@theatlantic.com.