The Edge: Trump: Let People Use Whatever Bathroom They Want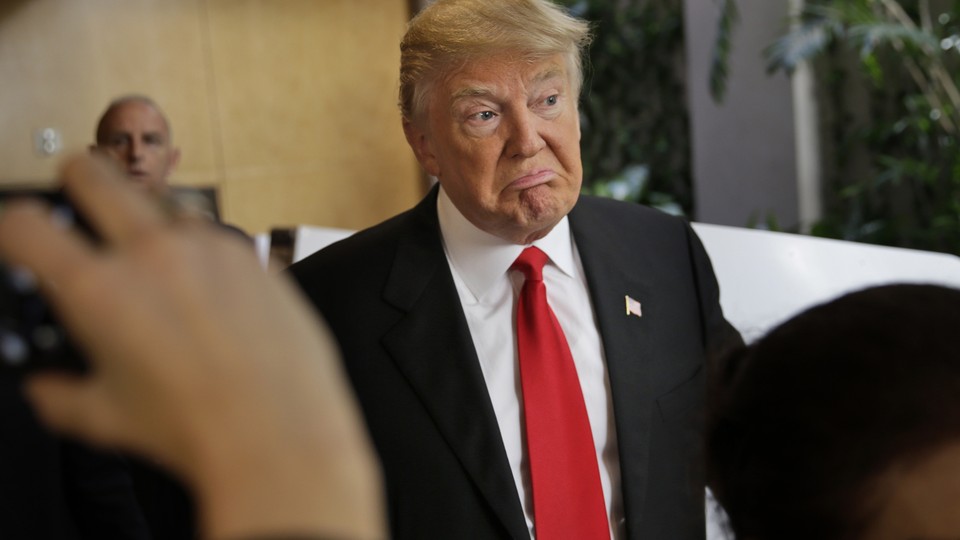 Today in One Paragraph
Donald Trump said he disagreed with North Carolina's recently passed HB2, which requires transgender people to use restrooms corresponding with the sex on their birth certificates. Hillary Clinton led a roundtable with families of the victims of the Sandy Hook shooting. A Republican National Committee panel decided it will not make preliminary changes to convention rules. Volkswagen struck a deal with the federal government to buy back or repair thousands of vehicles equipped with software that violated emission standards. And Prince died at age 57.
---
Top News
Trump Weighs In On North Carolina's 'Bathroom Bill.' The Republican front-runner said the state should allow transgender people to "use the bathroom they feel is appropriate" during an an interview on the Today Show. Ted Cruz responded to Trump's remarks, accusing him of "political correctness." (Candace Smith and Jessica Hopper, ABC News)
Clinton in Connecticut. During a roundtable discussion at a YMCA in Hartford, Connecticut, the Democratic front-runner met with family members of victims killed in the Sandy Hook school shooting and emphasized the need to address daily gun violence in the United States. Clinton vowed to be committed to furthering gun control efforts and  "use every single minute of every day…looking for ways we can save lives, that we can change the gun culture." (Daniela Altimari, Christopher Keating, and Russell Blair, The Hartford Courant)
About Those Rules. The Republican National Committee's standing rules committee adjourned its spring meeting without making any changes to the party's rulebook ahead of the Cleveland convention, including changes that might affect how the presidential nominee is chosen. This is the outcome party chairman Reince Priebus wanted, after lobbying members of the panel not to submit any changes. (Jonathan Martin, New York Times)
Volkswagen Strikes a Deal. A U.S. District judge in California announced the outline of a settlement with Volkswagen, requiring the German automaker to buy back or fix almost half a million vehicles that evaded emission rules. The estimated cost to buy back the cars is $7 billion. (Nathan Bomey, USA Today)
Remembering Prince. The legendary singer died at his Paisley Park residence in Chanhassen, Minnesota, his publicist confirmed. "Michelle and I join millions of fans from around the world in mourning the sudden death of Prince," President Obama said in a statement. "Few artists have influenced the sound and trajectory of popular music more distinctly, or touched quite so many people with their talent." (Ashley Fantz and Lisa Respers France, CNN)
Tomorrow in One Paragraph. Hillary Clinton, Bernie Sanders, and Ted Cruz will campaign in Pennsylvania ahead of the state's primary on Tuesday. John Kasich is in Connecticut, and Donald Trump will hold a rally in Delaware. President Obama will meet with Queen Elizabeth II and British Prime Minister David Cameron in the United Kingdom. Secretary of State John Kerry and his Iranian counterpart Mohammad Zarif will meet in New York to discuss, among other things, U.S. sanctions relief.
Follow stories throughout the day with our new Politics & Policy page. And keep on top of the campaign with our 2016 Distilled election dashboard.
---
Top Read
"It set her apart from her rival-turned-boss, Barack Obama, who avoided military entanglements and tried to reconcile Americans to a world in which the United States was no longer the undisputed hegemon. And it will likely set her apart from the Republican candidate she meets in the general election. For all their bluster about bombing the Islamic State into oblivion, neither Donald J. Trump nor Senator Ted Cruz of Texas have demonstrated anywhere near the appetite for military engagement abroad that Clinton has." The New York Times Magazine's Mark Landler on Hillary Clinton's foreign policy instincts.
---
Top Lines
America's Cancer Moonshot. President Obama put Vice President Joe Biden in charge of a seemingly impossible task: leading the quest to end cancer. But new developments in science might put that goal in reach. (Vann Newkirk, The Atlantic)
Did Silicon Valley Create Trump? Many blame the media or the growing distrust in establishment politicians for Donald Trump's success, but, Vanity Fair's Nick Bilton argues, that the blames falls on the rise of social media.
---
Top Views
Have You Been Represented by a Woman? Three states in the United States have never elected a woman to Congress. Check out these maps to see how your state compares. (Soo Oh, Vox)
Queen Elizabeth Turns 90. The British monarch has visited with 11 of the last 12 sitting presidents during her reign. Here are a few memorable snapshots, including some of the queen horseback riding with Ronald Reagan and dancing with Gerald Ford. (Diana D'Abruzzo, Politico)
We want to hear from you! We're reimagining what The Edge can be, and would love to receive your complaints, compliments, and suggestions. Tell us what you'd like to find in your inbox by sending a message to newsletters@theatlantic.com.