The Edge: Trump Heads Into the Acela Primaries Like a Runaway Train
Five Northeastern states hold their presidential nominating contests on Tuesday.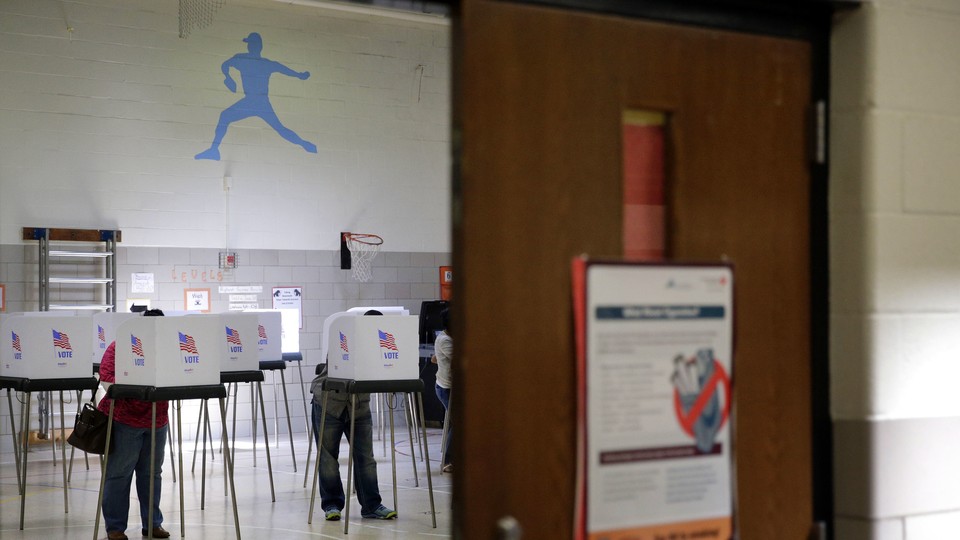 Today in One Paragraph
Voters head to the polls in Connecticut, Delaware, Maryland, Pennsylvania, and Rhode Island. Bernie Sanders and his campaign advisers plan to re-evaluate his presidential campaign after tonight's nominating contests. A New York judge decided to move a fraud case against Donald Trump's now-defunct Trump University forward. The U.S. Supreme Court ruled for a New Jersey police detective, strengthening public employees' free speech protections. And House Majority Leader Kevin McCarthy said Congress will not act to address Puerto Rico's debt crisis ahead of the May 1 deadline.
---
Top News
Another Election Tuesday. Voters are casting their ballots in primaries in Connecticut, Delaware, Maryland, Pennsylvania, and Rhode Island. The two front-runners, Hillary Clinton and Donald Trump, are expected to sweep most of the region, and important Senate battles will be decided in Pennsylvania and Maryland. Polls close at 8 p.m. We're covering it live here. (The Atlantic)
Something's Gotta Give. Bernie Sanders will reassess his campaign after tonight's primary results, according to his campaign. But Sanders is determined to remain in the race until the Democratic convention. "If we are sitting here and there's no sort of mathematical way to do it, we will be upfront about that," said Tad Devine, Sanders's senior strategist. (Yamiche Alcindor, The New York Times)
Trump University Goes to Trial. A New York judge decided to allow a $40 million fraud case against Donald Trump to proceed to trial, opening up the possibility that he may have to testify in the fall. The plaintiffs contend that the GOP front-runner's organization misrepresented its services and their value to customers. Trump has denied wrongdoing. (Fox News)
Court Rules in Favor of Free Speech. In a 6-2 decision, the Supreme Court affirmed public employees can't be fired or demoted based on their perceived political views—even if that perception is incorrect. The case, Heffernan v. City of Peterson, involved a New Jersey police who was demoted after his bosses mistakenly thought he supported  the mayor's opponent. (Lydia Wheeler, The Hill)
No Bailout for Puerto Rico. House Majority Leader Kevin McCarthy said that Congress will not intervene in Puerto Rico's debt crisis in time for the May 1 deadline when around $500 million in bond payments are due. But McCarthy is "hopeful" that a bipartisan bill will pass the House before July 1, when another $2 billion in interest payments is due. (Erica Werner, The Associated Press)
Tomorrow in One Paragraph. Bernie Sanders, Ted Cruz, and Donald Trump will campaign in Indiana. The House Armed Services Committee meets to markup the National Defense Authorization Act for fiscal year 2017.
Follow stories throughout the day with our new Politics & Policy page. And keep on top of the campaign with our 2016 Distilled election dashboard.
---
Top Read
"Millennials and other active social media users use photos as a fundamental part of how they communicate and ought to be able to express their excitement at participating in democracy, Silverman said. Whether a selfie with a completed ballot or an artistic shot of the booth, an Instagram or Snapchat post can be as much a part of expressing civic pride as an "I Voted" sticker." The New York Times' Daniel Victor on the fight to allow photos inside voting booths.
---
Top Lines
It's All About the Money, Money, Money. Meet Will Jawando, a Democrat running for Congress in Maryland's eighth district in what has quickly become the most expensive House race in the country. (Marin Cogan, New York Magazine)
A 'Stubborn Persistence.' A new report by the Southern Poverty Law Center reveals that roughly 1,500 Confederate monuments still exist in 31 states, raising questions about the importance of historical memory—and a reminder of the issues at stake in the Civil War. (David Graham, The Atlantic)
---
Top Views
The Golden Ticket in the Golden State. Take a look at all the sporting events—from the Toyota Grand Prix to the final game in the National League Division Series—that California lawmakers attended for free. (Javier Panzar, Los Angeles Times)
We want to hear from you! We're reimagining what The Edge can be, and would love to receive your complaints, compliments, and suggestions. Tell us what you'd like to find in your inbox by sending a message to newsletters@theatlantic.com.
-Written by Elaine Godfrey (@elainejgodfrey)