The Edge: Sanders Scores a Senator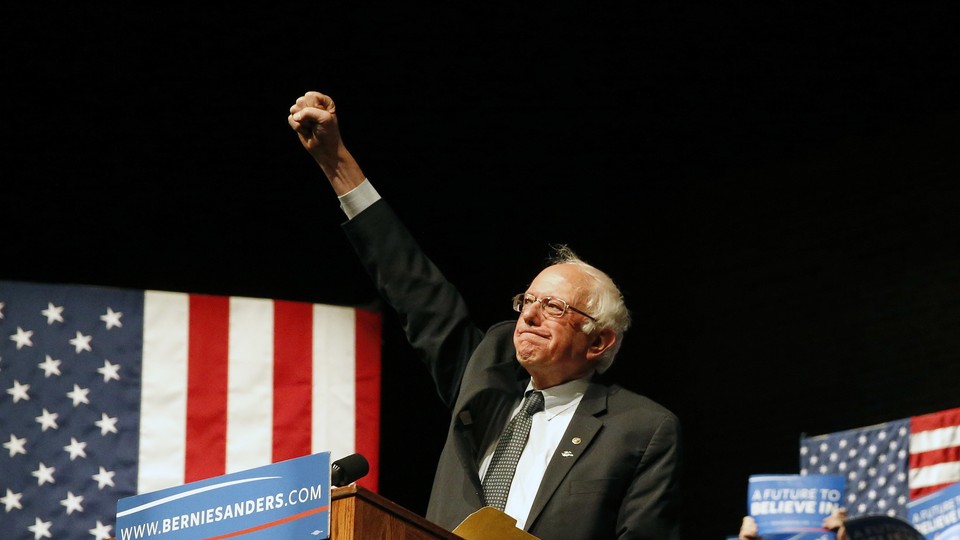 Today in One Paragraph
Bernie Sanders received his first endorsement from a U.S. senator. Ethan Couch, known as the "affluenza teen," was sentenced to nearly two years in jail in his first appearance in adult court. Louisiana Governor John Bel Edwards signed an executive order to protect LGBT state employees from discrimination in the workplace. And Hillary Clinton committed to working for African Americans at the annual conference of the National Action Network.
---
Top News
Endorsement From a Senator: Check. Oregon Senator Jeff Merkley announced that he's backing Bernie Sanders in a New York Times op-ed. Merkley said in an interview that Sanders "has been a continuous, clear voice fighting for ordinary people," adding, "I think we need to fundamentally change the system that has been so deeply moving towards consolidation of power by the very few." Sanders also picked up the endorsement of the Transport Workers Union in New York ahead of the state's primary on April 19. (The Atlantic; Reuters)
'Affluenza Teen' Sentenced. A Texas judge ordered that Ethan Couch, the Texas teenager who killed four people in a 2013 drunk-driving accident, will serve nearly two years in jail—180 days for each of the victims. The prosecution and defense attorneys have two weeks to review the ruling, and argue for or against the sentence. (Casey Stegall, Fox News)
Louisiana Governor Signs Order Against Discrimination. John Bel Edwards issued an executive order that protects against LGBT discrimination for state employees and provides employment protections on the basis of race and religion, among others. Edwards also rescinded an order from former governor Bobby Jindal, saying it was discriminatory. (Nick Gass and Nolan D. McCaskill, Politico)
Clinton at the National Action Network. The Democratic front-runner pitched herself as the candidate most committed to issues affecting African Americans during a speech at Reverend Al Sharpton's National Action Network in New York. "We can't just show up at election time and say the right things and think that that's enough. We can't start building relationships a few weeks before a vote." she said. Bernie Sanders will speak at the convention on Thursday. (Sam Frizell, Time)
Tomorrow in One Paragraph. Bernie Sanders and Hillary Clinton will meet for a Democratic debate in Brooklyn, New York, at 9 p.m. ET, airing on CNN and Time Warner Cable's NY1. John Kasich, Ted Cruz, and Donald Trump will be campaigning in New York.
Follow stories throughout the day with our new Politics & Policy page. And keep on top of the campaign with our 2016 Distilled election dashboard.
---
Top Read
"Bundy—a rancher's son who was very much at ease around armed militants—was the perfect man to unite hard-line patriot militia groups, cowboys, and country folk who saw their way of life disappearing and blamed the federal government for it. Wes, like many of them, had been casting about for a cause." Vice's James Pogue on the right-wing crusaders united against the federal government.
---
Top Lines
GOP Women for Hillary. Recent polls show nearly half of Republican female primary voters said they would rather vote for Hillary Clinton than for Donald Trump, if the two went head-to-head in a general election. Here's why. (Rebecca Nelson, Elle)
What Does Chuck Grassley Fear? Democrats are trying to pressure the Iowa Republican to confirm President Obama's Supreme Court nominee, but Grassley seems more afraid of blowback from the Republican side. (Elaine Godfrey, The Atlantic)
---
Top Views
How Does Your State Stack Up? April 18 is tax day in the United States. Check out these interactive charts to see how varied each state is when it comes to income taxes. (Alex McIntyre, Jennifer Prince, and Christopher Cannon, Bloomberg)
We want to hear from you! We're reimagining what The Edge can be, and would love to receive your complaints, compliments, and suggestions. Tell us what you'd like to find in your inbox by sending a message to newsletters@theatlantic.com.