The Edge: Sanders and Clinton in an Empire State of Mind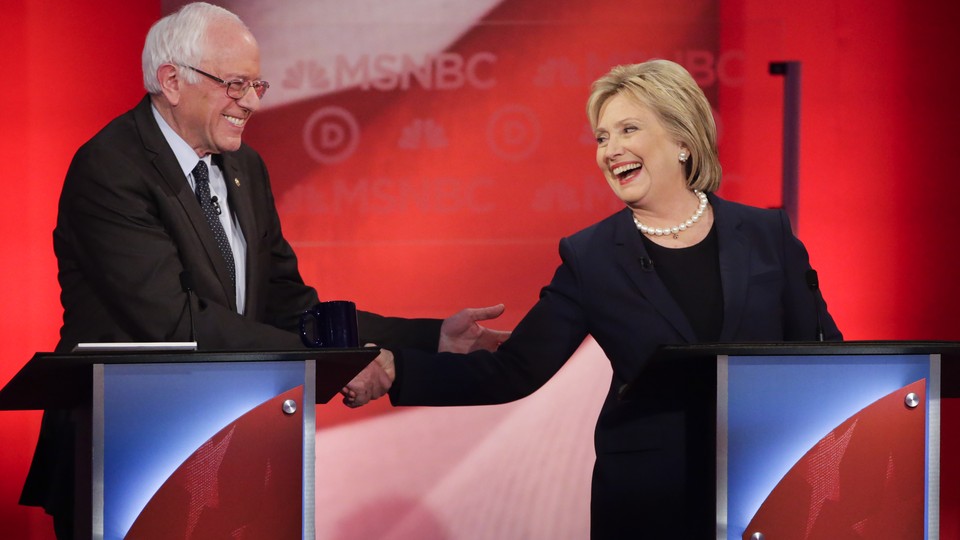 Today in One Paragraph
The Democrats will debate in Brooklyn, New York, ahead of the state's primary. The Democratic Party, and both the Hillary Clinton and Bernie Sanders campaigns plan to sue the state of Arizona over alleged voter suppression. Florida authorities announced that Corey Lewandowski won't face charges for battery. And Canada introduced a historic assisted suicide bill.
---
Top News
Debate in the Big Apple. Hillary Clinton and Bernie Sanders will go head-to-head in New York at 9 p.m. ET in a debate hosted by CNN. It's the first debate between the two Democrats in more than a month, and tensions are running high. Tonight is the last opportunity for the two to spar publicly before the New York primary on April 19. We're covering it live here. (The Atlantic)
Fallout From Arizona's State Primary. The Democratic Party, along with Bernie Sanders's and Hillary Clinton's campaigns, will file a lawsuit against the state of Arizona, calling for a review of the polling location plan for the November election after thousands of residents waited for hours to vote in the state's March 22 primary. The lawsuit, which focuses on Maricopa County, says that a shortage of voting places "resulted in severe, inexcusable burdens on voters." (Sari Horwitz, The Washington Post)
No Charges for Corey Lewandowski. Authorities have dropped the case against Donald Trump's campaign manager, who was charged with simple battery after former Breitbart reporter Michelle Fields accused him of grabbing her arm while she attempted to ask Trump a question last month. Palm Beach county prosecutors said, although Lewandowski had grabbed Fields, there wasn't enough evidence to prosecute him. (Jon Schuppe and Kerry Sanders, NBC News)
Canada Introduces Right-to-Die Bill. Prime Minister Justin Trudeau is backing an assisted death bill designed to ease the end of life for terminally ill patients, with a caveat to exclude foreigners in an effort to prevent "suicide tourism." "This is a historic day for our country," said Health Minister Jane Philpott. The bill will go to parliament for approval. (John Bacon, USA Today)
Tomorrow in One Paragraph. Donald Trump will be in Connecticut. John Kasich and Ted Cruz will campaign in New York. And Bernie Sanders visits Vatican City to attend a conference hosted by the Pontifical Academy of Social Sciences.
Follow stories throughout the day with our new Politics & Policy page. And keep on top of the campaign with our 2016 Distilled election dashboard.
---
Top Read
"The Sanders camp isn't getting delegates won at the voting booth to change their minds; those are set in stone. What it is doing is making sure enough Sanders supporters show up at the state convention to win a share of the additional delegates that will be awarded through the caucus that takes place there." Rolling Stone's Tessa Stuart on Bernie Sanders's strategy to win pledged delegates.
---
Top Lines
New York's Segregation Problem. New York City Mayor Bill de Blasio has pledged to build thousands of affordable housing units in the next decade, but, in doing so, he'll also have to address the city's deeply rooted problem with residential segregation. (Mireya Navarro, The New York Times)
Debate Night on Pier C. The Democrats will be debating from a warehouse in the Brooklyn Navy Yard tonight, while members of the national media set up shop inside building No. 269—home of the Agger Fish Corporation. (Eric Lach, The New Yorker)
---
Top Views
Where Do Your Taxes Actually Go? Test your knowledge of the U.S. budget with this game created by The Atlantic's Andrew McGill and DJ Brinkerhoff.
We want to hear from you! We're reimagining what The Edge can be, and would love to receive your complaints, compliments, and suggestions. Tell us what you'd like to find in your inbox by sending a message to newsletters@theatlantic.com.