The Edge: Paul Ryan: Guys, I'm Serious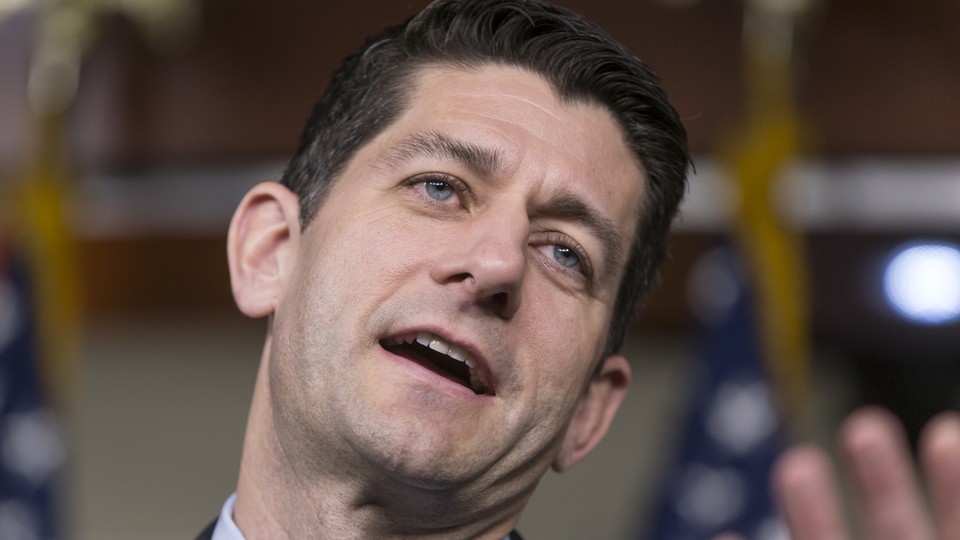 Today in One Paragraph
House Speaker Paul Ryan formally ruled out a 2016 presidential bid. North Carolina's governor issued an executive order to clarify the language of a controversial LGBT-related bill. Senator Chuck Grassley reiterated his position that Supreme Court nominee, Merrick Garland, wouldn't receive a hearing in a meeting with him. President Obama designated a historic house a national monument to commemorate women's history. John Kasich outlined two paths to the Republican nomination. And after a month, Donald Trump and Hillary Clinton were announced as the winners of the Missouri primary.
---
Top News
'Count Me Out.' House Speaker Paul Ryan said—again—that he is not running for president in a speech at the Republican National Committee headquarters. Establishment Republicans were hopeful that Ryan would enter the race as an alternative to Ted Cruz or Donald Trump at the July national convention. "I simply believe that if you want to be the nominee for our party to be the president, you should actually run for it," Ryan said. "I chose not to do this, therefore I should not be considered." (Everett Rosenfeld, CNBC)
McCrory Responds. North Carolina Governor Pat McCrory issued an executive order to address the "selective outrage" against his state after he signed HB2, a law eliminating anti-discrimination protections for the LGBT community, including the requirement that transgender people use restrooms specific to the gender on their birth certificate. But critics say the order is not enough. (Jim Morrill, Katherine Peralta, and Steve Harrison, The Charlotte Observer)
Grassley: 'Nothing Has Changed.' The Senate Judiciary Committee chairman met with President Obama's Supreme Court nominee, Merrick Garland, over breakfast where he maintained that the Senate would not give the judge a hearing. "It was a very friendly meeting," Grassley said "I enjoyed talking to him but nothing has changed." (Ted Barrett and Manu Raju, CNN)
Happy Equal Pay Day. President Obama designated the Sewall-Belmont House and Museum, home to the National Woman's Party since 1929, as the Belmont-Paul Women's Equality National Monument. Obama said he hopes children will visit the site in the future and "be astonished that there was ever a time when women earned less than men for doing the same work." (Juliet Eilperin, The Washington Post)
Kasich's 'Survival Strategy.' Without naming them, the Ohio governor delivered an extensive attack against Ted Cruz and Donald Trump in a speech in Manhattan, as he outlined two paths to the Republican nomination. With only 143 delegates, Kasich has little chance of securing the Republican nomination, but his insistence to stay in the race might hold some influence. (Priscilla Alvarez, The Atlantic)
Trump and Clinton Win the Show-Me State. Missouri's secretary of state Jason Kander announced that Donald Trump and Hillary Clinton were the official winners of the state's primary on March 15, where the races were too tight to finalize a count. Trump will receive 37 delegates, and Clinton will receive 46, including superdelegates. (Eliza Collins, Politico)
Tomorrow in One Paragraph. Bernie Sanders will be in New York City. Donald Trump and Ted Cruz are campaigning in Pennsylvania, and John Kasich will be in Maryland. And President Obama will host his sixth and final White House Science Fair.
Follow stories throughout the day with our new Politics & Policy page. And keep on top of the campaign with our 2016 Distilled election dashboard.
---
Top Read
"Interviews with more than a dozen immigrants from the former Soviet Union in the Bay Area suggest that some in the community are recoiling from Bernie Sanders and his leftist ideals. One hundred years after the Bolshevik Revolution swept Communists into power, some Russians in America say they can't believe a serious candidate in the United States is calling himself a socialist." The Atlantic's Olga Khazan on why Russian immigrants don't support Bernie Sanders.
---
Top Lines
Let the Battle Begin. The winner of Pennsylvania's Republican primary on April 26 will only get 17 out of the state's 71 Republican delegates. The rest will be unbound going into the national convention—and the Republican candidates are already starting to fight for their support. (Alexis Levinson, The National Review)
Shell Companies in the U.S. The Panama Papers leak revealed how easy it actually is for individuals—or even would-be terrorists—to open a shell company to shield their wealth in the United States. (Shima Baradaran Baughman, The New Republic)
---
Top Views
Zika, Mapped. There are 346 confirmed cases of the virus in the United States, with 34 new cases reported in the past week. Here's a state-by-state guide to Zika. (Stephanie Stamm, The Washington Post)
We want to hear from you! We're reimagining what The Edge can be, and would love to receive your complaints, compliments, and suggestions. Tell us what you'd like to find in your inbox by sending a message to newsletters@theatlantic.com.