The Edge: One Person, One Vote, One Rejection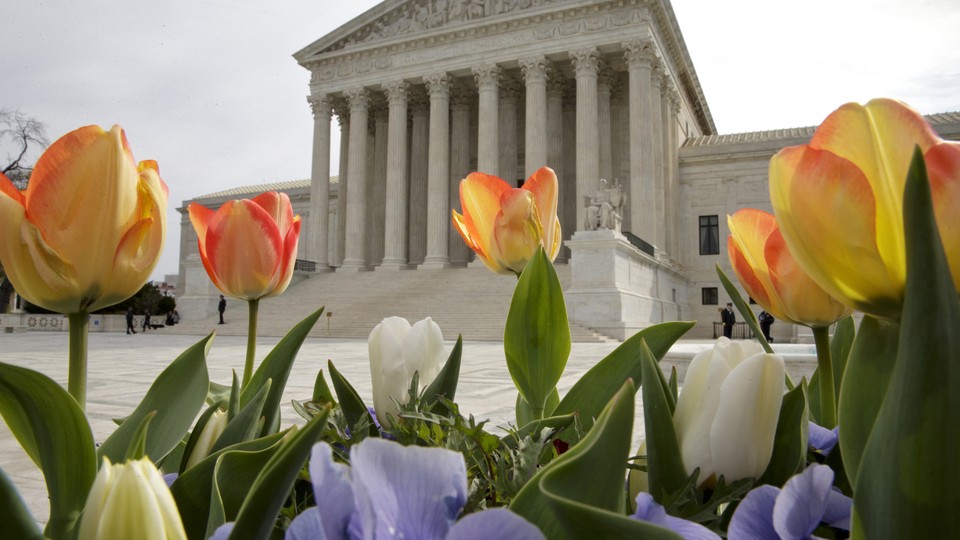 Today in One Paragraph
The U.S. Supreme Court unanimously upheld the "one person, one vote" standard for apportioning legislative districts in Evenwel v. Abbott. People in Iceland are calling for the resignation of their prime minister in the fallout from Sunday's release of the 'Panama Papers.' A federal judge in New Orleans approved a settlement of roughly $20 billion between BP, the federal government, and several U.S. states. And more than 200 migrants were sent back to Turkey from Greece in accordance with a new deal brokered by the European Union.
---
Top News
SCOTUS Rejects Conservative Challenge. The U.S. Supreme Court unanimously rejected a case brought by two Texas voters, who argued that legislative districts be drawn using eligible voters, rather than total population. Had the Court sided with Evenwel, critics say the American political landscape would have shifted to favor a whiter, older, and more conservative electorate. (Matt Ford, The Atlantic)
The Fallout From the 'Panama Papers.' Thousands of people in Iceland are protesting and demanding Prime Minister Sigmundur Gunnlaugsson's resignation after a batch of documents leaked Sunday from Mossack Fonseca, the Panamanian law firm, alleged he and his wife hid millions of dollars of investments in an offshore account. Other leaders mentioned in the documents include Russian President Vladimir Putin, as well as leaders in Argentina, Pakistan, Azerbaijan, and Ukraine. (Jessica Durando, USA Today; Krishnadev Calamur, The Atlantic)
The Largest Environmental Settlement. A federal judge approved an estimated $20 billion settlement between the federal government, BP, and several Gulf states over the 2010 oil spill that released more than 3 million barrels of oil into the Gulf of Mexico. The company will pay it out over 16 years. (Kevin McGill, The Associated Press)
Refugee-Migrant Exchange. Greece returned more than 200 migrants to Turkey as part of a recent deal made between Turkey and the European Union to stem the flow of refugees into Europe. The deal—which says that for every Syrian refugee sent back to Turkey, another will be resettled from Turkey into the EU—has been criticized by human rights groups. (Al Jazeera)
Tomorrow in One Paragraph. Voters head to the polls in Wisconsin for the state's presidential primary. We're covering it live here.
Follow stories throughout the day with our new Politics & Policy page. And keep on top of the campaign with our 2016 Distilled election dashboard.
---
Top Read
"It's an issue that drives intense passion, and one that splits the mainstream and evangelical wings of the GOP. With the convention less than four months away, both sides are mobilizing in anticipation of a bitter clash over whether the party should embrace a more moderate approach to gay nuptials, in keeping with a public that is more open to it, or maintain the hard line the party's base demands." Politico's Alex Isenstadt on an old struggle that's splitting the Republican establishment.
---
Top Lines
Preparing for Trump. Many Republican senators up for re-election have outlined a plan to distance themselves from Donald Trump, while not alienating his fans: construct a large voter outreach program and win with split-ticket voters. (Alex Roarty, Roll Call)
Private Lobbying on the Public Tab.  Philadelphia employs several private lobbyists to advocate for the city—a popular practice in many U.S. cities—but critics say lobbying should be the job of the already taxpayer-funded elected representatives. (Jonathan Tamari and Claudia Vargas, The Inquirer)
---
Top Views
Ranked-Choice Voting: House of Cards Edition. Donald Trump keeps winning elections, as a result of plurality voting. Some experts suggest switching to "ranked-choice voting," a process visualized here by The Atlantic's Andrew McGill.
We want to hear from you! We're reimagining what The Edge can be, and would love to receive your complaints, compliments, and suggestions. Tell us what you'd like to find in your inbox by sending a message to newsletters@theatlantic.com.