The Edge: Obama to U.K.: Brexit Bad
The president discouraged Britain from leaving the European Union.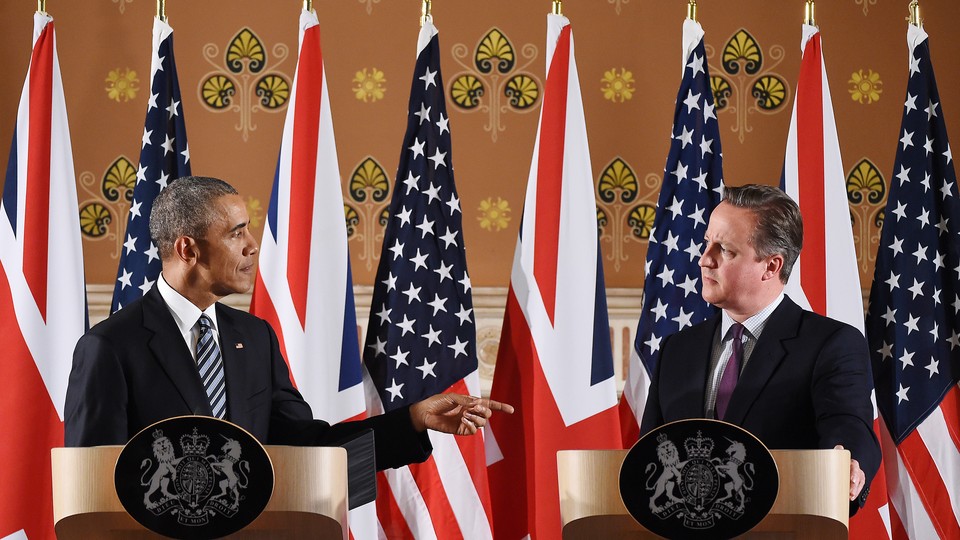 Today in One Paragraph
Virginia Governor Terry McAuliffe restored the voting rights of more than 200,000 convicted felons. President Obama discouraged Britain from voting to exit the European Union ahead of the June referendum. Suicide rates in the United States have increased dramatically, according to a new CDC study. And more than 170 world leaders signed the wide-ranging Paris climate agreement.
---
Top News
Virginia Governor Restores Felons' Voting Rights. Fulfilling a campaign promise, Terry McAuliffe used executive power to restore voting rights to more than 200,000 people with felony convictions. Virginia's constitution prevents people with felony convictions from voting without the approval of the governor. Republicans in the state have accused McAuliffe of "political opportunism." (Sheryl Gay Stolberg and Erik Eckholm, The New York Times)
Obama Speaks Against Brexit. During a joint press conference, the president said Britain "is at its best when it's helping to lead a strong European Union." British Prime Minister David Cameron, speaking alongside Obama, said it "makes sense to listen to what our friends think." Other British leaders criticized Obama for intervening, calling it "hypocritical." (BBC News)
Suicide Is on the Rise. New data from the Centers for Disease Control and Prevention showed an uptick in suicide rates by 24 percent between 1999 and 2014 in the United States. Rates for everyone between the ages of 10 and 74 increased, and suicide rates for women aged 10 to 14 tripled. (Carina Storrs, CNN)
In the Spirit of Earth Day. World leaders from 175 countries came together in New York to ink the Paris climate agreement, setting a record for the number of signatories in the opening day. UN Secretary General Ban Ki-moon called the signing ceremony "a new covenant for the future." (Australian Broadcasting Corporation)
The Weekend in One Paragraph. Hillary Clinton will fundraise in Rhode Island and Connecticut. Bernie Sanders will campaign in Delaware and Maryland. John Kasich will be in Rhode Island. Ted Cruz is in Pennsylvania. And Donald Trump will campaign in Connecticut.
Follow stories throughout the day with our new Politics & Policy page. And keep on top of the campaign with our 2016 Distilled election dashboard.
---
Top Read
"From philosophy to law to computer science and history, researchers are finding they can't look away from Donald J. Trump. For some, like Mercieca, the astonishing popularity of the celebrity real estate developer is the perfect tent pole to hang their existing research on. For others, his candidacy is like an experiment on a national scale, blowing up conventional wisdom about how American politics and society work." Politico Magazine's Darren Samuelsohn on academics' fascination with Donald Trump.
---
Top Lines
Republicans vs. the I.R.S. Congressional Republicans have spent years attacking the tax agency as ineffective and untrustworthy—and implementing significant staff and budget cuts. And now the I.R.S.—and its defenders—are fighting back. (Jackie Calmes, The New York Times)
Handing Over the Reigns. Every four or eight years, staffers are tasked with "the most important takeover of any organization in history"—ensuring a smooth transition into power for the next president. Here's an inside look at how it happens. (Russell Berman, The Atlantic)
---
Top Views
The First Black President. The Washington Post released the first installment of an interactive multimedia project, "Obama's Legacy," including accounts of black leaders, a chronicle of Obama's journey in Africa, and video interviews with children who have only known one president.
We want to hear from you! We're reimagining what The Edge can be, and would love to receive your complaints, compliments, and suggestions. Tell us what you'd like to find in your inbox by sending a message to newsletters@theatlantic.com.