The Edge: Mike Pence on Ted Cruz: I Like Him, But…
The Indiana governor said he would vote for the Texas senator in the upcoming state primary, but added that he likes and respects all the Republican candidates.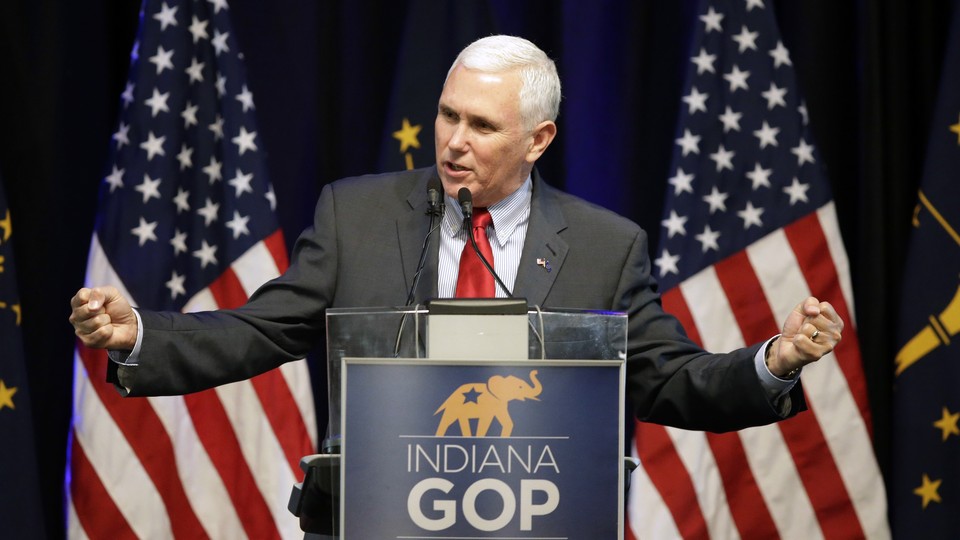 Today in One Paragraph
Indiana Governor Mike Pence threw his weight behind Ted Cruz. The U.S. Supreme Court decided to allow Texas' controversial voter-ID law to stay in effect for the time being. The Pentagon announced that last year's bombing of a Doctors Without Borders hospital in Afghanistan is not considered a war crime. And another American was sentenced to hard labor in North Korea.
---
Top News
Pence Backs Cruz. In an interview on a conservative radio talk show, Indiana Governor Mike Pence said he would vote for Ted Cruz in the state's upcoming primary, calling the Texas senator a "principled conservative." But Pence also said that he liked all three of the GOP candidates and even commended Donald Trump for taking "a strong stand for Hoosier jobs." (Tony Cook, Mark Alesia, and Stephanie Wang, The Indianapolis Star)
At the Supreme Court. The Court refused to block Texas' controversial voting requirements, but set a deadline for resolving the case before the general election. The state's law only permits certain types of photo-IDs at the polls, but was struck down by a federal court and a court of appeals in the past two years for being discriminatory. (Richard Wolf, USA Today)
Pentagon: Kunduz Hospital Bombing Not a War Crime. The Pentagon released a report on the investigation into the U.S. airstrike that destroyed a Doctors Without Borders hospital and killed 42 people in Kunduz, Afghanistan, last October, saying that it resulted from "a combination of human errors." The 16 military personnel will receive administrative punishments as a result of the investigation. (Justin Fishel, Luis Martinez, and Mariam Khan, ABC News)
North Korea Sentences an American. South Korean-born American citizen Kim Dong Chul was sentenced to 10 years of hard labor for subversion and espionage, according to a North Korean official. State-run news agency KCNA reported that Kim was prosecuted for committing "offenses in a scheme to overthrow the socialist system of the DPRK." Kim is the second American to be sentenced in the country in two months. (Tiffany Ap and Chandrika Narayan, CNN)
The Weekend in One Paragraph. Ted Cruz and Carly Fiorina will speak at the California Republican Convention on Saturday. President Obama will host his final White House Correspondents' Dinner Saturday night. John Kasich will be in California, and Bernie Sanders and Donald Trump will be in Indiana. Hillary Clinton will be in Michigan on Sunday.
Follow stories throughout the day with our new Politics & Policy page. And keep on top of the campaign with our 2016 Distilled election dashboard.
---
Top Read
"Indiana, which is 86 percent white, may seem demographically similar to nearby states like Ohio (83 percent white) and Wisconsin (88 percent white). But, in truth, Indiana is a much stranger place than it's given credit for, with a history and heritage that divide it from other Midwestern states." FiveThirtyEight's Craig Fehrman on why Indiana is a tough state to predict.
---
Top Lines
'Ban the Box' in College Admissions. The campaign to protect applicants from having to answer questions about their criminal history is spreading to America's colleges and universities, but campus officials say the background questions are helpful in understanding their prospective students—and keeping campuses safe. (Juleyka Lantigua-Williams, The Atlantic)
Hillary Clinton's Evolution. Here's how the former secretary of State's views have moved more and more left of center throughout the course of the presidential race against progressive Bernie Sanders. (Max Ehrenfreund, The Washington Post)
---
Top Views
School and Socioeconomic Status. A new analysis of test score data shows that children living in districts with the highest concentrations of poverty score much worse than the children in the richest districts. Use this interactive graphic to see how your school district compares. (Motoko Roch, Amanda Cox, and Matthew Bloch, The New York Times)
Can Donald Trump Win? Assuming the Republican front-runner can clinch the nomination, he'll have to win the support of a majority of the 270 votes in the electoral college. And right now, that doesn't look very likely. (Jake Flanagin, Quartz)
We want to hear from you! We're reimagining what The Edge can be, and would love to receive your complaints, compliments, and suggestions. Tell us what you'd like to find in your inbox by sending a message to newsletters@theatlantic.com.
-Written by Elaine Godfrey (@elainejgodfrey)