The Edge: Make Your Kids Register Again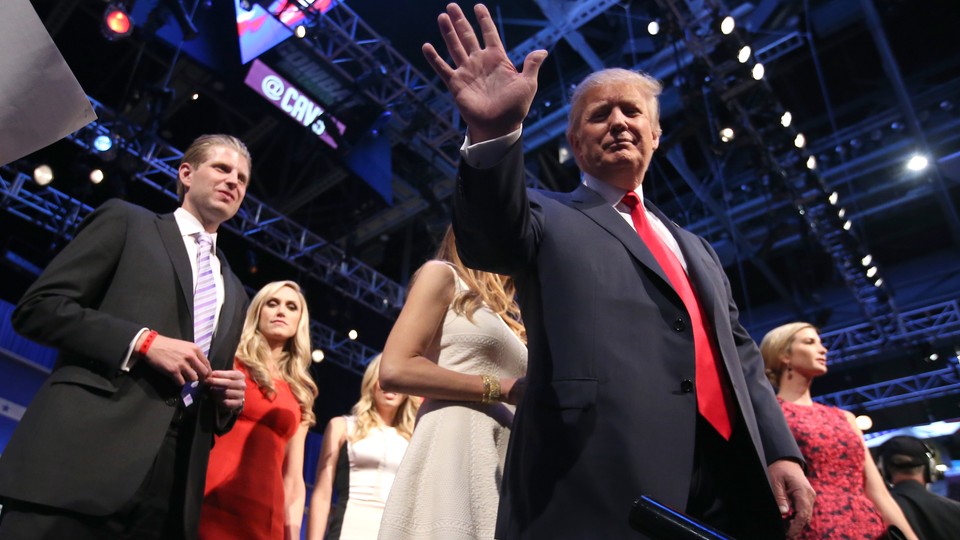 Today in One Paragraph
President Obama met privately with Federal Reserve Chair Janet Yellen to discuss the state of the U.S. economy. Secretary of State John Kerry made a historic visit to Hiroshima, Japan to underscore the need to get rid of nuclear weapons. Donald Trump blamed a "rigged" delegate system for Ted Cruz's Colorado sweep on Saturday. And British Prime Minister David Cameron faced criticism from the House of Commons in the fallout from the Panama Papers leak.
---
Top News
Obama and the Fed. The president sat down with Janet Yellen in a closed-door meeting to discuss the economy, which has shown signs of slowing down due to decreased consumer spending. Ahead of the meeting, White House spokesman Josh Earnest said it was a way for the two to "trade notes" on the economy, adding that Obama has been "pleased" with Yellen's work so far. (Justin Sink and Angela Greiling Keane, Bloomberg)
Kerry Visits Japan. The secretary of state became the first high-ranking diplomat to visit the city of Hiroshima, where the United States dropped its atomic bomb in 1945. "It is a stark, harsh, compelling reminder not only of our obligation to end the threat of nuclear weapons, but to re-dedicate all our effort to avoid war itself," Kerry wrote in a guest book at the memorial. (Kirk Spitzer, USA Today)
Trump: 'The System is Rigged.' The Republican front-runner criticized the party's delegate selection rules in an interview with Fox & Friends after Ted Cruz won Colorado's 34 delegates on Saturday. "The system is rigged, it's crooked," Trump said. "The people out in Colorado are going nuts. They weren't given a vote." Trump also said his children, Eric and Ivanka Trump, had failed to switch their party registrations in time to vote in New York's primary on April 19. (The Hill; ABC News)
Cameron Faces Questions on Panama Papers. The British prime minister is still experiencing blowback following the release of the Panama Papers, which revealed that he benefited from his late father's offshore trust. Cameron announced new measures to crack down on companies avoiding taxes but members of parliament scoffed at the proposal. (Matt Vasilogambros, The Atlantic)
Tomorrow in One Paragraph. Hillary Clinton will be fundraising in Florida. Bernie Sanders, John Kasich, and Donald Trump will be campaigning in New York. And Ted Cruz will be in California.
Follow stories throughout the day with our new Politics & Policy page. And keep on top of the campaign with our 2016 Distilled election dashboard.
---
Top Read
"His campaign is by far the highest-profile example of a Black Lives Matter protester running for public office, and it was initially greeted with nationwide excitement. Mckesson has already inspired thousands around the country to protest police brutality, but the viability of any civil rights movement lies in its ability to move from the street to the places where governance happens. The question was whether Mckesson could parlay his national following into local action." The New York Times Magazine's Greg Howard on DeRay Mckesson's mayoral bid.
---
Top Lines
Sanders's 'Achilles Heel.' New York's upcoming "closed" primary could pose a problem for Bernie Sanders, whose success has been fueled largely by Independents. (Alex Seitz-Wald, NBC News)
America's Fling With the $2 Bill. Introduced during the U.S. bicentennial, the $2 bill was supposed to be a popular form of currency, but superstition and gradual disinterest caused it to become merely a collector's item. (Greg Daugherty, Time)
---
Top Views
How Realistic Are the Candidates' Tax Plans? In this short video, The Atlantic's Russell Berman explains how practical the proposals are on both sides of the aisle. (Daniel Lombroso)
The American Death Divide. New analysis from The Washington Post shows a clear divide between the health of urban and rural Americans—with an especially wide gap among whites and women. (Joel Achenbach and Dan Keating)
We want to hear from you! We're reimagining what The Edge can be, and would love to receive your complaints, compliments, and suggestions. Tell us what you'd like to find in your inbox by sending a message to newsletters@theatlantic.com.