The Edge: Just Don't Eat the Pizza With a Knife and Fork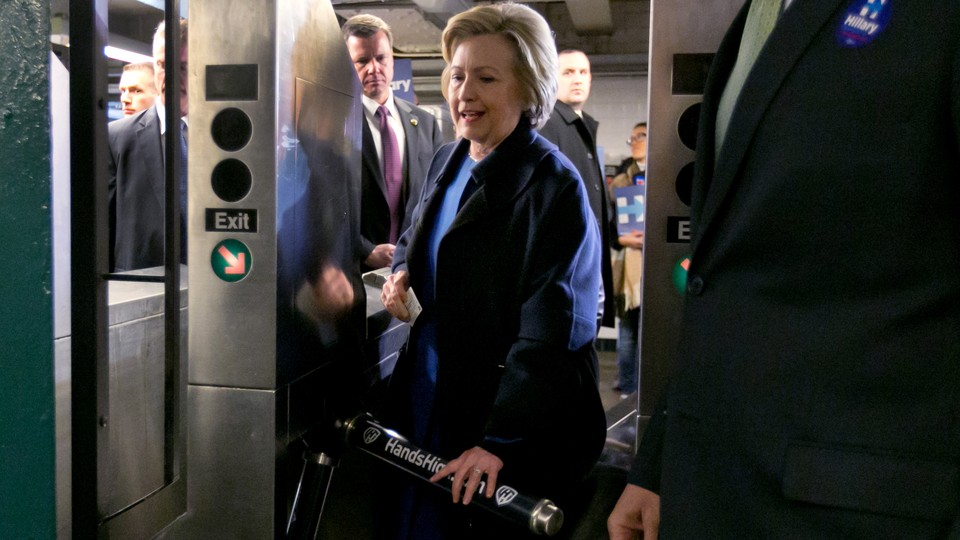 Today in One Paragraph
President Obama called on Republican senators to give Supreme Court nominee Merrick Garland a hearing during a visit to the University of Chicago. A new PRRI/The Atlantic poll found Bernie Sanders and Hillary Clinton—who have been sparring over who is more qualified to be president—are tied among registered voters. Former New York Mayor Rudy Giuliani said he'll be voting for Donald Trump in the state's primary. U.S. Senators reached a bipartisan deal to boost airport security. And Vladimir Putin denied any wrongdoing in relation to the leak of the Panama Papers.
---
Top News
Obama Returns to the Windy City. The president visited the University of Chicago Law School, where he was once a professor of constitutional law, to make the case for Senate Republicans to hold a hearing for his Supreme Court nominee Merrick Garland. Obama also warned against the dangers of politicizing the nomination process, and discussed the long-term effects of having an eight-justice court. (Michael Shear, The New York Times)
Clinton vs. Sanders. The Democratic race is heating up ahead of the April 19 primary in New York. Hillary Clinton criticized Bernie Sanders on Wednesday for his remarks on policy in an interview with the New York Daily News. Sanders fired back back with a list of Clinton's policy positions that he says make her unfit to be president. A new PRRI/The Atlantic poll shows Sanders is supported by 47 percent of Democratic or Democratic-leaning voters compared to Clinton's 46 percent. (Meghan Keneally, ABC News; Russell Berman, The Atlantic)
Rudy Giuliani Plans to Vote for Trump. The former New York mayor said he's voting for Trump in the state's primary on April 19. "He's my friend, and I think of the candidates, of the choices that I have, he's the best choice for president," Giuliani said. (Maggie Haberman, The New York Times)
Airport Security Deal Reached. In a bipartisan effort, senators voted to add new airport security measures to a Federal Aviation Administration bill following the terror attacks in Brussels. The measures include doubling the number of security teams and drug-sniffing dogs at airports around the country, as well as increased employee screening. The FAA bill will be receive a final vote at the end of April. (David Morgan, Reuters)
Panama Papers Cont'd. Russian President Vladimir Putin said he denies "any element of corruption" over the leaked documents that revealed a list of offshore companies owned by Putin's close associates. Putin is not named in the files. (BBC News)
Tomorrow in One Paragraph. Donald Trump and Hillary Clinton are campaigning in New York. John Kasich will split his time between Connecticut and New York. And Pope Francis is expected to release the "Amoris Laetitia," a document on family issues.
Follow stories throughout the day with our new Politics & Policy page. And keep on top of the campaign with our 2016 Distilled election dashboard.
---
Top Read
"This was a Republican who had been called a "jackass" by his own former House Speaker and a "wacko bird" by John McCain. For months on the trail, Cruz would joke that he might need food tasters to eat in the U.S. Senate dining room. And now he was suggesting the long war would come to an end, with himself as the cohering force." Time's Michael Scherer on Ted Cruz's plan to coalesce Republican voters behind him.
---
Top Lines
What the First Amendment Doesn't Say. A new Gallup survey shows that black college students don't feel confident in their First Amendment protections—and poses new questions about the nature of free speech. (Vann Newkirk, The Atlantic)
The Wild History of Contested Conventions. As the Republican candidates hurtle closer toward what is likely to be a contested convention, here are four of the most bizarre tales of convention drama in American history. (Jake Blumgart, Rolling Stone)
---
Top Views
Where Are Terrorists Imprisoned in the United States? American prisons currently hold 443 convicted terrorists—almost five times more than those detained at Guantanamo Bay. These seven maps show where they're located. (Hannah Fairfield and Tim Wallace, The New York Times)
We want to hear from you! We're reimagining what The Edge can be, and would love to receive your complaints, compliments, and suggestions. Tell us what you'd like to find in your inbox by sending a message to newsletters@theatlantic.com.