The Edge: For Once, Merrick Garland Isn't Obama's Top Supreme Court Worry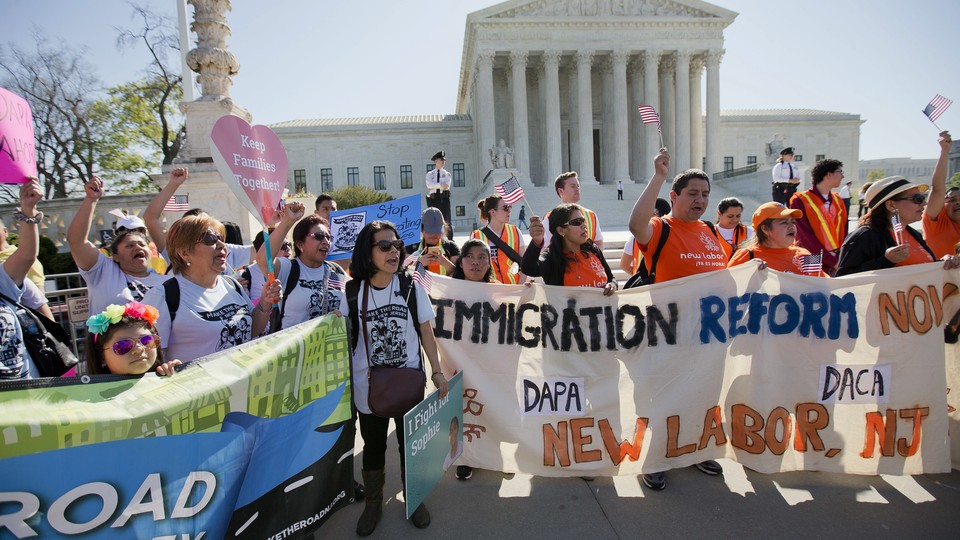 Today in One Paragraph
The U.S. Supreme Court heard oral arguments in United States v. Texas, a lawsuit challenging President Obama's executive order on immigration. The Pentagon announced that the U.S. will send 217 troops to Iraq. Senator Lindsey Graham is scheduled to meet privately with Merrick Garland this week. And the death toll continues to rise in Ecuador after an earthquake struck the country on Saturday.
---
Top News
Immigration at the High Court. The Supreme Court appeared sharply divided during oral arguments in United States v. Texas, a lawsuit challenging President Obama's plan to shield millions of undocumented immigrants from deportation and allow them to work legally in the country. A 4-4 tie would leave in place a lower court's ruling to block the president's program. The Court is expected to rule by the end of June. (Robert Barnes, The Washington Post)
More Troops to Iraq. U.S. Secretary of Defense Ash Carter announced that the U.S. will send 217 more troops to Iraq, as well as additional attack helicopters, in the fight against ISIS. The troops will serve as advisers and trainers. (Euan McKirdy, Jim Sciutto, and Jamie Crawford, CNN)
Graham to Meet with Garland. The South Carolina Senator is expected to meet privately with President Obama's Supreme Court nominee on Wednesday. It's a reversal for Graham, who initially refused to meet with Garland, although he remains opposed to giving the judge a formal hearing. (Seung Min Kim, Politico)
The Aftermath of Ecuador's Earthquake. The number of people killed in Saturday's earthquake reached about 350, according to government officials. More than 2,000 people were injured in the magnitude-7.8 quake, the worst to hit the country in decades. (BBC News)
Tomorrow in One Paragraph. Voters in New York head to the polls to participate in the state's primary. Follow along as we cover it live here. Bernie Sanders will be in Pennsylvania, and John Kasich will be in Maryland.
Follow stories throughout the day with our new Politics & Policy page. And keep on top of the campaign with our 2016 Distilled election dashboard.
---
Top Read
"To young activists like Mr. Farmer, Mr. Clinton's legacy on crime is paternalistic and damaging. But many older black voters who raised families during the crack epidemic—an era many young people do not remember—remain steadfastly loyal to the Clintons." The New York Times' Farah Stockman on the generation gap between younger and older African Americans.
---
Top Lines
15 Minutes of Fame. More than half of America's 100 most liberal enclaves have not yet voted in a presidential primary, and these districts—worth a total of 117 delegates—could make or break the GOP nomination for Donald Trump. (Shane Goldmacher, Politico)
Are the Rules Going to Change? The National Review's Tim Alberta explains what to expect at the RNC's meeting in Florida on Friday and Saturday.
Sanders's Uphill Battle. After weeks of historic gains in national support, the Vermont senator is now essentially tied with Hillary Clinton in the polls, but it still might not be enough to overtake her. (Ronald Brownstein, The Atlantic)
---
Top Views
Who's Affected By United States v. Texas? Check out these two graphics for a closer look at the case—and a breakdown of how 4 million undocumented immigrants could be impacted by the court's ruling. (Max Ehrenfreund, The Washington Post)
We want to hear from you! We're reimagining what The Edge can be, and would love to receive your complaints, compliments, and suggestions. Tell us what you'd like to find in your inbox by sending a message to newsletters@theatlantic.com.