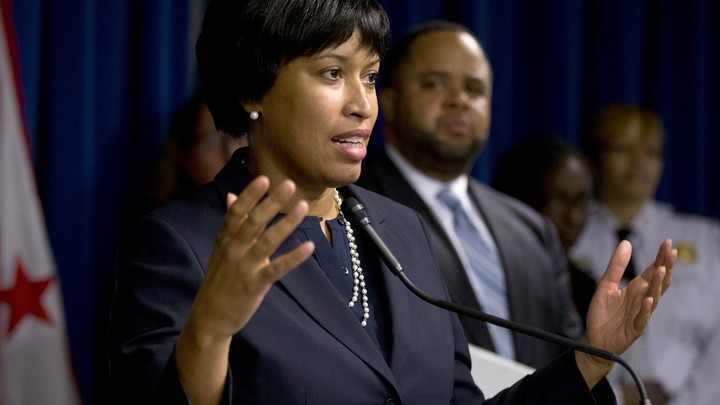 Today in One Paragraph
Bernie Sanders stepped off the campaign trail to speak on the "moral economy" at the Vatican. D.C. Mayor Muriel Bowser said she wants to put statehood on the November ballot to make the nation's capital the 51st state. An Illinois judge overturned the conviction of a man serving a life sentence for murdering a 7-year-old girl. And a magnitude-7.0 earthquake struck Japan.
---
Top News
Rome Feels the Bern. Bernie Sanders addressed a conference at the Pontifical Academy of Social Sciences, emphasizing his agreement with Pope Francis on economic justice. "At a time when so few have so much and so many have so little, we should reject the foundations of this contemporary economy as immoral and unsustainable," Sanders said. The pope did not meet with the Vermont senator, citing travel conflicts. (Eric J. Lyman, USA Today)
The 51st State? D.C. Mayor Muriel Bowser revived the idea of making the nation's capital a state of its own at a gathering marking the anniversary of D.C.'s emancipation from slavery. The move will likely be met with pushback from the Republican-controlled Congress. A similar 1982 petition for statehood was ignored by Congress. (Aaron C. Davis, The Washington Post)
Man Serving Life Sentence Freed. Jack McCullough, who was found guilty in the 1957 death of a 7-year-old girl in Illinois, was released after a judge vacated his conviction. The judge said McCullough was wrongly convicted after new evidence cast doubt on the case against him. McCullough had been serving a life sentence since 2012. (Clifford Ward, The Chicago Tribune)
Another Earthquake in Japan. A magnitude-7.0 quake hit Japan's Kyushu Island just eight miles from the epicenter of Thursday's night tremor that killed nine people. It was not immediately clear whether there were any casualties after the most recent quake, but geophysicist Victor Sardina told CNN there would likely be "severe, serious implications in terms of damage and human losses." (Don Melvin, Greg Botelho, and Ray Sanchez, CNN)
The Weekend in One Paragraph. Hillary Clinton will be campaigning in California, while Donald Trump and Bernie Sanders campaign in New York. And on Saturday, Ted Cruz will speak at the Wyoming Republican State Convention.
Follow stories throughout the day with our new Politics & Policy page. And keep on top of the campaign with our 2016 Distilled election dashboard.
---
Top Read
"And so America goes to war with an extremely short-term mindset, quickly toppling the bad guys but failing to prepare for the later challenges to come. All eyes are on smiting the oppressor because this is the kind of war people want to fight. The problem is that societies like Libya, Iraq, or Afghanistan are deeply traumatized by years of dictatorship, sectarian division, or civil war." The Atlantic's Dominic Tierney on the American way of war.
---
Top Lines
Bernie's Success. During Thursday night's Democratic debate, Sanders showed that, while he might not win the presidential nomination, his willingness to stand by his beliefs and accept political risk will broaden the political conversation. (Brian Beutler, The New Republic)
Back to the Gilded Age. Meet the 50 private donors funneling almost half of the money raised by super PACs in the 2016 elections. (Matea Gold and Anu Narayanswamy, The Washington Post)
---
Top Views
Who's More New York? The New York Times' Matt Flegenheimer compares the accents and attitudes of Bernie Sanders, Hillary Clinton, and Donald Trump. Can you guess who gets the most pizzas?  
We want to hear from you! We're reimagining what The Edge can be, and would love to receive your complaints, compliments, and suggestions. Tell us what you'd like to find in your inbox by sending a message to newsletters@theatlantic.com.
We want to hear what you think about this article. Submit a letter to the editor or write to letters@theatlantic.com.
Elaine Godfrey
is a staff writer at
The Atlantic
, where she covers politics.