The Edge: But Who Will Get the Crucial Pizza Rat Vote?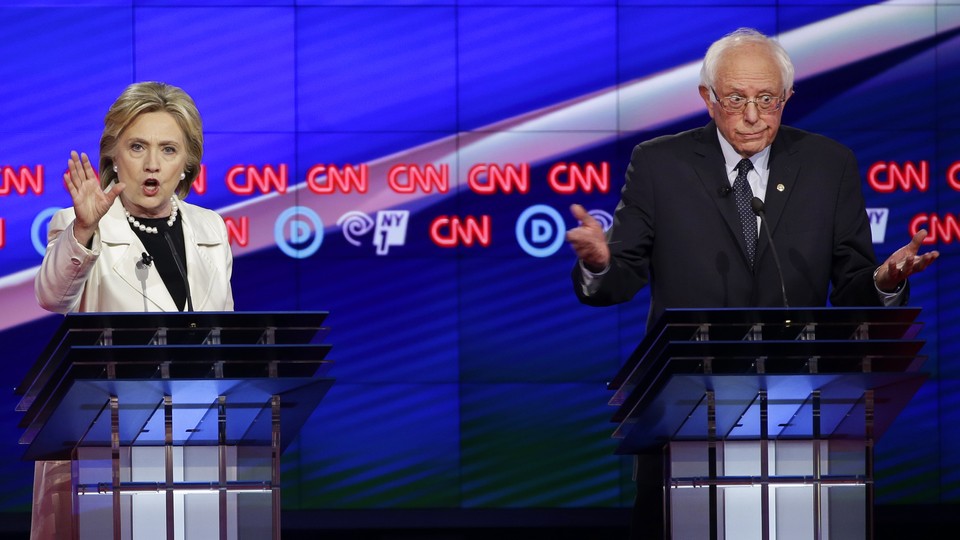 Today in One Paragraph
Voters in New York head to the polls for the state's primary. UnitedHealth, the largest health insurer in the United States, announced it will exit some Obamacare markets by 2017. Former New York Police Department officer Peter Liang won't serve jail time in the shooting death of Akai Gurley. The Senate has taken up energy reform legislation, which, if passed, would be the first of its kind in nearly a decade. And dozens were killed in a suicide bombing in Afghanistan's capital.
---
Top News
Primary in the Empire State. New Yorkers from both parties will cast their ballots in the state's closed primary. Hillary Clinton and Donald Trump, who have both experienced stiff competition in the past few weeks, are expected to do well in the state, which could help them get their grooves back. Polls close at 9 p.m. ET. Join us here as we follow it live. (The Atlantic)
UnitedHealth to Withdraw from Most States. The nation's largest health insurer plans to pull out of most of the 34 states where it currently offers health-care plans under the Affordable Care Act by 2017. The company has reported financial losses from the exchanges and expects to lose some $650 million this year. (Carolyn Y. Johnson, The Washington Post)
Peter Liang Sentenced. A judge ruled that Peter Liang, the former New York Police Department officer convicted of manslaughter for fatally shooting 28-year-old Akai Gurley in the stairwell of a housing project in 2014, will not be serving jail time. Liang will serve five years of probation and 800 hours of community service after Judge Danny Chun reduced Liang's second-degree manslaughter charge to criminally negligent homicide. (Chris Fuchs, NBC News)
Bipartisan Energy Bill. The Senate revived a comprehensive energy reform bill that, if passed later this week, will be the first of its kind in nearly a decade. The bipartisan measure aims to upgrade the nation's aging infrastructure and increase energy efficiency in federal buildings, among other things. (Catherine Traywick, Bloomberg)
Taliban Militants Strike Kabul. At least 28 people were killed and more than 300 were wounded in a suicide bombing in Afghanistan's capital, authorities said. The attack targeted the headquarters of an elite military unit, according to an Afghan interior ministry spokesman. The Taliban claimed responsibility for the attack. (The Guardian)
Tomorrow in One Paragraph. Hillary Clinton and Ted Cruz will be campaigning in Pennsylvania, and Donald Trump will be in Maryland and Indiana. President Obama will arrive in Saudi Arabia to meet with King Salman and other policy makers.
Follow stories throughout the day with our new Politics & Policy page. And keep on top of the campaign with our 2016 Distilled election dashboard.
---
Top Read
---
Top Lines
What If Jail Ran Like a Business? Here's how a Bexar County Sheriff is trying to make one San Antonio jail function more like a corporation—a strategy that tests whether jails can be viewed as providing a service to a population, rather than simply doling out punishment. (Juleyka Lantigua-Williams, The Atlantic)
The Trump Shake-Up. To maintain his lead, Donald Trump is revamping his campaign strategy in two ways: transferring power among his campaign managers and aiming to woo as many delegates as possible before the Republican convention. (Tina Ngyuen, Vanity Fair)
---
Top Views
Who Would Liz Lemon Vote For? Check out this list of famous fictional New Yorkers to see who they'd likely support in the state's presidential primary. (Nate Jones, Vulture)
We want to hear from you! We're reimagining what The Edge can be, and would love to receive your complaints, compliments, and suggestions. Tell us what you'd like to find in your inbox by sending a message to newsletters@theatlantic.com.