The Edge: B-B-B-Bernie and the Pope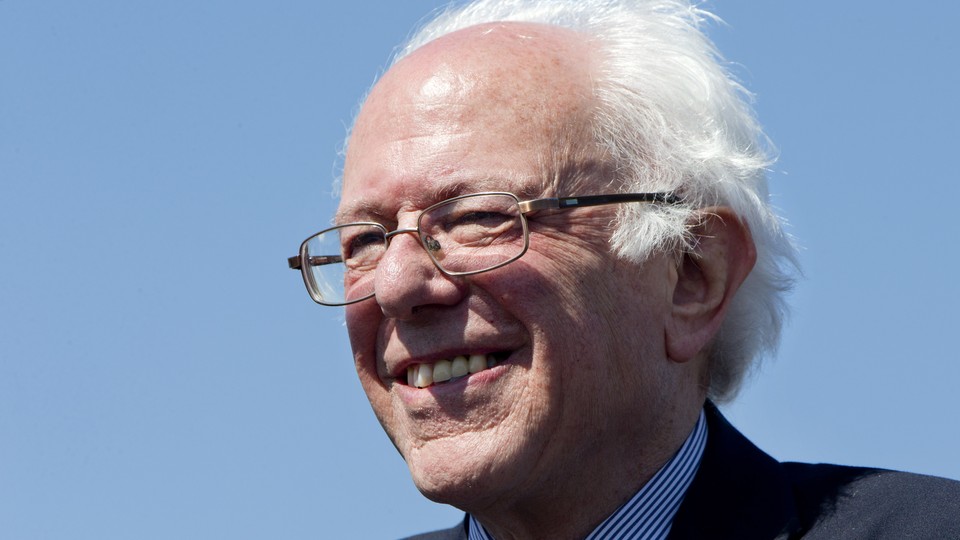 Today in One Paragraph
Bernie Sanders announced he's speaking at a conference at the Vatican next week. Authorities said two people were killed in a shooting at an Air Force base in San Antonio. An American freelance photographer was released from imprisonment in Syria after four years, according to reports. Pope Francis released new guidelines on family life, calling for the Roman Catholic Church to be more welcoming to non-traditional families. And a suspect linked with the November Paris attacks was arrested in Belgium.
---
Top News
Sanders Heads to the Vatican. The Vermont senator announced that he'll be visiting the Vatican next week to speak at the Pontifical Academy of Social Sciences against the "idolatry of money." "I was very moved by the invitation," said Bernie Sanders in an interview. "I am a big, big fan of the pope." Sanders will leave for Rome on April 14 after the Democratic debate. (Reena Flores, CBS News)
Shooting in Texas. Two people are dead after an apparent murder-suicide at the Lackland Air Force Base in San Antonio, Texas, according to a Bexar County spokesman. Authorities added that "this is not an act of terrorism." (The Associated Press; NPR)
American Released From Syria. The Syrian government freed an American freelance photographer Kevin Dawes, according to two U.S. officials. Dawes went missing in Syria in 2012. (Adam Goldman, The Washington Post)
Pope Encourages Family Understanding. The pontiff did not alter Catholic doctrine to recognize same-sex marriage, which is what many progressives had hoped, in a new, long-anticipated document called Amoris Laetitia, which translates to "The Joy of Love." But he did urge that "every person, regardless of sexual orientation, ought to be respected in his or her dignity." (BBC News)
Paris Attacks Suspect Arrested. French police said that Mohamed Abrini, a suspect associated with the November attacks in Paris, was arrested during a Belgium raid. Authorities believe that Abrini could be the third attacker who escaped the bombing at the Brussels airport last month. The attacks in Paris and Brussels killed a total of 162 people. (Raf Casert and Lori Hinnant, The Associated Press)
The Weekend in One Paragraph. John Kasich and Donald Trump will be in New York, and Hillary Clinton will be campaigning in Maryland and fundraising in Virginia. Wyoming will hold its Democratic caucus, and Colorado Republicans will hold a convention on Saturday. President Obama will make a guest appearance on Fox News Sunday with Chris Wallace.
Follow stories throughout the day with our new Politics & Policy page. And keep on top of the campaign with our 2016 Distilled election dashboard.
---
Top Read
"He is still uncomfortably close to victory, which is why there have been, lately, more serious attempts to figure out what he might do if, say, he had access to nuclear weapons. In his answers, he seldom sounds as ungrounded as when he invokes Professor Trump, the younger brother of his father, Fred. "My uncle used to tell me about nuclear before nuclear was nuclear," Trump said in one interview…" The New Yorker's Amy Davidson on Donald Trump's relationship with his uncle, a professor of engineering at M.I.T.
---
Top Lines
'The Exodus Project.' Faith-based groups are offering rehabilitation services to prisoners in Arkansas that the government can't—or won't—provide, but some say it raises a serious Constitutional concern. (Alana Semuels, The Atlantic)
Donald's Defenders. Meet the coalition of people whose job it is to convince Americans that the Republican front-runner isn't racist or sexist. (Rebecca Nelson, GQ)
---
Top Views
'U.S. History, Revised.' Some of the 2015-16 Advanced Placement practice questions for U.S. history were thought to be biased. Test your knowledge—and see how the questions were tweaked—here. (The New York Times)
We want to hear from you! We're reimagining what The Edge can be, and would love to receive your complaints, compliments, and suggestions. Tell us what you'd like to find in your inbox by sending a message to newsletters@theatlantic.com.