The Edge: A Victory for Automatic Voter Registration
Vermont became the fourth state to enact a law that would allow thousands more to get to the polls.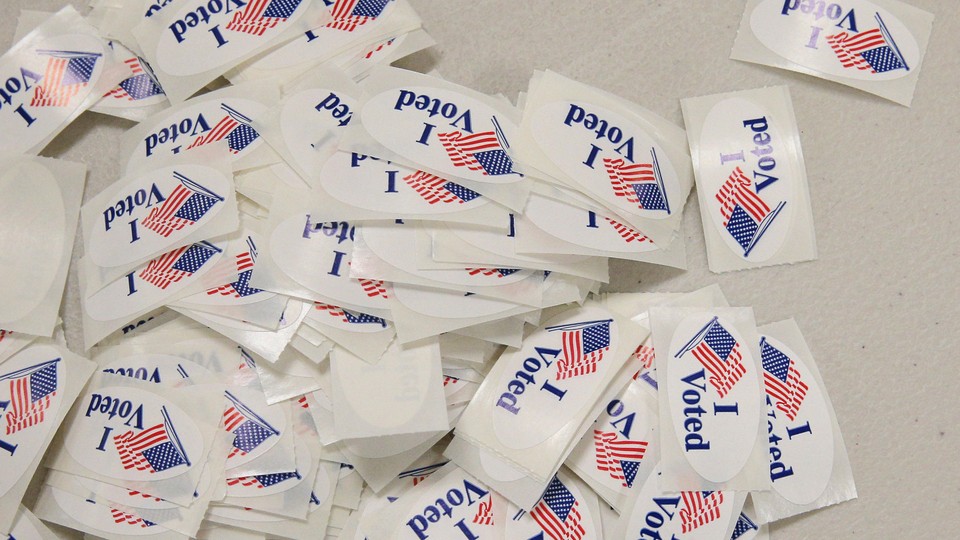 Today in One Paragraph
A bipartisan group of senators introduced a revised criminal-justice reform bill. The U.S. economy experienced its slowest economic growth in two years, according to newly released government data. Starting in 2017, Vermont will automatically register eligible voters. The brother of one of the San Bernardino attackers and two others were arrested on charges of marriage fraud and lying to federal investigators. And airstrikes hit a hospital and several surrounding buildings in Aleppo, Syria, leaving at least 61 people dead.
---
Top News
An Overhaul of the Criminal Justice System. A bipartisan group of senators presented revised legislation that would give judges more leeway in sentencing nonviolent offenders and create programs to help prisoners re-enter society. The legislation was reworked to address opponents' concerns after it stalled in the chamber earlier this year. (Mary Clare Jalonick,  Associated Press)
U.S. Economy Inching Along. The country's GDP rose by 0.5 percent in the first quarter, the slowest rate in two years, according to data from the Commerce Department. The slow growth seemed to be due to stagnant personal consumption in response to weak global financial conditions and a recent dive in oil prices. (Michelle, Jamrisko, Bloomberg)
Voter Registration Gets Easier in Vermont. The state's governor signed a bill to automatically register eligible Vermonters to vote, making Vermont the fourth in the U.S. to approve the policy, after Oregon, California, and West Virginia. The automatic registration, which takes effect in 2017, is expected to add between 30,000 and 50,000 new voters within four years. (Alice Ollstein, ThinkProgress)
San Bernardino Arrests. Authorities in California arrested Syed Raheel Farook, the brother of one of the San Bernardino shooters, his wife Tatiana Farook, and her sister Mariya Chernykh. The three face charges of marriage fraud, conspiracy, and lying to federal investigators. (Richard Winton, James Queally, and Paloma Esquivel, The Los Angeles Times)
Syria Truce 'Hangs By a Thread.' At least 61 people were killed in airstrikes in the rebel-held city of Aleppo, including an estimated 27 people in and around a Doctors Without Borders hospital. The UN envoy for Syria said the violence has left the so-called cessation of hostilities hanging "by a thread" and encouraged the U.S. and Russia to revive the Syrian peace talks. (CBS News)
Tomorrow in One Paragraph
John Kasich and Donald Trump will be in California. Hillary Clinton will be in New York.
Follow stories throughout the day with our new Politics & Policy page. And keep on top of the campaign with our 2016 Distilled election dashboard.
---
Top Read
"Something has changed, and as he prepares to leave office, Obama seems to understand that his economic legacy might be judged not just by what he has done, but by how the results compare to a bygone era of middle-class opportunity, one that perhaps no president, faced with the sweeping changes transforming the global economy, could ever bring back." The New York Times Magazine's Andrew Ross Sorkin spoke with President Obama's on the U.S. economy.
---
Top Lines
Bad Blood. In an appearance at Stanford University on Wednesday, former Speaker of the House John Boehner called Ted Cruz "Lucifer in the flesh," and said he'd "never worked with a more miserable son of a bitch in my life." The comments highlight just how hard it's been for Cruz to rally the Republican Party behind him. (David Graham, The Atlantic)
The Evolution of 'the Cry-Bully.' Politico's Joe Keohane explains how Donald Trump's Twitter account, once a dispensary of inspirational quotes and self-promotion, has evolved into an endless stream of insults and soapboxing.
---
Top Views
The Great Housing Divide. Years after the the recession, the U.S. housing market has started to recover. But that recovery has been incomplete, highlighting the great differences in race, income, and geography between America's neighborhoods. (Ted Mellnik, Darla Cameron, Denise Lu, Emily Badger, and Kat Downs, The Washington Post)
We want to hear from you! We're reimagining what The Edge can be, and would love to receive your complaints, compliments, and suggestions. Tell us what you'd like to find in your inbox by sending a message to newsletters@theatlantic.com.
-Written by Elaine Godfrey (@elainejgodfrey)