The Deep Grooves of 2016
This presidential contest has been marked by unusually consistent cultural loyalties since it began, which could say a lot about the final result.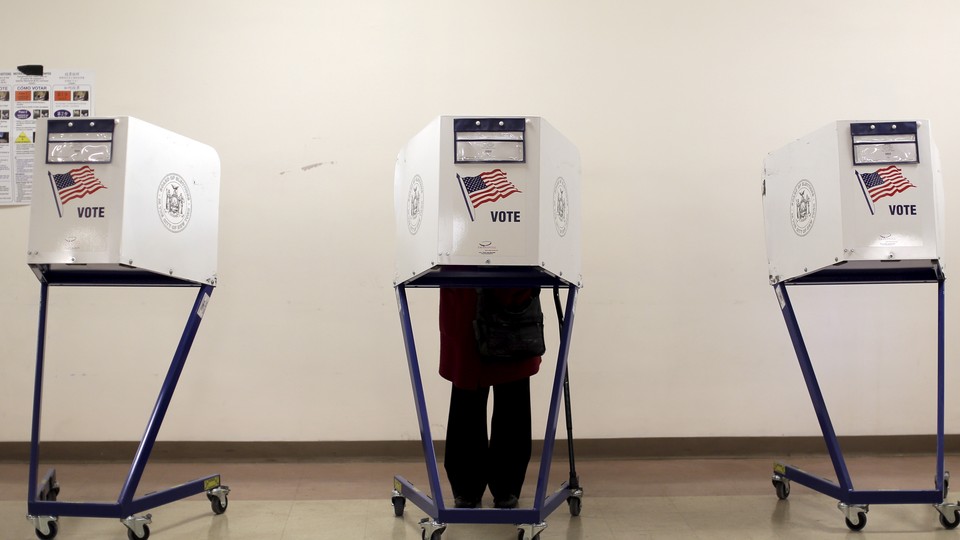 In the 2016 presidential campaign, the first cut has indeed been the deepest.
An examination of the 22 state exit polls conducted so far by a consortium of media organizations indicates that the patterns of voter allegiance that emerged during the very first contests in February have largely persisted since. That's been true even as the race has crossed through different regions of the country, and the Republican field has dramatically winnowed.
On both sides, the leading candidates have established clear patterns of support—and have faced largely intractable pockets of resistance. For the most part, demography has trumped geography, with the big exception that in the Democratic race challenger Bernie Sanders has run much better against front-runner Hillary Clinton among several groups of voters outside of the South than in Dixie, including whites, the middle-aged, and those who describe themselves as very liberal.
On the Democratic side, the unexpectedly competitive Clinton/Sanders contest has split the party along strikingly consistent lines of age, race, gender, partisan affiliation, and ideology.
Sanders's dominance among young voters has been almost complete: He has carried those younger than 30 in 20 of the 22 states with exit polls, faltering only in Alabama and Mississippi. Though it hasn't received as much notice, Clinton has been equally dominant among older voters. She's carried seniors 65 and older in every state with an exit poll except Vermont. And she's won those aged 45-64 in 20 of the 22 states, losing them just in Vermont and New Hampshire. Measured by age, the most deeply divided group is those between age 30-44, who have mostly voted along geographical lines. They voted for Clinton in 12 states, all in the South, except for New York and Massachusetts; and voted for Sanders in 10 states, all of them outside the South.
The two have fought to a virtual dead heat among whites: Clinton has carried them in 11 states, Sanders in 10, and they tied in New York. This overall equilibrium masks several important underlying distinctions. Clinton won most white states in nine of the 10 Southern states (defined as the states of the Old Confederacy) with exit polls, losing them only to Sanders in North Carolina. But he's carried whites in nine of 11 states outside of the South (Iowa and Ohio were the only exceptions), while the two split them exactly 50-50 in New York. Clinton's New York showing gives her campaign hope she may improve her performance among whites in the five eastern seaboard states that vote on Tuesday—particularly since all of those primaries, except for Rhode Island, are closed to independent voters.
Sanders's overall strength among whites has surprised most Democratic operatives: In the 2008 primaries, a cumulative analysis of exit polls found that whites preferred Clinton over Barack Obama by 16 percentage points. Equally surprising has been the composition of Sanders's white support. When he started the race, Sanders fit the profile of the classic "wine track" candidate, reliant mostly on young people and socially liberal and upscale college-educated whites.
But Clinton has actually outperformed him among college-educated white voters, winning them in 14 of the 22 exit-polled states. Sanders's strength has been whites without a college degree: He's carried them in 12 of the 20 states where there were enough to measure in the exit polls. Outside of the South, he's won them in every state except Ohio; elsewhere across the Midwest, Sanders beat Clinton among blue-collar whites by 18 percentage points in Wisconsin, 15 points in Michigan, 13 points in Illinois, and five in Missouri. He even won them comfortably in New York last week, while Clinton carried whites with at least a four-year degree. If these patterns persist, it would help Sanders next week in Pennsylvania and Rhode Island (where non-college whites each cast just over one-third of the vote in the 2008 primary) and lift him even more in heavily blue-collar states impending on the May calendar, including Indiana, Kentucky, and West Virginia. Non-college whites represented at least 50 percent of voters in all three states in 2008.
Arguably, Sanders' single biggest hurdle in the race has been his inability to crack Clinton's dominant hold on African American voters. Clinton has carried them in all 18 states where there have been enough to measure in exit polls. And although her margins haven't been as large among black voters outside of the South, Sanders has held her below 70 percent of the vote among them in just three states, Michigan, Missouri and Wisconsin (where she carried between 67-69 percent in each case). There have been enough Latinos to measure in just five states with exit polls: Clinton won them big in Texas, Florida, and New York, and the exit polls recorded narrow wins for Sanders among them in Illinois and Nevada. With white voters closely split, Clinton's edge among non-white voters has provided her a comfortable overall advantage in total votes cast so far.
Gender has been a big force in the Democratic race as well. Clinton has carried most women in 19 states, while Sanders has won them in only three states—New Hampshire, Vermont and a one-point majority in Wisconsin. Men have split more closely: Clinton has carried them 10 times, Sanders 11, and the two tied in New York.
Not surprisingly, Sanders has done best among voters who identify as very liberal, but he's hardly dominated there: He's carried them in 12 of 22 exit-polled states (they tied in North Carolina). Clinton has held the center of the party: She's won voters who identify as moderates in 18 of the 22 states, and those who consider themselves somewhat liberal in 15.
Both gender and ideology follow the pattern evident on race: Clinton has run better among men and those who identify as very liberal in the South than outside of it. In fact, the only states in which she's carried voters who identify as very liberal have been in the South.
On the GOP side, the race's deep grooves largely favor Donald Trump. No other Republican candidate has attracted anywhere near as broad a base of support. In 19 of 22 states, Trump has carried most moderate voters; likewise in 19 states he's won most voters who don't identify as evangelicals. In 18 of the 22 states, Trump has carried most white voters without a college degree. In 17 states, he's carried most men. Also in 17 states, he's carried most voters who identify as somewhat conservative. Trump has won self-identified Republicans in 16 states (including every state he's carried except Missouri), and independents in 13 states (while tying for first among them in three more). He's even carried evangelical Christians in 13 states. Measured by age Trump's best group has been those aged 45-64—the pre-retirement cohort sometimes described as the anxious generation: He's carried them in 17 states. He's won seniors in 15 states.
In these categories Trump's strength has transcended the geographic boundaries that have defined most earlier Republican races. For instance, the exit polls found that his support among non-college whites varied only between the very narrow band of 46-50 percent across Southern states such as Mississippi, Alabama, Virginia, Georgia, Tennessee, and North Carolina and Midwestern battlegrounds including Illinois, Missouri, and Michigan. Trump has likewise drawn between 43 percent and 52 percent of men in all of those states except Virginia.
By contrast, Texas Senator Ted Cruz, Trump's most significant remaining rival, has operated with a much more narrow range of support. The only voter bloc he's carried in most states is those who self-identify as very conservative: Cruz won most of them in 13 of the 22 exit-polled states. He's also shown some strength among evangelicals, though undoubtedly less than he's expected: Cruz has carried them in seven states and lost them to Trump in such key Southern contests as South Carolina, Georgia and Alabama.
And where Cruz has been weak he's been very weak: he hasn't carried most moderates in any state, and only in Wisconsin did he win most voters who are not evangelicals. (Even in Cruz' home state of Texas, the exit polls placed Trump one point ahead among them.) Cruz's performance among non-evangelicals voters has been especially anemic in the Northeast: he carried just 7 percent of them in Vermont, 8 percent in New Hampshire and Ohio, 9 percent in Massachusetts, and 12 percent in New York. In nine states, Cruz's performance among self-identified moderates has cratered into single digits; Texas and Wisconsin are the only states where he's won as many as one-in-four of them.
This review of exit polls shows that several other Republican groups, however, are much less enthusiastic about Trump. But consistently they have divided their support rather than unifying behind one alternative to the bombastic front-runner.
For instance, while Trump has carried non-college whites in fully 18 states, he's won most whites with a college degree in only nine states, just half as many. But those college whites have fractured, with Cruz carrying most of them in four states, John Kasich in three and Marco Rubio, who quit the race in March in five. (Trump and Cruz tied among them in Illinois.) Similarly, Trump has won voters younger than 30 in just eight states, but in the other contests they have split between Cruz (seven states), Kasich (one) and Rubio (two).
Republican women have also been somewhat more skeptical of Trump: he's carried them in 13 states. Cruz has carried them in six states, while Kasich and Rubio each won them once. (Cruz and Trump tied among women in Michigan).
The durability of these patterns suggests Trump is heading toward a very good showing in Tuesday's northeast primaries, where evangelicals will constitute a relatively small share of the vote in most states. Cruz can hope for at least partial recovery when the calendar in May turns toward states where evangelicals are more numerous (especially in a GOP primary). That list includes Indiana, Nebraska, and Washington; even the California Republican electorate is likely to include somewhat more evangelicals than most of the Northeast states. In a last-ditch effort to stump Trump, the campaigns for Cruz and Kasich announced Sunday night that they would divvy up some of the remaining states so that the Ohio Governor would focus on Oregon and New Mexico and leave Cruz a clear path in Indiana.
Likewise, Sanders can anticipate better days ahead after April in states with small African American populations including Indiana, Kentucky, West Virginia, South Dakota, Montana, and California, which offers the biggest delegate prize of all. Sanders has caught Clinton in national polls and surveys released this weekend showed him running virtually even with her in both Indiana and California.
But on both sides, the hard question for the candidates chasing the front-runners will be whether they are seen as still possessing a viable path to victory if Trump and Clinton post the victories that these persistent patterns of support have placed within their reach across the five Northeastern states voting next week.