Why All Travel Is Local
At a recent hearing, U.S. senators crafted a safety to-do list for the Transportation Security Administration.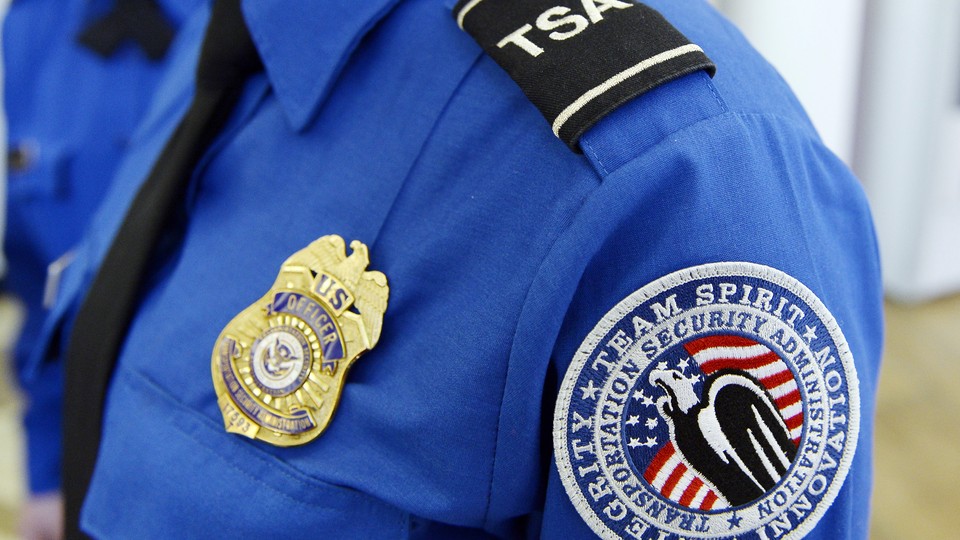 Transportation Security Administrator Peter Neffenger was headed to Brussels for meetings on March 22, the day of the terrorist attacks against that city. He landed "just as the bombs detonated," he said, deplaning into a fractured and panic-stricken airport.
So when the Senate Commerce, Science, and Transportation Committee held a hearing Wednesday morning, the occasion seemed destined for intense or emotional moments. After all, the senators themselves had just traveled to Washington earlier this week from a long spring recess; it seemed reasonable to expect that some might want to know just how safe they'd been in those travels. Plus, this was the Senate's first chance to grill Neffenger since the bombings, to make impressive national-security pronouncements, and to press him on his agency's capability to prevent similar metro and airport attacks in America.
But lawmakers Wednesday morning seemed more interested in fact-finding—often on behalf of their local transportation hubs—than in breathing fire about the looming dangers of terrorism. Whether about TSA checkpoints in Denver or border concerns in Washington state, the hearing at times took on a hyper-local bent. After Nevada Republican Dean Heller quizzed Neffenger on the much-used McCarran International Airport in Las Vegas, Chairman John Thune of South Dakota thanked his colleague for his questioning. "There are not many places that you can get direct flights from Sioux Falls, South Dakota," he said. "But one of them is to Vegas, so my constituents were adding to that number coming into and out of your airport this year."
Some members' emphasis on their home states' security shouldn't be surprising—they are sent to the Hill to represent their constituents' interests. But the terror threat, and temptation for nat-sec grandstanding, could have easily dominated the rhetoric. Instead, lawmakers used the hearing as a measured catchall for worries both broad and specific, pushing Neffenger on aspirations for the future of transportation security. (At one point, late in the hearing, Ranking Member Bill Nelson wanted to know about a technology that mimics a security dog's nose. He was probably disappointed to learn that won't be implemented anytime soon.)
The more region-specific questions weren't asked entirely in self-interest. "Our security is as strong as our weakest link," said Montana Republican Steve Daines, by way of introduction to his query. He wanted to know why the advanced-imaging scanners Montana's airports were supposed to have in 2012 haven't yet been installed. "Enhancements of rural airports strengthen security of the entire national airspace," Daines said. "The bad guys are going to find weak places to come in." It's worth noting that the questioning may have gone differently if the full committee had shown up; roughly half appeared with questions for Neffenger during the 90-minute hearing.
Still, widespread, even international, vulnerabilities weren't completely absent from the senators' minds. Nelson, a Florida Democrat, referenced a nearly two-year-old gun-running scheme through the Atlanta airport that involved an airport employee. He wanted to know why more airports aren't limiting the number of entry points or screening employees more thoroughly as they enter. Neffenger said a report with airport-by-airport details is forthcoming.
Missouri Democrat Claire McCaskill expressed dismay at what she views as insufficient security measures at foreign repair stations, where much plane maintenance occurs. (NBC News published a helpful primer on these stations and accompanying security issues back in 2010. McCaskill, who's quoted in the article, said Wednesday that she has been concerned about them since 2007.)
"I don't think most Americans know that almost every domestic plane they are in is cared for, repaired, overhauled in foreign repair stations," McCaskill said. "Including foreign repair stations in countries that are listed by the State Department as countries that can be a haven for terrorists." She lamented the lack of background checks, drug and alcohol screening, and other security measures in those countries. "We have one standard for machinists and others who work on airplanes in the United States, but if you want to take those jobs overseas, then all of a sudden it is like a sieve." Neffenger politely pushed back on her concerns, noting that foreign repair-station employees are credentialed and screened routinely by the Federal Aviation Administration. He also pledged to get her more information. It was just one more item on a to-do list that grew throughout the hearing.
Though legislators didn't invoke the Brussels bombings too often in the hearing, the attacks certainly—and understandably—informed Neffenger's testimony. Just over two weeks after the European attacks, Neffenger connected the horror he saw with the high-stakes duties of his agency. "Being there on that day—seeing the devastation, seeing the chaos of the airport environment and the evil behind it—was a stark reminder of the importance of the work that we do at TSA every day to protect travelers."