The High-Stakes Senate Primary in Pennsylvania
National Democrats have enthusiastically backed Katie McGinty over former congressman Joe Sestak.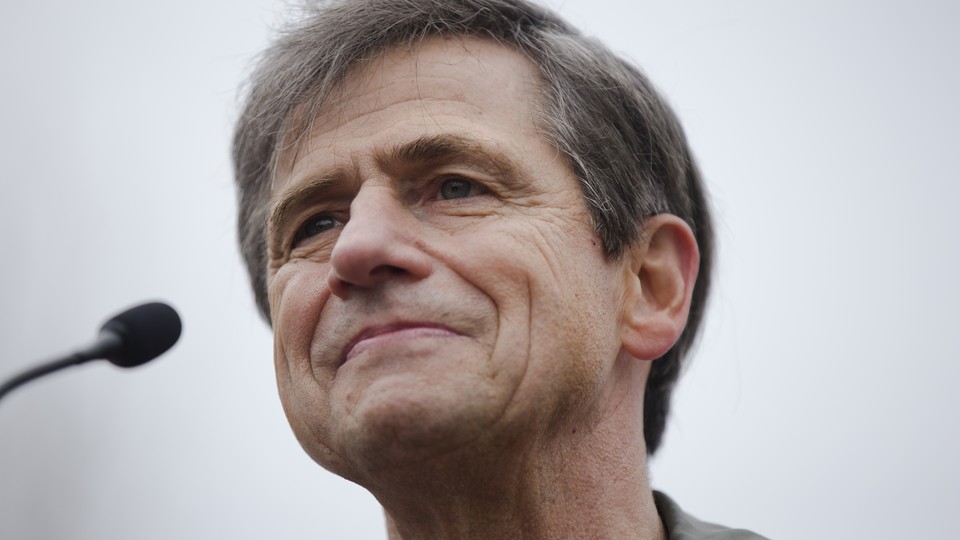 The Pennsylvania Senate primary isn't just about the Democratic Party choosing the best steward of its values to represent the people in Washington. Neither are the high-profile endorsements that have come with the race, nor the glaring spotlight trained on towns from Pittsburgh to Philadelphia.
Rather, national Democrats see Pennsylvania as key to achieving an increasingly feasible goal: taking back the Senate. And they're virtually united in their support of candidate Katie McGinty to beat Republican Senator Pat Toomey in the fall.
McGinty, who last worked as chief of staff to Pennsylvania Governor Tom Wolf, is in a neck-and-neck contest with former Democratic congressman Joe Sestak. The dynamic of the front-runner race is a familiar one this election year, with an establishment candidate, McGinty, taking on an independent-minded outsider, Sestak. A recent Franklin & Marshall poll showed Sestak leading McGinty by six points, but with a large enough margin of error—and enough undecided voters—to keep the scene interesting. Two additional candidates, with slim chances, round out the ballot: John Fetterman, the semi-famous mayor of little Braddock, Pennsylvania, and businessman Joe Vodvarka.
Democrats have been plotting against Toomey for nearly two years; in recent months, they've targeted him for, essentially, being too Republican, and for opposing the nomination of Merrick Garland to the U.S. Supreme Court. But their fortunes have looked more promising since Donald Trump took the lead in the presidential race. Pennsylvania is a swing state, but has gone blue in six of the last seven presidential elections. While Trump is leading Ted Cruz and John Kasich by wide margins there, he is not expected to wow among the state's more moderate voters if he's the nominee. Instead, his candidacy is expected to negatively affect down-ballot Republicans like Toomey in the general.
November's contest gets started Tuesday night when polls close, and national Democrats, including President Obama, want McGinty to be the victor. She's never held elected office, but has long been part of the Democratic political scene. Before working for Wolf, she ran against him in the 2014 gubernatorial primary race. Before that, she led the state Department of Environmental Protection. And before that, she worked on Al Gore's presidential campaign and as chair of the White House Council on Environmental Quality.
She's wracked up endorsements in the last few months, including from Senator Majority Leader Harry Reid; unions like the SEIU; the Democratic Senatorial Campaign Committee; and the pro-choice women's group EMILY's List. Obama and Vice President Joe Biden publicly backed her in late March, "another sign," The Hill wrote, "that the party's establishment is coalescing behind her in a contentious Pennsylvania primary battle."
The endorsements have been glowing—as endorsements typically are—citing her career in public service. But there's political calculation going on as well. Biden has taken a particular interest in Pennsylvania as part of his boots-on-the-ground effort to flip the Senate; he's campaigned with McGinty in the past and was in Philadelphia with her on Monday. Pennsylvania Democrat Bob Casey has said she's the party's best chance. "I think she will be the strongest nominee in the fall election against Senator Toomey," he said. "And that's part of the determination that I have to make as a Democratic leader in the state but also as a voter."
Sestak, for his part, seems proud not to have establishment backing, much like Bernie Sanders has rejected its support of Hillary Clinton. This isn't the first time he hasn't gotten it. Sestak, a former Navy admiral who represented the Philly 'burbs in Congress, hasn't always colored between the Democratic Party's lines. Against party wishes, he challenged Senator Arlen Specter in the 2010 Senate primary, but lost to Toomey in the general. This cycle, he didn't even give the DSCC a heads-up that he was announcing his campaign, which kicked off with Sestak planning to walk the width of Pennsylvania.
Terry Madonna, the director of the Franklin & Marshall College Poll, called him a "maverick" in Philadelphia's Newsworks—someone who's "distant and aloof from party leaders," and whose "estrangement has made party leaders look for other candidates." Like, say, McGinty.
But some Pennsylvania observers think his positioning could be a positive among Democrats in this outsider-favored primary. "This worked for him in 2010, and the conditions are even better" now, a Wilkes University political science professor told The (Allentown) Morning Call in March. Sestak came within 80,000 votes of winning in 2010. "There's a sense across the country—and we'll see shortly to what extent in Pennsylvania—that voters are unhappy with the status quo." Sestak himself has acknowledged the potential advantage of his brand, though it'd be disingenuous to suggest he's totally alone. A pro-Sestak super PAC planned a big TV ad buy ahead of Tuesday. McGinty has also seen major financial help from EMILY's List and the DSCC leading up to the race.
Pennsylvania's race is one of a handful national Democrats are counting on in November. If Sestak wins the primary but fails in the general, they could simply blame him for trying in the first place. He didn't heed their wishes, and he got punished for it—for the second time, by the same opponent. But if McGinty loses, the party would be in a more tricky position. After all the time and money spent to help her bid, the Democrats and their allies would have some explaining to do.