Sanders's Practically Unprecedented Success
The Democrat has made historic gains in national polls, but it still might not be enough to overtake Hillary Clinton.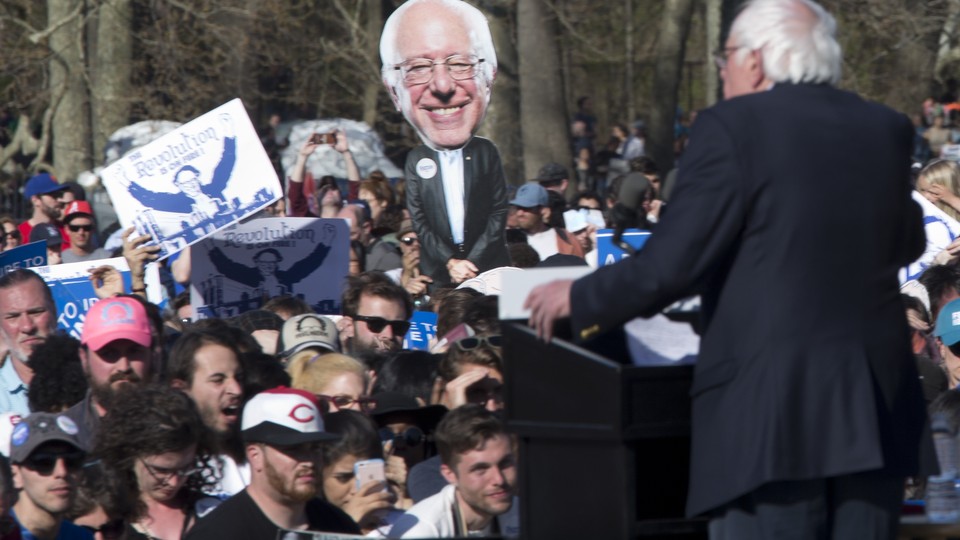 NEW YORK—By steadily increasing his support in national polls to the point where it now essentially equals Hillary Clinton's, Bernie Sanders has crossed a threshold that few other challengers to a heavily favored front-runner have ever reached. But those gains still leave him facing a steep uphill climb to overcome her continuing advantages in the race.
Sanders's rise in national surveys has upended one of the most durable patterns of the primary system in both parties since the mid-1970s. This far into the race, the candidate who has accumulated the most delegates through the early contests almost always has also led in national polls among voters in their party.
But in several recent national public surveys, Sanders has surged to virtually tie, or even slightly surpass, Clinton, who has led among both pledged and unpledged delegates since late February. Sanders's rise has erased a Clinton lead of about 15 percentage points in national surveys immediately before the first contests in February.
The Clinton camp believes national polls at this stage in the race are largely meaningless because their findings can include shifting sentiments among voters in states that have already voted. In their view, the national polls showing gains for Sanders are less important than the tally of actual votes in the states that have participated so far, and in that count Clinton still holds a commanding 56 percent to 43 percent cumulative lead.
But Sanders's gains in national surveys, like his record-breaking small-donor fund-raising and mammoth rallies, testify to the chord he has touched in the Democratic coalition. His advance on all those fronts suggests that Clinton faces a hard ceiling of support that has frustrated her efforts to close out the race. And, as advisers in both camps acknowledge, Sanders's national gains means that he arrives in each new state with a bigger and broader base of support than he enjoyed earlier in the contest. To the Sanders camp, Clinton's support in the race is increasingly following the classic pattern for an incumbent, who often finds most of the voters undecided late in a contest breaking against them and preferring the challenger.
Ironically, the recent candidate who most closely matched Sanders's late primary gains in national polls was Clinton herself in 2008. In national surveys by the Gallup Organization in late April and early May 2008, Clinton briefly rose to tie Barack Obama, even though he had established a steady lead in delegates.
But Clinton's situation then wasn't truly comparable to Sanders's today, because she started that race with a national lead over Obama in 2007 that approached 30 percentage points in some surveys. Obama then passed her in early spring (after he ran off a dominating series of primary and caucus wins in February) before briefly falling behind again when he was embroiled in a series of controversies (the most damaging of which centered on the disclosure of provocative sermons by Obama's minister Jeremiah Wright). Obama finally rebounded to a comfortable national lead in the campaign's last weeks.
Sanders's situation can be compared more revealingly to the last standing alternative in earlier contests—candidates such as Republicans Ronald Reagan in the 1976 Republican race, and George H.W. Bush in the 1980 GOP contest; as well as Edward M. Kennedy, Gary Hart, Jesse Jackson, and Edmund G. (Jerry) Brown in the 1980, 1984, 1988, and 1992 Democratic contests respectively. And this late in the contest, none of them showed the kind of national strength in polls that Sanders is now displaying.
These candidates began their races in very different positions, according to a Gallup compilation of national primary polls. As the race began, some trailed far behind (Bush and Hart). Kennedy (who had stumbled after an early lead) and Reagan were both initially competitive with the sitting presidents they had challenged (Jimmy Carter and Gerald Ford). Brown and Jackson stood in the middle of the pack.
The common theme in their experience, though, is that after the eventual winner of their race won most of the early contests and established a delegate lead, all six trailed in national surveys. And after falling behind, none of them ever regained the lead in national polls—even though several of them won key states in their race's final stretch.
Consider Reagan's experience. From February through April 1976, Reagan lost seven of the first eight primaries to Ford, who led him by as much as 30 percentage points in national Gallup polls. Reagan then recovered to split the final 18 primaries with the president. But even so, the former California governor never again got closer than seven percentage points to Ford in national Gallup polls. In 1980, despite wins in states such as Iowa, Massachusetts, and Pennsylvania, Bush never remotely approached Reagan in national surveys.
In 1980, Carter obliterated Kennedy through the early stages of the contest, before Kennedy began a modest comeback with a late March victory in New York. But even so, Kennedy consistently trailed Carter by 15 percentage points or more in national Gallup polls through that spring.
In 1984, Hart briefly surged past Mondale in national surveys after his upset in New Hampshire. But after Mondale reestablished control of the race with victories in the South and big Northern states (particularly Illinois and New York), Hart never again threatened the eventual winner's national polling lead—even though Hart also rebounded to perform better through the race's final weeks.
The muddled 1988 Democratic race took longer to sort out but the relevant trend is that after Massachusetts Governor Michael Dukakis won a succession of early contests (especially in the Northeast and the biggest Southern states, including Texas and Florida) he passed Jackson in national polls and did not again relinquish the lead on his march to the nomination.
The pattern was quite similar in 1992 when eventual nominee Clinton initially trailed in national polls behind Brown as well as potential candidates who did not run (principally Cuomo). But once Clinton established a delegate lead by winning several key early contests, he passed Brown (as well as his other main rival Paul Tsongas) in national Gallup polls and never again trailed through the remaining primaries.
Less effective challengers who also emerged as the last alternative to the front-runner in their races—a list that includes Democrat John Edwards in 2004 and Republicans Patrick J. Buchanan in 1996, Mike Huckabee in 2008, and Rick Santorum in 2012—also lagged far behind in national polls by the final stages of their contests. John McCain showed more strength in that last alternative role against George W. Bush in the 2000 Republican race, but he, too, never approached the Texan's lead in national polls, even after winning some early contests.
Like these other challengers, Sanders staggered from his race's first stages facing a significant delegate deficit after Hillary Clinton beat him in a succession of mostly Southern and Midwestern states on the mega-primary days of March 1 and March 15. Sanders woke up on March 16 trailing Clinton by nearly 300 pledged delegates and over 700 delegates overall including unpledged super delegates, according to the count by NBC News.
But unlike his predecessors, Sanders has continued to post steady gains in national surveys. In that sense, in the category of last alternative standing, Sanders now stands alone.
In the average of public polls compiled by the political website RealClearPolitics, Clinton on January 1 of this year led Sanders by 54 percent to 31 percent, and she maintained a solid 52 percent to 43 percent lead on March 16. Sanders, though, has continued to climb since, as he's also beat her in a series of five smaller caucuses and a primary in Wisconsin. In the site's most recent average, the two had virtually converged, with Sanders rising to 46 percent and Clinton slipping to 47 percent. (By contrast, in this year's Republican race, Donald Trump has maintained a roughly 10 percentage point national lead over Ted Cruz in the RealClear average, even as the field has contracted.)
Sanders has even narrowly passed Clinton in two recent national surveys, one by the Marist Institute and McClatchy newspapers, and another by The Atlantic and the non-partisan Public Religion Research Institute. The PRRI / The Atlantic poll gave him an overall lead of 47 percent to 46 percent. That was within the survey's margin of error, but the internal results suggest that the national pattern of support for Sanders and Clinton has now settled into the grooves apparent in most recent primaries outside of the South.
In the PRRI / The Atlantic poll, which measured both partisan Democrats and Democratic-leaning independents, Sanders led Clinton by big margins among registered voters younger than 30 (51 percentage points), Democratic-leaning independents (29 points), liberals (16 points), voters aged 30-49 (also 16 points), and whites without a college education (12 points).
Clinton in turn held solid advantages among seniors (who favored her by 40 percentage points), African-Americans (33 points), voters aged 50-64 (23 points) and voters who self-identified as conservatives (24 points) or Democrats (11 points). Clinton led narrowly among moderates (who preferred her by five percentage points) while college-educated white voters split almost exactly evenly (47 percent for him, 46 percent for her). Overall, Sanders led her by a 51 percent to 42 percent margin among all whites.
These findings closely follow the results in recent primaries where exit polls have been conducted, particularly in states outside the South. Sanders has dominated Clinton among young voters everywhere, and has beaten her among whites in nine of the 11 states outside the South with exit polls; he has also won whites without a college degree in every non-Southern state except Ohio. And in the cumulative analysis of the 21 state exit polls conducted by the polling firm Public Opinion Strategies, Sanders has captured over three-fifths of independents participating in the Democratic primaries. Conversely, in the Public Opinion Strategies analysis, she has carried over three-fourths of African Americans, almost three-fourths of seniors and nearly two-thirds of self-identified Democrats.
The persistence of these patterns underscores the tendency of demography to trump momentum in the modern primary system. They also point to the baseline of support each candidate can expect in the remaining contests. Because Sanders remains so reliant on independent voters, and has struggled among Democrats and especially African Americans, the next week could represent his roughest stretch since early March. In New York on Tuesday, and the five other Northeastern states headlined by Pennsylvania and Maryland that vote a week later, independents are barred from voting—except in tiny Rhode Island. In most of them African Americans will constitute an important share of the vote as well.
After that, the calendar turns back to states where Sanders can expect to perform better, including West Virginia, Oregon, Montana, and South Dakota, either because they are mostly white or allow independents to participate or both. Kentucky, a preponderantly white state that is closed to independents, and Indiana, a modestly diverse state that is open to them, loom as potentially competitive May battlegrounds. Sanders's campaign is growing more optimistic about its prospects in California, an open primary with few African American voters, where it believes it can also notch gains among younger Latinos. New Jersey, which is closed to independents and where African Americans cast almost one-fourth of the 2008 vote, stands as a much tougher challenge for the Vermont senator.
Even with Sanders's gains in national surveys, Clinton remains a prohibitive favorite for the nomination. Joel Benenson, Clinton's chief strategist, argues that if she emerges from the next two weeks of Northeastern contests with her pledged delegate lead intact or enlarged "it's too late and there are not enough delegates" for Sanders to overtake her. Standing in the spin room after last Thursday night's Democratic debate in Brooklyn, he pointed toward one side of the cavernous warehouse-like structure. "The problem is….you've got to scale that wall if you come out of the 26th down by 200 or more delegates," he said.
David Axelrod, formerly Obama's chief campaign strategist, says Sanders's persistent weakness with partisan Democrats and black voters will dilute the benefits he can expect from his overall national gains. "Bernie still hasn't cracked the code with minorities, and minority districts yield a premium because the Dems assign more delegates to high performance districts," Axelrod said in an e-mail. "So she probably will continue to bank the delegates she needs, despite his strength."
The Sanders campaign recognizes the magnitude of the challenge. But they believe that if Sanders can continue to show well against Clinton in national primary polls, continue to lead Republicans in national general election polls, and then sweep most of the race's final contests, they can convince superdelegates to switch to him as a better bet to hold the White House in November.
That largely replicates Gary Hart's last-ditch strategy in the final stage of the 1984 race against Mondale. Hart pinned his hopes on a final day sweep in California and New Jersey; he won the former, but was swamped in the latter after making an untimely joke about the state, and saw Mondale claim the nomination the next morning.
Tad Devine, Sanders's senior strategist, watched that race from a top position in the Mondale campaign. To beat Clinton, he says, Sanders will have to achieve the bicoastal sweep that eluded Hart. "In the end it is going to come down to California and New Jersey," says Devine. "If we are going to win this thing we are going to have to do what Hart didn't do, he won California, he didn't win New Jersey. We are going to have to win big at the end."
Counters Democratic pollster Geoff Garin, an adviser to the pro-Clinton Super PAC Priorities USA: "Whatever happens in California he's not going to win by so much that he cuts in deeply to her delegate lead. I think the superdelegate strategy is a fantasy. There's no reason why they would switch from her to him."
Compared to Hart in 1984, Sanders is showing even more strength in both fund-raising and the national primary polls. But like Hart, Sanders will find that all of his gains may prove too little too late if he cannot shatter the framework of the race with a string of decisive upsets in big states, like Pennsylvania, California, and New Jersey. The most sobering dynamic facing the Sanders camp is that even such a historic closing kick might not be enough to overtake Clinton.
Related Videos