Is Porn Culture to Be Feared?
Social conservatives and some feminists worry that the rise of streaming, hi-def pornography causes men to use and abuse women—but it has coincided with steep declines in rape and spousal abuse.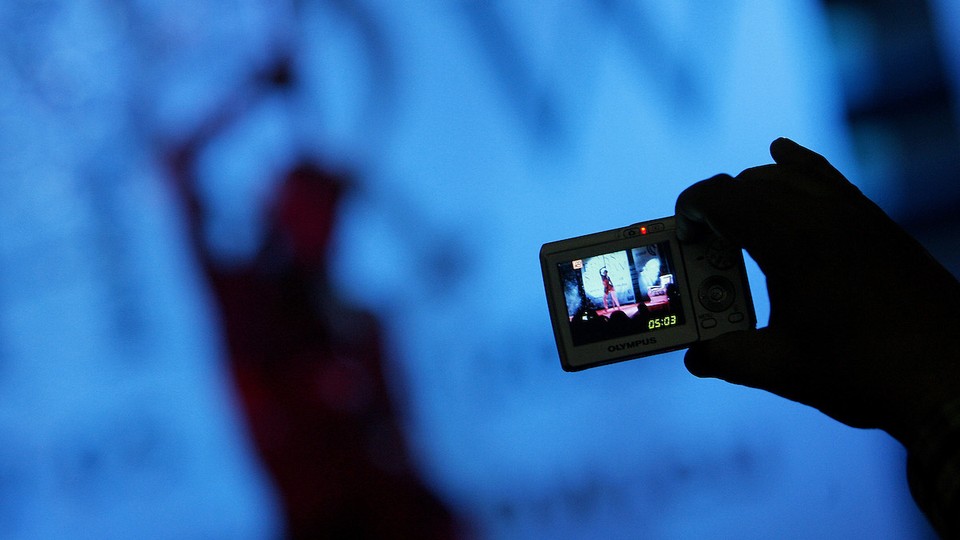 In Time's current cover story, "Porn and the Threat to Virility," Belinda Luscombe writes, "A growing number of young men are convinced that their sexual responses have been sabotaged because their brains were virtually marinated in porn when they were adolescents. Their generation has consumed explicit content in quantities and varieties never before possible, on devices designed to deliver content swiftly and privately, all at an age when their brains were more plastic—more prone to permanent change—than in later life. These young men feel like unwitting guinea pigs in a largely unmonitored decade-long experiment in sexual conditioning."
Most concerns about radical change strike me as sensible.
I've been pondering what the Internet is doing to our brains since Nicholas Carr tackled the subject in 2008; I've wondered what screens will do to children's brains since Hanna Rosin raised the question; I commend to you this James McWilliams essay on the need to humanize digital life. A generation growing up with hi-def video porn is fraught with many of these same unknowns. Will it shrink attention spans? Rewire brains? Affect the ability to flourish in relationships?
Only time will tell.
Now, I've just cast the subject in terms of public health. But among social-conservative bloggers I follow, there is a deeper alarm at the Time story and what it portends.
Denny Burk, a professor of Biblical Studies at Boyce College, argues that what Time frames as a mere public health crisis is, in fact, a civilizational crisis with moral underpinnings that cannot be safely ignored. "This article is the latest evidence of our diminishing ability to speak about sex in moral terms," he writes. "We are at a place in our culture in which sexual morality has been reduced to consent. Our society has embraced total sexual license. If anyone suggests any other moral norm beyond consent, they are dismissed as a puritanical, repressive throwback."
That overstates the supremacy of consent.
Prostitution remains illegal in most of America, and has critics on the left and right, in academia as surely as churches, who are unmoved by the idea of consent as king. Two years ago, I suggested in this space that Immanuel Kant's categorical imperative might serve as a bridge between the sexual ethics of American Christians and secularists, and no one dismissed me as a puritanical, repressive throwback.
That said, many do believe consent ought to be the lodestar of right-thinking sexual morality, a proposition I have defended at length. And the surrounding debate came back to me as I read one of Burk's subsequent claims.
"The sexual revolution promised us more sex and more pleasure," he wrote. "It has actually delivered to us a generation of men who think of women as objects to be used and abused for their sexual pleasure. It has not given us men who know what virtue and honor are. It doesn't teach men to pursue their joy in self-sacrificially loving and being sexually faithful to one woman for life. It teaches young men to use women for sex and then to discard them when they become unwilling or uninteresting."
Let's give this notion its due. In theory, it's easy to see how ubiquitous pornography could lead more men to "think of women as objects to be used and abused." There is no human relationship with the person onscreen in a porn video. He or she is as easily dismissed as pressing a remote control or closing a laptop lid.
What's more, no one knows what today's unprecedented porn environment will do to the children growing up within it. It is strange, if you think about it: People would be shocked by parents who filled their 9-year-old's bookshelves with all the "great books," a wall of reference volumes, and a selection of hardcore BDSM orgy scenes, but it's perfectly normal to give them a smart phone connected to the whole Internet. I do not mean to suggest that traditionalists who regard that as madness are wrong.
But whether it's social conservatives or feminists advancing Burk's particular arguments, I'm always unpersuaded for empirical reasons: Surveying the world around me, it just doesn't seem as if the men in younger generations are more likely than their forbearers to use and abuse women. In fact, just the opposite seems to be true.
As I wrote two years ago, Western culture isn't so far removed from an era in which 14- and 15-year-old girls were married off to middle-aged bachelors with whom sexual congress was terrifying and obligatory, often because the resulting union benefited the father of the bride financially. American culture isn't so far removed from an era in which wives were expected to have intercourse with their husbands whether they wanted to or not, so much so that an intoxicated husband forcing himself on his wife as she fought and screamed "No! Stop!" wasn't legally defined as rape.
More recently, over the same period that pornography has grown much more common, the rape rate has plummeted. It was higher throughout the aughts than it is today. There is no more extreme or pernicious act of using and abusing women as sexual objects rather than treating them as humans. And to get rape rates as low as porn-saturated 2013 and 2014, you've got to go back to the 1970s.
Now think of where countless rapes happen.
If you were seeking out the most debased sexual culture in the United States today, the place where a high percentage of the population are treated as sex objects to the most extreme degree, surely prisons would be very high on the list, even as they're one of the few places that video pornography is unavailable.
For these reasons and more, I find the world that I see around me hard to square with the claim that we're living amid "a generation of men who think of women as objects to be used and abused for their sexual pleasure," and that pornography is the cause. "It's not merely that so many young men are unprepared for marriage," Burk writes of porn-saturated generations. "They are unprepared for dinner and a movie. We have sown to the wind. We are reaping the whirlwind—especially our daughters, who are less likely than ever to find a man who hasn't been corrupted by this."
Consider, however, that "in the two decades since the United States Congress passed the Violence Against Women Act, domestic violence has declined dramatically. Annual rates of nonfatal domestic violence fell by 63 percent between 1994 and 2012 – from 13.5 victimizations per 1,000 people to 5 per 1,000." Does Burk think American women were better off in 1994?
None of that answers whether pornography is medically healthy or morally permissible. But given that the rise of ubiquitous porn has coincided with significant declines in rape and spousal abuse, and with increasing support among men for gender equality, how can anyone be confident that it makes men disrespect women, let alone that it causes harm so dramatic that it represents a civilizational threat?
The same logic applies abroad.
Lots of countries with ubiquitous pornography seem to be much more successful, and to treat women much better––to grant them more rights, dignity, and status as equal persons––than countries where porn is more restricted or unavailable. Again, that doesn't prove that the new era of hi-definition, streaming video porn doesn't represent a public health threat, or that it isn't morally objectionable, but it does suggest that Burk and those who hold his particular views about pornography have a lot of explaining to do about how porn functions in the real world.
And I suspect that, for social conservatives, anti-porn feminists, and everyone else besides, the truth about porn, whatever it is, will raise very thorny moral and ethical questions precisely because its many effects are neither entirely good nor entirely bad. What if, hypothetically speaking, modern porn increased the degree to which men think of women as objects, made marriages marginally less healthy, significantly decreased the rates of rape and spousal abuse, and led to fewer abortions?
There is, I think, a broad consensus that more study of porn and its effects is a prudent investment. And as yet, I don't think anyone should be confident about what facts will emerge, what the true costs and benefits will be, insofar as it will ever be possible to know them.