Indiana Governor Mike Pence Endorses Ted Cruz
"I'm not against anybody," he said, "but I will be voting for Ted Cruz in the upcoming Republican primary."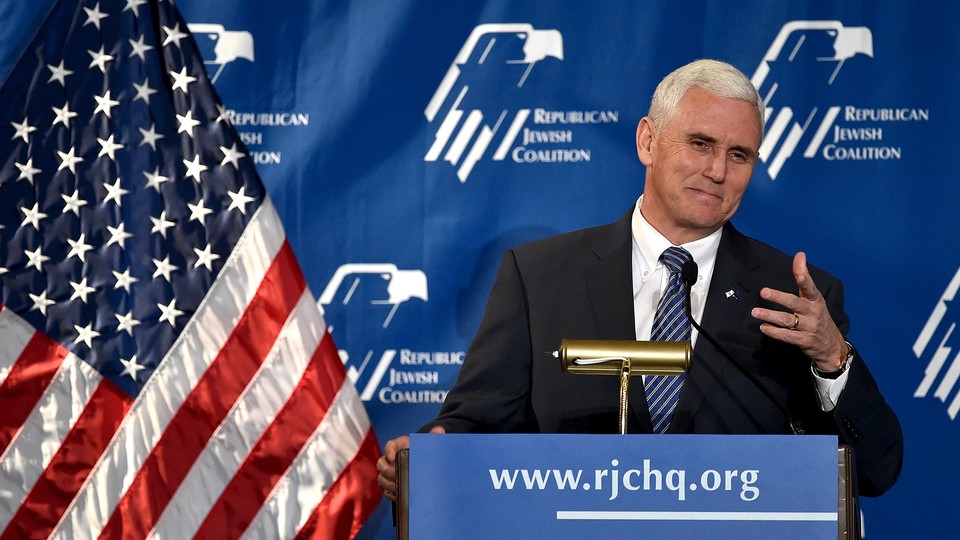 Ted Cruz is just one of a few "good men" in the Republican primary race.
That was Indiana Governor Mike Pence's subdued endorsement message Friday when he announced his support for the Texas senator on WIBC in Indianapolis. "For me, this is about choosing" among those good men, "all of whom I like and respect, and identify that individual who I think best articulates and would best advance the principles that have made our prosperity possible," Pence said. "And for me, that is Ted Cruz."
Pence is the second Midwestern governor to back Cruz ahead of a crucial primary; before his state's contest in early April, Wisconsin's Scott Walker also endorsed Cruz. The senator, of course, is angling to secure Indiana's 57 delegates in Tuesday's primary and force a contested GOP convention in July.
Pence seemed wary of alienating the other candidates and their supporters in the midday interview. Before announcing his support for Cruz, he noted how much of a personal "thrill" it was to have the Democratic and Republican candidates in the state and for Americans to be "looking to Indiana to make a choice." Before even uttering his chosen candidate's name, he deliberately praised Donald Trump—for voicing working Americans' "frustrations" and making jobs a focal point of his Indiana campaign.
And Pence was careful with his phrasing as he announced his endorsement: "I'm not against anybody," the governor said, "but I will be voting for Ted Cruz in the upcoming Republican primary."
Pence had positive things to say about Cruz, no doubt: He said Cruz has dedicated his career to former President Ronald Reagan's agenda, as high praise as any for a Reagan fan like Cruz; and Pence highlighted Cruz's willingness to buck Republican leadership. The endorsement is a big get for Cruz. Prominent Republicans and conservative commentators in Indiana have kept quiet about which candidate they're backing. Their silence is a stark contrast with the vocal support Cruz secured from the anti-Trump crowd in Wisconsin, including influential talk-radio hosts in the state.
But Pence's position was clear: He wasn't about to start bashing Trump just because he decided to support Cruz, though he has criticized the front-runner in the past. Pence probably doesn't want to offend his party's potential nominee, or the millions who support him. His hedging could also be savvy politicking, as he's in a difficult race for reelection in November.
All three Republican presidential candidates lobbied Pence for his endorsement. Last week, Donald Trump brought New Jersey Governor Chris Christie, the former chair of the Republican Governors Association, to his Indianapolis meeting with Pence. It's possible Trump was trying to sweeten the pot: The two governors know each other, and last year, Christie publicly defended Pence when he fielded criticism—and a business exodus—over Indiana's so-called religious-freedom legislation. Cruz met with Pence the following day, and John Kasich saw Pence earlier this week.
Cruz seemed to signal Friday morning that he was feeling warm and fuzzy about the governor. "He has been an incredible leader for the state of Indiana," he said. "He has really demonstrated that when you cut taxes, when you reduce regulations, that jobs follow."
The feeling appears mutual, if more muted on Pence's end. "I urge every Hoosier to make up their own mind, but I always thought that to lead is to choose … I just wanted to make my decision known. But let me be very, very clear on this, Greg," Pence said to radio host Greg Garrison, no matter who wins the Republican nomination, Pence is "gonna work my heart out to get [him] elected this fall."