The Once and Future Candidacy of Paul Ryan
The House speaker declared—again—that he's not running for president. For now.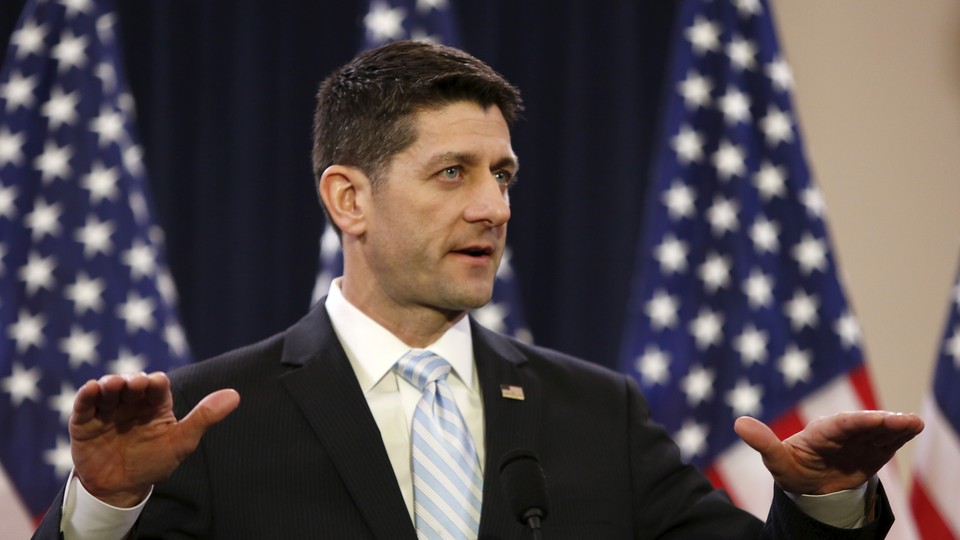 Paul Ryan is never, ever, ever getting back on the presidential campaign trail. Never.
Well, not this cycle.
Ryan, the still-new speaker of the House, has been the subject of much speculation and conspiracy theories in recent weeks. No matter how fervently he or his staff insisted he wouldn't seek the presidency, his supporters—and the political press—refused to believe it. The thinking went that Ryan could be nominated at a likely-to-be-contested Republican convention in July. He'd save the party from front-runner Donald Trump and provide a more moderate, more likable alternative to Senator Ted Cruz, who's second in the delegate count.
But on Tuesday afternoon, Ryan staged a press conference to unequivocally shut everyone up. Or, at least, try to.
"We have too much work to do in the House to allow this speculation to swirl or to have my motivations questioned. So let me be clear: I do not want, nor will I accept, the nomination for our party," Ryan said from the Republican National Committee headquarters. "Let me speak directly to the delegates on this," referring to the individuals who will choose the GOP's candidate: "If no candidate has a majority in the first ballot, I believe that you should only choose from a person who has actually participated in the primary. Count me out."
The problem for Ryan is that this is his umpteenth statement on the matter, and it isn't certain why this announcement will be any more likely to stop mainstream conservatives' wishful thinking. Ryan will probably continue to field accusations that the speaker doth protest too much until another candidate is named the Republican nominee. Even then, the dream of a Ryan candidacy will remain a specter over the presidential race.
After all, the pro-Ryan crowd has seen this all before: Ryan, now famously, demurred over calls that he should run for House speaker after John Boehner announced his retirement last fall. When he finally announced, in late October, that he'd be open to running, Ryan reminded reporters this whole thing wasn't his idea. "This is not a job I've ever wanted, I've ever sought," he said. "I came to the conclusion that this is a very dire moment, not just for Congress, not just for the Republican Party, but for our country." Ryan for President supporters could easily point to this statement as evidence their guy might be drafted again in the future. The Congress, his party, and the country are all still fractured. Ryan doesn't want the presidency, he's never sought the presidency, but they hope he'll take it anyway.
Ryan, with a resigned smile, brushed off a reporter's suggestion that this is speaker's-race deja vu. "Apples and oranges," Ryan said. "Being speaker of the House is a far cry from being president of the United States … That is entirely different than getting the nomination for president of the United States by your party without even running for the job." He even encouraged establishing a convention rule that only candidates who ran in the primary can be nominated.
Some of his colleagues have shown support for a potential Ryan candidacy. Tom Cole of Oklahoma said late last month that some delegates at the convention might be looking for a "consensus figure," and there Ryan would be. "Frankly, he does represent the kind of vision and values that as a Republican you would want to put forward," he said. New York's Peter King said Ryan would be the "best choice" if the nomination "does go to a candidate who is not in the race." Carlos Curbelo of Florida told The Hill he's "always all-in for Paul Ryan—today, tomorrow and in 2020."
Ryan's denials have been near-constant—and there have been at least 18 of them since December, by The Washington Post's count. While on a recent congressional delegation to Israel, Ryan told The Times of Israel he had a "lots of reasons" not to run, including the GOP's "deep bench" of candidates and his young family. He said candidates for president should run a full campaign: "I think you should start in Iowa and run to the tape." To conservative radio host Hugh Hewitt early last week, Ryan again reiterated that he's staying in his current job. "I do believe people put my name in this thing, and I say, 'Get my name out of that,'" he said.
The speaker should have some sympathy, though, for reporters constantly asking about his intentions; he isn't exactly lying low. Ryan's recent moves seem to signal that the real Republican Party is on the Hill, not in the dysfunctional presidential race. In weekly press conferences, he has responded to the latest campaign-trail scandals with condemnation, and he gave an address to Hill interns last month calling for civility. "When passions flare, ugliness is sometimes inevitable," Ryan said. "But we shouldn't accept ugliness as the norm. We should demand better from ourselves and from one another." The speech was then slickly edited and produced—wide-eyed interns gazing at Ryan while he demanded a battle of ideas—and then released online. It seemed more in line with campaign PR than anything else.
Other moves have stoked rumors, too. Since assuming the speakership, Ryan has rolled out legislative priorities that would remake the House in his image, invested in a large press shop to promote his agenda, taken that trip to Israel to meet the prime minister, and given several addresses on his overarching vision for America. Of course, none of this ever meant his candidacy was a given. Politico's Jake Sherman had a story earlier this week that detailed why each of these moves did not mean Ryan would run. Republican Senator Tim Scott of South Carolina described Ryan's actions as simply "a parallel policy campaign" to the presidential race. And, to be fair, attention to Ryan's every action became much more intense as rumors about a potential nomination got louder.
Even if rumors on Ryan 2016 die down, they'll likely ramp up again for 2020; there's another contingent in the rumor mill saying all this speculation is forming the groundwork for the next cycle. Whether or not that's true, Ryan on Tuesday explained his moves as an effort to rebrand the House's work.
"We still owe it to the country to show what we would do if given a mandate from the people," Ryan said. "We have an obligation to give a clear picture, a clear choice, to talk about solutions. That's why I've been giving speeches. That is why I've been communicating a vision for what our party and our country can be. And that is why I'm going to continue doing just that."