North Carolina's Nearly Meaningless Executive Order on Discrimination
Republican Governor Pat McCrory says he intends to clarify the LGBT-related law. Will it be enough to stop the backlash?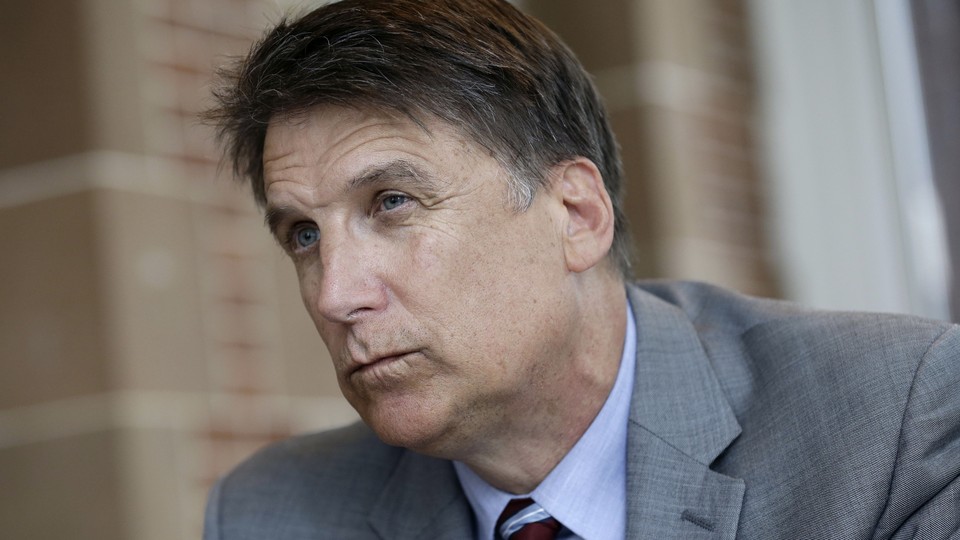 DURHAM, N.C.—After weeks of fierce criticism, North Carolina Governor Pat McCrory on Tuesday took steps to blunt the backlash to HB2, the state's controversial LGBT-related law.
That law—introduced, passed, and signed during an unusual one-day special session on March 23—prevents transgender people from using bathrooms corresponding to the gender with which they identify in state schools and government facilities. It also prevents cities from creating LGBT non-discrimination ordinances or raising local minimum wages. The bill was passed in response to a Charlotte ordinance requiring schools and businesses to make transgender bathroom accommodations and prohibiting discrimination against LGBT people.
McCrory's order seems to be geared at soothing fears about some elements in the law, but it does not appear to make any material changes. The governor cannot unilaterally change the law. There is no change to the transgender-bathroom conditions, one of the most complicated elements. Government buildings, including schools, will still require people to use bathrooms and locker rooms corresponding to the gender on their birth certificate. But the order also notes that private businesses may establish their own restroom and locker-room policies.
The order also "affirms" that local governments and private business may establish non-discrimination employment policies for their own employees—including, presumably, LGBT people. It also expands the state's nondiscrimination policy for state employees to include sexual orientation and gender identity. But it does not restore cities' right to establish local non-discrimination ordinances that apply to the private sector, as Charlotte's ordinance did. In other words, the North Carolina government cannot legally discriminate against employees on the basis of sexual orientation or gender identity. Businesses can discriminate, but can also choose not to, and cities may not prohibit them from doing so.
Finally, the governor said he will support a push during the upcoming legislative short session that would reinstate the right to sue for discrimination in state court. That right was eliminated by HB2, in what appeared to be a clerical error resulting from haste rather than an intentional step. While the right to sue in federal court remained, advocates say it's important to allow the right to sue in state court as well.
McCrory, a Republican, explained his intention in a video. The text of the executive order is available here.
It's unclear what material effect the executive order might have. Much of it is devoted to restating what's already in HB2—including the new rules on transgender accommodations in state facilities, the right of the private sector to set its own policies, and the right of the private sector and local government to create their own non-discrimination policies.
Meanwhile, the governor does not—and likely cannot—deal with some of the more complicated matters in the controversy over the law. McCrory and the Republicans who dominate the state legislature continue to defend the importance of the transgender-bathroom provisions, insisting they are a commonsense step to prevent abuse. Transgender people in North Carolina and elsewhere have criticized the provision. They point out that transgender people are more likely to be abused while using bathrooms that don't match their appearance than the reverse; some bearded transgender men tweeted selfies to show why they don't feel comfortable using women's rooms, even if that's what their birth certificates say their gender is.
In addition, as long as the law applies to schools, there's a risk that the state could jeopardize federal funding through Title IX. The Obama administration had said it is reviewing whether HB2 runs afoul of federal regulations for moneys for transportation, education, or housing. The federal government has treated gender identity as protected under Title IX, though the judicial view is not entirely clear. Federal funding for education to North Carolina accounted for $4.3 billion last year.
Senate Leader Phil Berger, a Republican, praised McCrory's order, saying it "put to rest the left's lies about HB2." But the North Carolina ACLU, one of several groups that promptly sued to overturn the law, on grounds including due process and equal protection, quickly dismissed the order. The acting executive director, Sarah Preston, said in a statement:
Gov. McCrory's actions today are a poor effort to save face after his sweeping attacks on the LGBT community, and they fall far short of correcting the damage done when he signed into law the harmful House Bill 2, which stigmatizes and mandates discrimination against gay and transgender people. With this executive order, LGBT individuals still lack legal protections from discrimination, and transgender people are still explicitly targeted by being forced to use the wrong restroom.
McCrory's move comes after weeks of intense pressure on the state from many quarters, in addition to the lawsuit against the law. The NBA has discussed moving its 2017 All-Star game, slated to be held in Charlotte. The NCAA is reportedly reviewing its decision to hold portions of next year's basketball tournament in Greensboro. Bruce Springsteen canceled a show, scheduled for Sunday in Greensboro, in protest. A weekend headline in Raleigh's News and Observer said that the state was "reel[ing] as a national punch line."
Perhaps most potently, there's been a serious backlash from businesses, echoing the response when other states considered or passed similar laws dealing with LGBT rights. Major Old North State companies like Bank of America criticized the law, and a slew of big corporations announced they would reverse or halt plans to create jobs in North Carolina. PayPal canceled a planned 400-job center in the state, and Deutsche Bank announced Tuesday morning that it was freezing plans to create 250 new positions. The Raleigh visitors bureau reported the law was already having a negative effect on conferences in the capital.
The governor cannot unilaterally change the law.
It's not yet clear whether McCrory's clarifications, perhaps in tandem with supplemental legislation on suing for discrimination, will be enough to assuage those businesses. In Indiana, which in 2015 passed a religious-freedom law that alienated major companies, the legislature ended up taking action to roll back much of the bill. There's been no such push in North Carolina, despite the demands of some Democrats in the state legislature. The General Assembly is heavily dominated by conservative Republicans from rural areas.
The political effects of McCrory's order also remain to be seen. There were indications that the governor had misgivings about the law from the start. A former mayor of Charlotte, he had previously criticized state interference in local affairs, declined to call a legislative special session, and said any state action should be narrowly tailored to reversing the Charlotte ordinance. But once the General Assembly called itself back into session, McCrory bowed to the veto-proof conservative Republican supermajority and quickly signed the law, then staunchly defended it.
The law, and the backlash to it, has become a risk to McCrory's reelection bid, in part because it endangers his attempt to portray himself as a technocratic, pro-business moderate. He'll face off in November against state Attorney General Roy Cooper, a Democrat, who has called for HB2's repeal and refused to defend the law in court. The N&O speculates that McCrory's language in the order expanding protection for sexual orientation and gender identity may be aimed at undermining Cooper's rationale for refusing to defend the law.
Tuesday's executive order is McCrory's boldest step yet to wrest back control over the narrative over HB2—which was first snatched away by his fellow Republicans in the General Assembly in calling their special session, and then by businesses and activists who oppose the law. But the impact of the order will still depend on how each of those groups respond. First, it will depend whether these clarifications are enough to convince corporate leaders that the state is still welcoming enough a place to conduct business. If not, the ball will go back to the same state legislators who passed HB2 in the first place, and who have so far shown little indication that the business backlash has changed their minds.