Obama: The Supreme Court Impasse Might Undermine Democracy
The president returned to his con-law roots to hit Republicans on Merrick Garland's stalled nomination.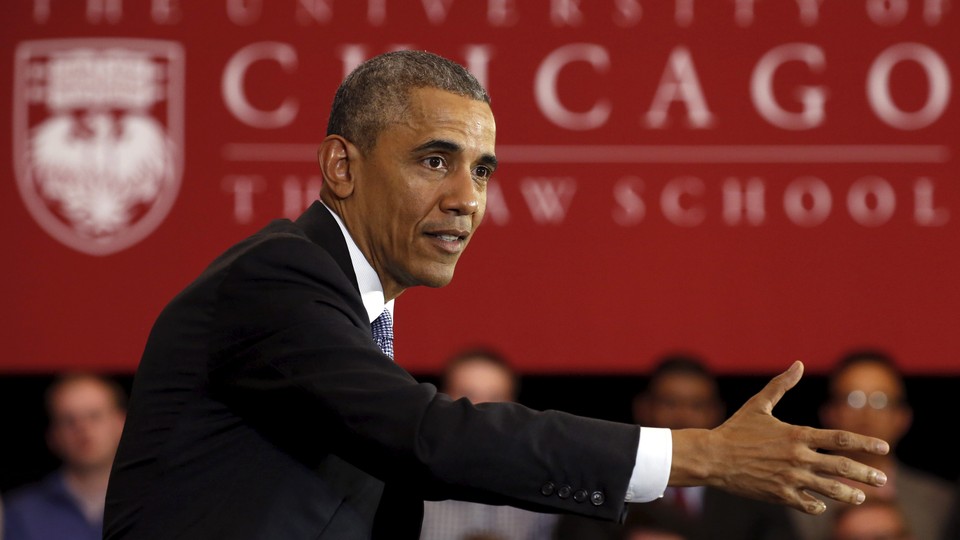 The imagery is obvious: President Obama returning to the very place where he taught the Constitution, asking Senate Republicans to live up to it.
The president's town hall Thursday afternoon at the University of Chicago Law School represented the latest Democratic push for Senate hearings and a vote on Merrick Garland, the president's Supreme Court nominee, whom he tapped last month. Senate Republicans have argued they already fulfilled their legal obligation to "advise and consent" on Garland—by advising Obama they won't consent to moving forward with his nomination.
In a discussion with his former law-school colleague David Strauss, the president framed the Supreme Court fight as a possible source of further division between the parties and an unwelcome transformation of U.S. courts. "If you start getting into a situation where the process of appointing judges is so broken, so partisan, that an eminently qualified jurist cannot even get a hearing," Obama said, "then we are going to see the kinds of sharp, partisan polarization that have come to characterize our electoral politics seeping entirely into the judicial system. And the courts will be just an extension of our legislatures, and our elections, and our politics."
If Republicans keep their promise, Garland, a Chicago-area native who's now chief judge of the D.C. Circuit, may end up not being considered at all by the Senate. Obama chose him deliberately: The president digs his values, personal history, and jurisprudence, but also wanted a candidate who is well respected on both sides of the aisle in the hopes that he'd be hard for Republicans to ignore. Obama said Thursday that Garland may be "as good of a judge as we have in this country right now."
"No one has plausibly made an argument that this is not the kind of person we'd want on the Supreme Court," he said. "The question then becomes, why is it so hard for the guy just to get a hearing and a vote?"
The inter-party battle over an Obama nominee began in February when Justice Antonin Scalia died on a hunting trip at a Texas ranch. Majority Leader Mitch McConnell sent out a statement that day that established the party line: "The American people should have a voice in the selection of their next Supreme Court Justice," he said. "Therefore, this vacancy should not be filled until we have a new president." His memo was sent roughly an hour after Scalia's death was confirmed, shortly before the president announced his own intention to fill the seat.
Republicans across the country immediately got on board, citing input from voters, Obama's liberal agenda, and the timing of the vacancy as justifications for delaying the appointment. Chuck Grassley, the chairman of the Judiciary Committee, said in a statement that "it's been standard practice over the last nearly 80 years that Supreme Court nominees are not nominated and confirmed during a presidential election year." (The New York Times has a helpful graphic that suggests the timeline isn't so simple.)
Now, more than two months since Scalia's death, Republicans and Democrats are waging mirroring PR campaigns about the nomination (with the slogans #BidenRule and #DoYourJob, respectively). Most Republicans, though not all, have refused to meet with Garland. Fired-up Senate-floor speeches from both parties have become routine. In swing-state primary races, Democrats and liberal interest groups are pushing incumbent Republicans to ignore their party's position.
In Chicago on Thursday, Obama elevated the stakes: He suggested this kind of polarization would effectively break the judicial branch. If the courts are more politicized, citizens will "lose confidence" in judges' ability to be fair and to issue legitimate rulings. "It's not just a matter of who's occupying that ninth seat in the Supreme Court," he said. "It has to do with how we as a democracy operate." He suggested Republican inaction could precede Democratic inaction years from now, when a conservative is in the White House looking to fill a seat. It is "inconceivable," he said, to expect Democrats to agree to hearings and a vote in the future if Republicans don't hold them now.
Although he didn't let Democrats totally off the hook—noting they, too, have used filibustering to block Republican nominees—he blamed Republicans for creating a harmful precedent. They "have decided that placating [their] base is more important," he said "than upholding their constitutional and institutional roles in our democracy."