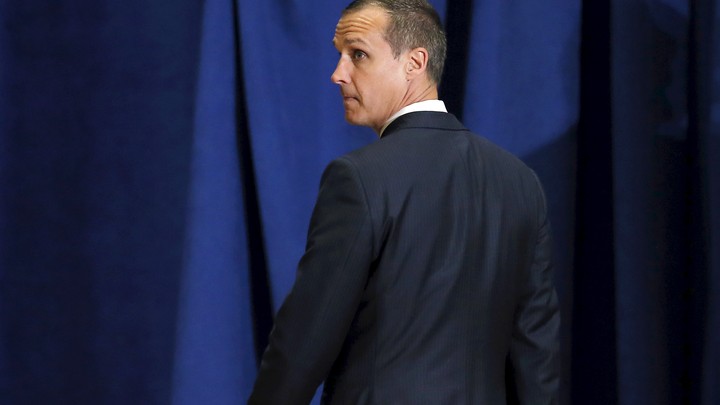 In the first piece of good news for Donald Trump and his campaign manager, Corey Lewandowski, in weeks, Lewandowski won't face charges for battery in Florida, Palm Beach County State Attorney David Aronberg announced Thursday.
After a March 8 press conference at Trump National in Jupiter, Florida, Breitbart reporter Michelle Fields was trying to ask the Republican frontrunner a question when Lewandowski grabbed her and yanked her away, nearly pulling her to the ground. Trump and Lewandowski initially both dismissed Fields's account as fabulism, even though Washington Post reporter Ben Terris also witnessed it. A frustrated Fields then filed a police report, and police arrested Lewandowski on March 29. Surveillance footage confirmed that Lewandowski had grabbed Fields.
"As state attorney I made the decision that this office will not be filing charges against Corey Lewandowski for battery," Aronberg said at a press conference. "Law enforcement arrests are based on probable cause. State prosecutions, however, rely upon a good-faith basis that sufficient evidence exists to prove the case beyond a reasonable doubt."
Fields, who resigned from Breitbart along with several other staffers after the organization refused to stand behind her, could still file civil charges against Lewandowski, and she tells TheBlaze that she's considering defamation suits against both the staffer and the candidate.
Escaping criminal prosecution will surely be a load off Lewandowski's mind. (His lawyers have maintained all along that no crime was committed.) But the primary damage to Lewandowski and to Trump's campaign may have been done outside of the justice system. Lewandowski has found himself marginalized within the Trump campaign, as the stumbling front-runner brings in more seasoned political hands, from delegate manager Paul Manafort to former Scott Walker aide Rick Wiley. Trump has lost ground in national polls and lost the last two contests, while Ted Cruz's team has run circles around him in state delegate selection.
Between the dropped charges and an expected win in the New York primary on Tuesday, Trump should have a smoother few days. But his path to 1,237 delegates and the Republican nomination isn't getting any easier.
We want to hear what you think about this article. Submit a letter to the editor or write to letters@theatlantic.com.